Weekly Season News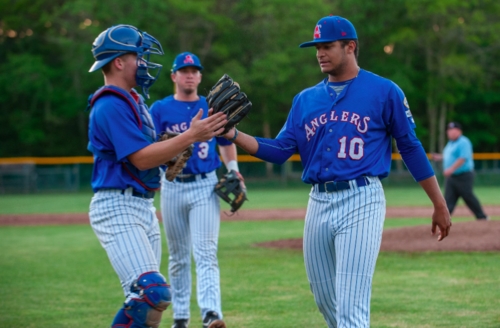 A lone summer ago, the 2018 Cape Cod Baseball League season ended in triumph for some, and heartbreak for others.

The Wareham Gatemen were crowned champions last August and aim to repeat their success this upcoming season. For the Chatham Anglers, the blue and white aim to respond this Sunday, and settle some unfinished business at Spillane Field.

After all of the hits, strikes, and highlight plays of the 2018 season, the entirety of it would be decided in three games. Wareham, with their versatile defense and seemingly endless depth, would eliminate the Anglers in just two games.

However, this season is a brand new one. The majority of both rosters have nothing to do with the outcome of last season. The Chatham Anglers have a plethora of new talent, and the team by the bridge does as well.

Among the new faces for the Anglers is infielder Kaden Polcovich, who has certainly showed out in his first week in Cape Cod. He was as relentless as it gets in the team's opening day victory over Hyannis and has put the rest of the league on notice.

For their soon to be opposition, the pitching carried the Gatemen in a contest earlier this week, allowing just five hits in nine innings. Tremendous defense is nothing new for the Wareham faithful who witnessed last season unfold, and it appears this team has the potential to do so as well.

Despite the enthusiastic blend of new players ready to take the league by storm, the Anglers have some key returning talent as well. Jorge Arenas was a solid contributor for his club last season and despite a new number on his back, Chatham fans are more than pleased to welcome back Ben Ramirez for a second summer on the Cape.

Even though these players were dressed in last year's disappointing finish, Chatham manager Tom Holliday believes last season is one of the past. The skipper has been around the sport for a long time, and knows what it takes to win baseball games. His group will head into Sunday the same way they'd enter any other game, and that's by doing everything they can to beat the other team.

"That's the team from down on the bridge that beat us in the last game. They'll be a new team, we're a new team. There's nothing to that," said Holliday.

Each team has some of the best collegiate players around the world and a set of coaches who will do their best to guide them. Even if it's on a new calendar, this Sunday will feature two talented teams looking to start the summer in proper fashion.

"Put it this way, we know it will be a high quality game, but we expect that every day. Every game we play, we expect it to be high quality." said Holliday.

It's a Father's Day doubleheader this Sunday with the first game beginning at 4 p.m. in Wareham.