Weekly Season News
13 July 2004
THIS WEEK IN THE CAPE LEAGUE
Cape League Returns to Sandwich
SANDWICH – The same banners hung from the chain-link fence in center field, and the same scouts studied the pitchers from behind the plate.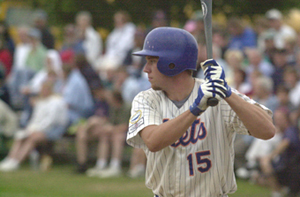 Josh Stinson, of the Hyannis Mets, bats in front of a crowd of 2500 during the 3rd annual "Cape League Returns to Sandwich" game
Gardner / CCBL for SportsPix 2004
The same yellow school bus waited in the parking lot, and the same team apparel went home with eager young fans.
But this time – especially for those Sandwich residents in attendance – it was different.
The July 12th Cape League game between Hyannis and Wareham didn't just represent a routine weeknight contest between two West Division clubs. It represented an effort to bring the league back to its heritage and to include Sandwich baseball fans in the best family entertainment on the Cape.
"It's wonderful to bring baseball back to Sandwich, particularly with the recent discovery that the Cape League's roots might go back to 1865 (in Sandwich) – we already know they definitely go back to 1885," said league president Judy Walden Scarafile. "This has been a hotbed of baseball for a long time. The American Legion is renowned throughout the state for their quality teams playing right here in Sandwich."
And despite the overcast sky, more than two thousand fans flocked to Sandwich High School to watch Wareham's Mark McCormick stymie Hyannis through six shutout innings to lead the Gatemen to a 2-0 victory.
The game was the third of its kind – the tradition of bringing the Mets to Sandwich began in 2002 with a contest between Hyannis and Bourne, and it continued a year ago as Cotuit defeated the Mets, 6-5.
Planning began for this year's event months ago, and several Mets volunteers took the day off from work to make sure every traditional staple of a Cape League game was included – concessions, souvenirs and a fully functioning public-address system.
"The amount of work put on by the home team is phenomenal," Scarafile said.
Sandwich Access Television broadcast the game live, and the director under a green tent behind home plate manipulated angles from three cameras to capture the essence of the game. Broadcasters Larry Egan and John Garner called the game simultaneously for the television network and for PIXY 103.
The media presence only served to expand the audience for the game, which was the main reason for the Cape League coming to Sandwich in the first place.
"There are visitors here, but there are a lot of Sandwich residents here who normally, especially in the summertime, don't make the effort to go all the way down to Hyannis or across the Cape because of the traffic," said Debra Woodman, a member of the Sandwich Visitor Services Board.
And the teams on the field were well aware of the importance of displaying their product for a group that doesn't ordinarily have exciting Cape League action right in their backyard.
"It gives more people the opportunity to see the Cape League games." said Hyannis coach Greg King. "For some reason, if you travel down (Route) 28, it might take them an hour just to get to a game. The more you can spread the league out, the better it makes the league." -- By Brian MacPherson, CCBL Intern, bmacpherson@capecodbaseball.org
John Garner, Jr.
CCBL Director of Public Relations & Broadcasting
(508) 790-0394 johnwgarner@earthlink.net
Bruce Hack, League Historian