Weekly Season News
17 August 2007
THIS WEEK IN THE CAPE LEAGUE
2007
MIKE CURRAN
MANAGER OF THE YEAR AWARD
Y-D's Scott Pickler Wins Mike Curran Award
As Cape Cod League's Manager of the Year
After leading his team to its second straight league championship and the best regular season record (31-12-1) in the Cape Cod Baseball League, it is only fitting that Yarmouth-Dennis skipper Scott Pickler has been named winner of the Mike Curran Award as the league's 2007 Manager of the Year.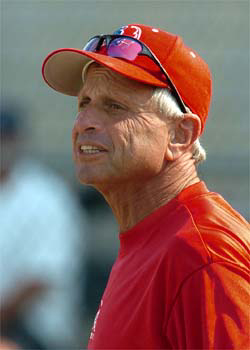 Scott Pickler, Y-D Red Sox
SportsPix 2007
Pickler got the Red Sox off to a quick start and never looked back as Y-D remained atop the East Division standings for the entire season.

In his 10th summer with the Cape League, he knew he had a special squad when he saw this year's team together for the first time. "I've never felt this way before," he said. "I hadn't seen them play in any games yet, but I knew from the chemistry and the hard play and the way they listened (that they were special)."

Winning is nothing new to Pickler. When he's not leading his Cape League team to championships, he's coaching at Cypress Community College in Santa Ana, Calif. In his 23 years as head coach there, he has been named National Coach of the Year for California for Junior Colleges and has won four state championships along with three runner-up finishes.

Pickler's 2007 Y-D squad started the season at 6-0 and never looked back, cruising to first place in the East after eight weeks and 44 games. In the postseason, the Red Sox looked just as dominant, sweeping both Chatham and Falmouth to bring the Arnold Mycock Trophy back to Red Wilson Field where the trophy collection continues to expand.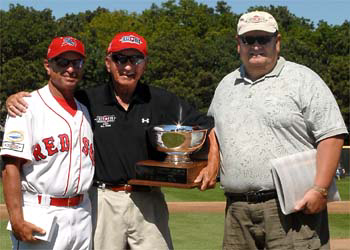 Scott Pickler with Deputy Commissioner Richard Sullivan
and Commissioner Paul Galop
SportsPix 2007
One of Pickler's many cerebral managerial moves came in game two of the championship series at Falmouth. The game was locked in a scoreless tie in the eighth inning with the bases loaded, Pickler called for a suicide squeeze which plated the only run the Red Sox would need to defeat the Commodores.

With an excellent coaching staff, plenty of support from a great group of people in the front office and some of the best fans in the Cape League, Pickler will be favored to keep the championships rolling Y-D's way when the 2008 campaign gets under way next June.

Mike Curran is a former assistant sports editor of the Cape Cod Times, who promoted the Cape League. He rose through the ranks of the league as a scorer and publicist (1970-75), secretary (1972-75) and president (1976-77). He also served as a liaison with major league scouts and was instrumental in the development of nationwide recruiting of college players, a significant movement that brought the Cape League national prominence. He now works in public relations in northern California.
By Kevin Wolfe, CCBL Intern wolfe@capecodbaseball.org

John Garner, Jr.
Director of Public Relations & Broadcasting
(508) 790-0394
johnwgarner@earthlink.net

Joe Sherman
Web Editor
(508) 775-4364)
Jws02673@aol.com
Interns 2007: Erica Bailey, John Hannemann, Liz Hoffman,
Gabriella Remington, Kevin Wolfe