News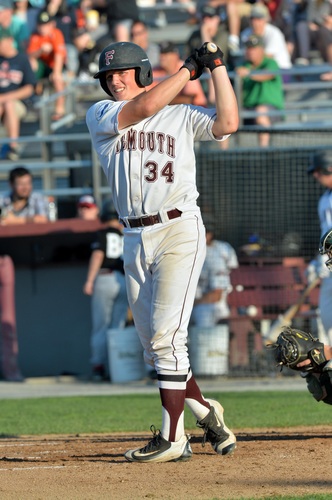 09/30/2022 10:40 AM
Article By: Ben Sinins
Former Falmouth Commodore, Adley Rutschman is a catalyst to the Baltimore Orioles' new-found success. After tying for the 2021 worst MLB record, the Orioles' 2022 season start of 16-24 did not suggest any better. The outlook four months later could not be more different. After calling up top prospect Rutschman, the Orioles' fortunes have turned around. With the defensive wizard and slugger now in the lineup, the club has been 63-49 since his call up and only 3.5 games out of the American League Wild Card. The Orioles have already won more games (80), than each of their past four full seasons from 2017: 52 (2021), 54 (2019), 47 (2018), 75 (2017). The O's haven't had a Wild Card appearance since 2016, and Rutschman is leading the charge to change that.

As a switch-hitting and extraordinary fielding catcher, Rutschman has shown a lot of power and athleticism at the plate and behind it. After 105 games, Rutschman is batting a solid 255. He has 12 homers, 40 RBI along with 32 doubles, second among MLB catchers. Rutschman's slash line of .255/.361/.444 and .804 OPS are among the league leaders for catchers. He is second in American League rookie of the year standings, only behind Julio Rodriguez (Mariners), the 21 year old from Puerto Rico who is having a fantastic season, batting .280 with 27 home runs.

Rutschman's productivity as a catcher is even more impressive when comparing his performance to yet another rookie star, infielder Bobby Witt Jr. of the Kansas City Royals. Witt is batting .254 with an OPS of .733. Yet Witt has 20 homers and 77 RBI. Rutschman is in good company with Rodriguez and Witt in terms of production. The only other rookie catcher in the conversation for production is Witt's Kansas City teammate, MJ Melendez, batting .217 with 17 homers, 59 RBI and an OPS of .706.

Rutschman has been equally impressive defensively. The 24 year old Rutschman is already ranked the 12 best catcher in the MLB by Baseball Prospectus. Over 689 innings, he has allowed only 1 passed ball and committed 7 errors, for a fielding percentage of .989. His framing skills have also drawn attention and he has saved defensive runs at an impressive rate.

Rutschman's time in the Cape was forgettable, but important for his future development. While at Falmouth in 2017 he batted a measly .167 with only one extra base hit in 67 at bats. This only fueled the fire for Rutschman's breakout success. During his sophomore season at Oregon State he batted over .408 with 9 home runs and led the Beavers to a national championship. His junior year was even more impressive, hitting .411 with 17 home runs and was selected first overall by the Orioles. Rutschman's collegiate nicknames of "Captain America" and "Clutch man" were well earned. He is one of the most accomplished college baseball players of all time. He was a two-time All-American, Buster Posey Award winner and Golden Spikes Award winner.

Rutschman isn't the only former Cape player who is contributing to the Orioles' success this season. Another former Falmouth Commodore, Kyle Stowers from Stanford University, is currently batting .242 with 2 home runs in 66 at bats. While in the Cape, Stowers had a great summer batting .236 with 6 home runs and 13 doubles in 138 at bats in 2018. Fellow rookie Kyle Bradish (New Mexico State) played for Falmouth with Rutschman, and is getting a lot of innings with the big league club. Other players like Austin Hays (Hyannis), Keegan Akin (Bourne), Michael Baumann (Yarmouth-Dennis), Austin Voth (Brewster) and Bryan Baker (Bourne) have all made contributions to the Orioles' success this season.