News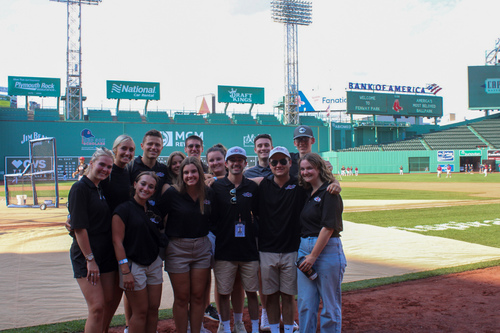 10/03/2022 8:28 AM
Article By: CCBL Public Relations Office
Writing & Editing Internship
Responsibilities for this internship will include: writing at least two stories a week, peer editing written content by fellow interns, assisting in writing the league's weekly email newsletter, and attending games on a regular basis. Strong written communication skills and attention to detail are required. Applicants should email their resume, cover letter and previous writing samples to Michael Lane at [email protected]
Public Relations Internship
Responsibilities for this internship will include: developing promotional campaigns for special events, writing press releases, building comprehensive media lists, consistently working on media pitches, assisting with the management of the Cape League's social media accounts, and attending games on a regular basis. Applicants should email their resume, cover letter and any relevant information to Michael Lane at [email protected]
Social Media Internship
Responsibilities for this internship will include: managing the Cape League's platforms (Instagram, Facebook, Twitter, Tik Tok, and Snapchat), collaborating with the creative team to develop consistent content, engaging with new and existing audiences to increase brand awareness, and attending games on a regular basis. Prior experience managing social media accounts required. Applicants should email their resume, cover letter and any relevant information to Michael Lane at [email protected]
Photographer Internship
Responsibilities for this internship will include: shooting still images capturing Cape League games, players, fields, and communities, editing images, collaborating with the social media team, and attending games on a regular basis. Experience shooting sporting events and personal photography equipment required. Applicants should email their resume, cover letter and photography samples to Michael Lane at [email protected]

Graphic Design Internship
Responsibilities for this internship may include: creating graphics for league news, special events, and daily schedules, collaborating with the social media team on storytelling projects, designing logos for the All-Star Game, Home Run Contest, and Playoffs, and attending games on a regular basis. Applicants should email their resume, cover letter, and graphic design samples to Michael Lane at [email protected]
Videographer Internship
Responsibilities for this internship will include: shooting high-quality videos of in-game action, working with the creative team to produce and edit video projects, managing the Cape League's YouTube channel, and attending games on a regular basis. Experience shooting video at sporting events and personal video equipment required. Applicants should email their resume, cover letter and video samples to Michael Lane at [email protected]

Video Production Manager Internship
This internship will be focused on managing the production of a weekly Cape League recap show. Responsibilities may include: coordinating interviews with players, clipping video highlights from across the league, overseeing the weekly shoot, editing the video project, collaborating with the videographer and creative team, and attending games on a regular basis. Applicants should email their resume and cover letter to Michael Lane at [email protected]
Podcasting and On-Camera Internship
This internship will begin prior to the summer, working on recording and editing podcast interviews throughout the spring on an as available basis. In season, responsibilities for this internship will include: managing the posting of podcast episodes, hosting the weekly Cape League recap show, being the on-air talent for interviews and other video content throughout the season, and attending games on a regular basis. Experience editing audio is strongly preferred. Applicants should email their resume, cover letter and reel to Michael Lane at [email protected]
Utility Player Internship
Applicants who are interested in an internship with the Cape Cod Baseball League, but don't see a specific position they would fit under are welcome to apply for a "utility player" internship. We will work with qualified applicants to find the right role for them, with opportunities to help out in PR, social media, writing, and more. We have opportunities for baseball analysts, archivists and statistic gurus to assist our entire PR team. Applicants should email their resume, cover letter, and any relevant materials to Michael Lane at [email protected]
Retail & Marketing Internship
Individuals should have an interest in retail management and marketing, and hopefully baseball. Preference will be given to college students who have retail management experience and/or sales experience and/or sports-management related majors. Strong interpersonal and communication skills are required.

Applicants must be available for the CCBL regular season, playoffs and special events including but not limited to the All-Star Game.

Provide retail management assistance for the online store, maintain website, fill online orders including shipping

Develop relationships with local businesses to partner for Pop-Up Shops. Create a Pop Up calendar, set up, staff, and manage all aspects of these shops.

Stocking/inventory management, assist with unloading vehicles delivering merchandise, handling returns and exchanges.


If available in pre-season, assist with graphic design and purchasing of merchandise, researching and confirming local vendor fairs or other ways to sell gear in person, assist in creating and posting on social media to promote online and any vendor partnering..



Assisting the organization with public relations, special events, and other similar projects/duties as assigned.

Assist in creating graphics and promotional material for social media and other news outlets.

Must provide own housing and transportation, the league will assist with housing as available. Internship is unpaid.

If interested in learning more please send resume and contact information to: Leah Ridpath // [email protected]