Events and Announcements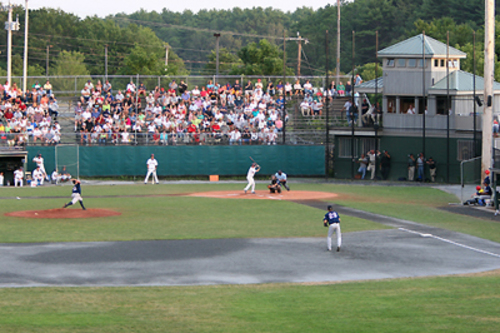 WAREHAM, Mass. – "Great baseball man." Those were the words Cape Cod Baseball League President Judy Walden Scarafile used to describe the late Joe Walsh, who served as pitching coach for the Wareham Gatemen from 1991-98. That was the common theme at "Joe Walsh Day," which was held Sunday at Clem Spillane Field in Wareham. Walsh, who died last July at age 58, was honored by the Gatemen and his number was retired during a pregame ceremony.
A Wareham jersey bearing the No. 2 was presented to members of his family who were in attendance: his wife Sandra, and daughters Tory, Katie and Kasey. During the exhibition game that followed between the 2012 Cape League champion Gatemen and the 2012 New England Collegiate Baseball League champion Newport Gulls, a similar jersey hung behind the backstop.
Among those on hand to pay tribute were Rep. William Keating, former Harvard coaches Tom Lorrico and Chip Forest, and Cape League Commissioner Paul Galop. The Master of ceremonies was Pete Sheppard of Sport Talk 1510. It was truly a touching ceremony to honor a man who was not just a cornerstone of the Cape League, but also of the entire baseball community.
"He coached people, he produced excellence, but he really shaped lives, and that's why we're all here," Keating said.
Speaking on behalf of her family, Sandra Walsh paid homage to the organization with which her late husband spent all those summers. "The happiest times in our family were down here with the Wareham Gatemen," she said.
The start of a new season is a joyous time, but it is also a time to remember those we've lost over the past year. Between his tenure at Suffolk (his alma mater), Harvard and the Cape League, Joe Walsh's untimely death was truly a loss to the world of baseball. To be remembered simply as a "baseball man" would have meant the world to the gentleman who lived and breathed the game, but it was through simple acts of kindness and the way he touched the lives of those around him – on and off the field – that he developed the legacy of a "great baseball man."