Events and Announcements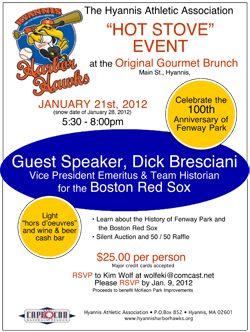 If you'd like to hear more about Fenway's history, Dick Bresciani, Boston Red Sox vice president emeritus and team historian, will be the guest speaker at the Hyannis Athletic Association's "HOT STOVE" event next Saturday, April 28th at the Original Gourmet Brunch on Main Street in Hyannis. Dick will talk about the 100th anniversary of Fenway Park as well as the history of the Boston Red Sox. In his 39 years with the Red Sox organization, Bresciani has certainly witnessed a lot of history. He is the Red Sox liaison to the Cape Cod Baseball League and is in both the CCBL and Red Sox Halls of Fame.
This special fundraising event is sponsored by the Barnstable Patriot and Wells Fargo Advisors. The evening will include light hors d'oeuvres and a wine and beer cash bar as well as a silent auction and 50/50 raffle. All proceeds will benefit improvements to McKeon Park, home of the Hyannis Harbor Hawks.