Events and Announcements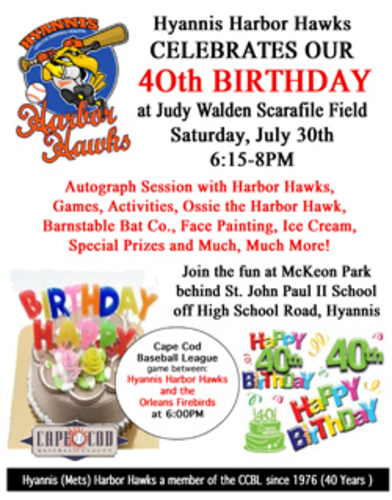 Hyannis -- One days it's Christmas and the next it is a birthday party. The festivities at the Hyannis Harbor Hawks games just keep happening.

On July 27 the Hawks celebrated their 4th annual Christmas in July with "Summer Santa" arriving in an antique fire truck provided by the Hyannis Fire Department and driven by Firefighter/ EMT Jay Doherty.

The kids had a ball as Santa got off his " sleigh " and mingled with the crowd. He (John Sullivan ) also threw the ceremonial first pitch along with Buddy the Elf ( Hawk's broadcaster, Jack Keffer). And of course, Ozzie got up to bat, hit an in -the -park homer and ran the bases.(Will Yates) .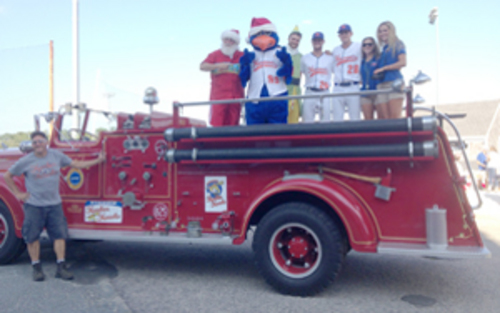 In the meantime kids were cooling off with homemade snow cones while creating baseball ornaments with players photos. The crowd of more than 2100 fans thoroughly enjoyed the event.

On Saturday, July 30 the Harbor Hawks, once the Hyannis Mets, will be celebrating their 40th year . It will be a grand birthday party complete with cake and ice cream, party games, and autograph tent and free radar gun.

There will be a special raffle with fantastic new prizes from merchants on Main Street. The proceeds of this will go to Harbor Hawks scholarship fund which is awarded annually to a local student.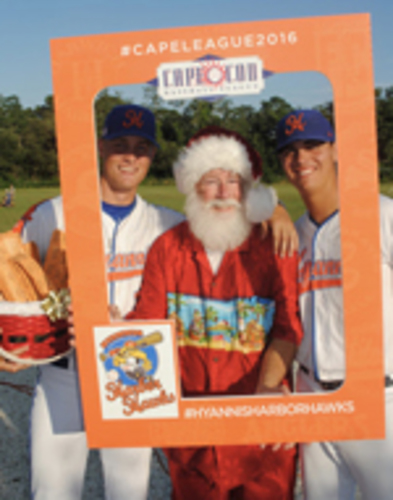 So come one and all to the Harbor Hawks 40th birthday party celebration as they host the Orleans Firebirds at 6pm. As always, admission is free and donations are gratefully accepted.