Hall Of Fame News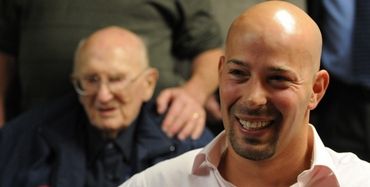 Seattle bullpen ace David Aardsma was all smiles during the unveiling ceremony of the 2010 CCBL Hall of Fame plaques on Friday night at the Cape League Hall of Fame inside the JFK Museum. The induction ceremony took place Saturday at the Chatham Bars Inn.
MERRILY CASSIDY/Cape Cod Times
By RUSS CHARPENTIER
[email protected]

CHATHAM – The national pull of the Cape Cod Baseball League was never more evident than at Saturday's induction of its 11th Hall of Fame class in a ceremony at Chatham Bars Inn.
Peter Gammons stunned the crowd when, in his induction presentation of Tom Grieve, he read a letter from former president George W. Bush congratulating Grieve and the entire class.
"In a lot of ways, Tom's professional baseball career traces its roots back to Cape Cod and the summer of 1966," Bush wrote. "Tom's success in Chatham led him to the Washington Senators, and then on to Texas where he became a legendary Ranger.
"Over the years, his loyalty as a player, general manager, and broadcaster has embodied so much of what makes the Texas Rangers baseball club great. I watched him play hundreds of games as a fan. I counted on his shrewd advice and keen eye for talent during my time as owner. And I was always delighted to his familiar voice and expert commentary whenever I tuned in from the White House."
At the morning brunch in the Inn's main dining room, Nomar Garciaparra finally received the plaque from the 2002 induction he couldn't attend.
Also, Cotuit president Paul Logan was presented the Richard "Dick" Sullivan Executive of the Year Award, and longtime Harwich and league volunteer Jim McGonigle the Fred Ebbett Lifetime Achievement Award.
Garciaparra, in attendance for the induction of former Red Sox teammate and good friend Lou Merloni, gave a hint at the feelings of those who have played their summer ball on the peninsula.
"You talk about baseball players being a brotherhood," Garciaparra said.
"There's a brotherhood within a brotherhood, and that is those who played in the Cape League. When you meet, there are always two questions: Who was your host family, and what was your job?"
Gammons delighted the sold-out crowd with many baseball stories, including those of Grieve with the old, bumbling Rangers and President Bush.
Included in those was the time Grieve traded Bush's daughter Jenna's favorite player, Scott Fletcher, and how Jenna didn't talk to Bush for days.
But he also credited Grieve as being part of the Texas resurgence and its ability to build a new stadium. The Hall of Fame journalist also left us with this tidbit – Grieve played for Ted Williams, Whitey Herzog, Billy Martin and Joe Torre.
That was one of many highlights as the league celebrated its continuing excellence with a hearty nod to its acclaimed past.
The reminisces were many and fond as fellow inductees David Aardsma, Casey Close, Jack Cressend, Peter Ford, Mike Loggins, Merloni and 97-year-old Steve Robbins were in attendance to receive their honors.
Wayne Granger could not make the ceremony, and Tom Weir (Chatham, 1966) was inducted posthumously.
Grieve, from Pittsfield, played for Chatham in 1966 after being unable to come to terms with the Washington Senators, who had made him a first-round pick. He hit .416 with 37 hits and 19 RBIs in 25 games before signing with Washington. He's done everything in the game since his playing days ended, from ticket sales to GM to broadcasting.
Grieve, like many other inductees in previous years, called his Cape summer the best he ever had.
He recalled his job as a painter for Walter Love, working his way up from painting shutters to trim to finally the sides of houses. It was all part of the experience in the days when players all worked.
"It was baseball at its best, when we all played for the pure joy of the sport," Grieve said.
Merloni, whose welcome video included barbs from WEEI Baseball Show mates Greg Dickerson, Steve Buckley and Sean McAdam, was presented by his Cotuit manager in 1992, Roger Bidwell. Merloni also played for Bourne in 1991.
Merloni, who is also in the Providence College Hall of Fame, won the batting championship in '92 (.321), nosing out future Red Sox teammate Bill Mueller by going 5-for-8 in his final two games.
"People don't forget," Merloni said. "In spring training in 2003, Bill Mueller came to the team, and I introduced myself. He said, 'You beat me out for that Cape League hitting title in '92.'"
Merloni credited the culinary art of his host family, Barbara and Barry Souza of Cotuit.
"I was struggling early in the season. She made me steamers one day, put everything in it, carrots, linguica. I got three hits that night off Billy Wagner. Next day, she made steamers again, and I had two more hits."
Merloni was worried, though, because there were no more steamers in the bin at the house. But when he got home after that game, the bin was full.
Barry had gone clamming for him.
"I went on to win the batting title all because of that host family and those steamers."
A player's host family is always a big topic of the inductees' speeches, and Saturday was no exception. Mike Loggins, who in 1984 hit 13 homers while batting .343 for Harwich to earn Outstanding Pro Prospect honors, was given a heartfelt introduction by his host mother, Joan Frederici.
Frederici had two young sons, but Loggins quickly became a third son.
"One of his first games, I won the 50-50 raffle. I was so excited, I won $26. That night, Mike hit his first home run for the Mariners. I remember when he did that, I jumped up and yelled, 'that's my kid'!"
Loggins, out of Arkansas, played seven years in the minors, four at Triple-A, but injuries held him back from the majors. He still fondly remembers his host family.
"After my first home run, she told me she was going to make me a London Broil. It was so tender I told myself I was going to hit some more. I hit one again soon after, and I got another one. Then in three games I hit something like five homers, and I never got another London Broil."
Current Seattle closer David Aardsma of Rice was nearly perfect for Falmouth in 2002, going 3-0, 0.68 with seven saves and 45 strikeouts in 26 innings. He was also introduced by his house mother, Falmouth Recreation director Helen Kennedy, who talked about how he volunteered at the Recreation Department's summer camp the entire season and his penchant for eating Spaghetti-O's.
"To play here is a privilege and an opportunity," Aardsma said. "But you don't know how special it is until long after."
Kennedy housed three players, none who had a car, so Falmouth GM Chuck Sturtevant arranged an old rental. It was, said Kennedy, a metallic pink Cadillac that didn't fit in her driveway. Aardsma was entrusted with it, and hung felt dice from the rearview mirror. It also made plenty of noise, so much Kennedy said, that the players could never sneak in after curfew.
Right-handed pitcher Jack Cressend, out of Tulane, was presented by George Streeter, who was GM of Cotuit when Cressend pitched there in 1995-96.
Cressend also lived with the Streeters.
Cressend lost his first start with the Kettleers, then never lost again.
He finished 14-1 and still went undrafted, finally signing as a free agent with the Red Sox.
"I was fortunate to have two summers in Cotuit," Cressend said. "The people I met and the memories I made last a lifetime."
Close (Michigan) played for Harwich in 1984-85, and was a two-time all-star. The 1984 Baseball America Player of the Year, and Cape League's Sportsmanship Award winner in 1985 was presented by then Harwich coach Kevin Patterson.
Close, now an agent to some 70 players, including Derek Jeter (he had no news on the negotiations with the Yankees) said how grateful he was for his experiences here, especially having kept up with his host family, the Hendersons. "I truly feel blessed to have a second family on the Cape and able to extend that another 25 years," he said.
"I'd like to thank the entire Cape League for opening its arms and welcoming players like me."
Ford is currently a league vice president, but the former Harwich High southpaw made his mark on the league with four strong seasons, winning 18 games. He led Boston College to the 1967 College World Series. Ford was presented by his son, Brett.
Granger, who pitched for the Sagamore Clouters in 1962, was introduced by Sagamore teammate Jim Winders. "When he played on the Cape I remember him as a center fielder," Winders said. "I never dreamed he'd make it as a pitcher."
Granger hit .329 with a league-leading six homers for Sagamore. But Granger made a major-league record 90 appearances in 1969 with Cincinnati and appeared in 451 games with 108 saves. He's also the answer to a trivia question: What was the winning battery in the last game played at Crosley Field? Granger and Johnny Bench.
The 97-year-old Robbins was in attendance as one of his former players, Gerry Cunniff, introduced him. Robbins began as a player for Wareham in 1937, and finally retired from the organization in 1966. He kept the franchise going through troubled times, and brought lights and dugouts to the Wareham field.
Weir, whose plaque was accepted by his brother Christopher and wife Lori, won two-thirds of the Triple Crown in 1966 (.420, 35 RBIs), both records for a catcher. He was voted a member of the league's 1960s All-Decade team. Weir passed away in 2007 at age 63.