Hall Of Fame News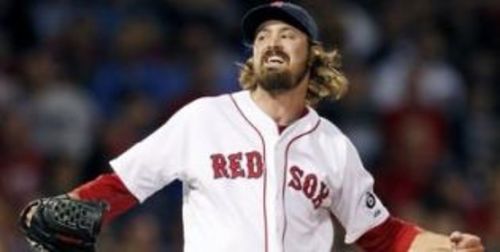 CHATHAM – The Cape Cod Baseball League welcomed its 13th Hall of Fame class for induction Saturday, once again accepting the hospitality of Chatham Bars Inn to celebrate in style. The eight new members expand the prestigious Hall membership to a total of 124.
While the newest class may have lacked a little of the pizzazz of some of its predecessors – current Red Sox southpaw reliever Andrew Miller is probably its best-known member – there was little doubt of the worthiness of those inducted.
There was no shortage of appreciation from the honorees, and the audience at the well-attended event welcomed them enthusiastically.
"The Cape League is a memory factory," master of ceremonies Scott Wahle said. "It's a special league, a special place in this world. It's almost a state of mind."
There were special memories shared as Miller, Billy Best, John "Jack" Aylmer, Dan DeMichele and Jim Sherman received their plaques. Being posthumously inducted were John Carroll, Danny "Deacon" MacFayden and Laurin Peterson.
At a pre-induction brunch, Massachusetts Maritime Academy athletic director and longtime baseball coach Bob Corradi was presented with the Fred Ebbett Lifetime Achievement Award.
Wareham president and general manager Tom Gay received the Richard "Dick" Sullivan Executive of the Year Award.
Miller was presented by former Chatham general manager Charlie Thoms, who was Miller's house parent for the summers of 2004-05.
"Thank you, Andrew for getting me as close to the Hall of Fame as I'm going to get," Thoms said in his opening remarks. Miller was 8-0 in two years at Chatham with ERAs of 2.03 and 1.65, a league Top Prospect winner and a first-round draft choice of the Detroit Tigers in 2006. Thoms spoke of how he taught Miller how to play Bocce on his lighted backyard court, and how Miller then brought most of his teammates over to play after games and well into the night. As with most inductees over the years, the stories most recalled were about off-the-field rather than on the diamond activities. "The stuff off the field makes it special," Miller said. "These were two of the best summers of my life." The 6-7 lefty admitted when he was told he had the chance to come to the Cape he was upset – he wanted to go home after the long school year. It wasn't long before he changed his mind.
Best's 32-game hitting streak for Falmouth in 1979 is still a league record (he hit in 39 of 41 games that season and hit .398). After playing five years in the minors, Best went into coaching (he was head coach at Elon) and scouting. "My wife Sharon came up to visit in 1979 for the All-Star game at Fenway," Best said. "She got in a van with about eight guys for the ride to Boston and some Falmouth people unfurled a banner – "Hyannis has the Kennedys but Falmouth has the Bests." Best also joked about his great living situation – in Falmouth Heights next to the beach and the night spots. His summer job? That was another story. "I'd like to apologize to Geoff Converse, Charlie Murray and anyone else whose house we may have painted back then," said Best's Commodore teammate, Gregg LaCasse, in his introductory remarks.
Current University of Delaware head coach Jim Sherman, a two-year all-star for Chatham in 1980-81 and former Sportsmanship Award winner, gave a lively speech, as did his presenter, Chatham teammate Dave Stenhouse. They talked of living in a haunted house their first summer – made famous in a 1981 Sports Illustrated article on the league, postgame "Coca-Colas" at the Chatham Squire and joked about how, in his second season, Sherman ended up having four girls ages 16-20 as roommates. Sherman and Stenhouse regaled their Chatham teammates with tales of their haunted house – doors opening and closing, strange noises – and were met with a lot of razzing. "But I challenged any of them to come and spend a night in that room and none did," Sherman said. When the laughter died, Sherman got serious. "When I was an 8-year-old kid I walked a mile to a tryout," he said. "I didn't make it and walked back crying my eyes out. When I was 9, my dad asked me if I wanted to try again. I said I didn't know. "Two state high school championships, three NCAA Regionals, an American Legion World Series and 22 years of coaching later, I'm glad that 9-year-old made that mile walk."
Aylmer, the former state senator and Massachusetts Maritime Academy president, was a player and administrator in the league and was a force in bringing Hyannis to the league in 1976 and Bourne in 1988. He was introduced by his son, Patrick, who called his father his hero.
Aylmer had turned down induction invitations in previous years, but finally relented, he said, at the urging of his wife. His was an interesting story, how his father quit Barnstable High at age 17 to become a professional boxer; how his father joined the Navy in 1943 and told him he was the man of the house – at the age of 7. Aylmer, beyond his reminiscing, spoke of the league's need to find solutions to some pressing issues, including economic, and spoke of expansion on and off Cape as a possible solution.
DeMichele was a four-year standout – he hit .330 from 1965-69, much of that when he was still in high school. He later went on Harvard, where he starred in hockey and baseball. His son Joey played at Arizona State and in Hyannis in 2011 before signing with the White Sox.
"More important than the baseball is how it brings people together," he said. "Which is what sports really does. They create great memories. Friends have come to see and talk to me this weekend, some I haven't seen in 40 years."
Cape League Hall of Famer Bob Butkus presented MacFayden for induction. Butkus played for the 17-year major league pitcher and Truro native at Bowdoin in the mid-1960s. MacFayden went 9-2 for Osterville in 1924, and threw a one-hitter for Falmouth against Hyannis in 1925 before signing with the Red Sox. He led the AL with four shutouts in 1929, and in the 1935 tied the then-NL record with 15 strikeouts.
Family friend John Freeman and son Ken Peterson presented Laurin "Pete" Peterson. Peterson played for Orleans, and then managed for 14 years, winning seven championships from 1947-57. His son recalled him as one of the first managers to start recruiting college and semipro players to bolster the local talent. "My father would be very enthusiastic and excited about this, but also very humble," Ken Peterson said.
John Carroll was presented by his son, John N. Carroll, who recalled a modest man. Carroll managed Chatham in 1961-63 and Harwich 1968-69, but made his biggest name as the Hall of Fame coach at Natick, where he became the first Massachusetts coach to win over 500 games. He captained Duke's 1952 College World Series team. After retiring from Natick he moved to Chatham, and coached Chatham High for a couple of seasons. One day after being diagnosed with cancer, the younger Carroll recalled how his father asked him to pull a box of photographs and papers out of the closet and the two went through them. "Dad, you were the first coach in Massachusetts with 500 wins? "Ah, yes. "Dad, you never told me you were the last captain of a Duke team that went to the College World Series. "Ah, yes. "Dad, this photo of you and Ted Williams. Were you friends with Ted Williams? "Ah, yes. "Dad, this letter inviting you to try out for the Brooklyn Dodgers? Did you try out? "Ah, yes. "That's it. That's what I got out of him. He was a very humble man."