Hall Of Fame News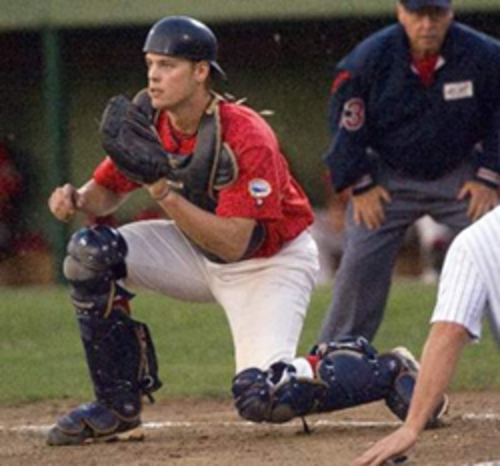 CHATHAM — The Cape Cod Baseball League family gathered at Chatham Bars Inn Saturday, as it does every year on a Saturday in November, to greet and officially induct its newest Hall of Fame Class.
"A love of baseball, a love of the Cape and a love of traditions," are the three biggest draws of one of the league's premier celebrations, said master of ceremonies Scott Wahle. All three were in evidence yesterday.
Current Baltimore Orioles catcher Matt Wieters (Orleans 2006) headlined the newest class that stands the test of time. Included were former major leaguers Garret Atkins (Cotuit 1998-99) and Ryan Speier (Bourne 2001), former league MVPs Daniel Carte (Falmouth 2004), Jim Prete (Bourne, Wareham 1967-70) and Ed Drucker (Harwich 1966), former top Cape pitcher Mickey O'Connor (Chatham 1975-76) and, posthumously, Merrill Doane, a former player and general manager and Chatham board member who began his career in 1923.
Deputy commissioner and long-time umpire Jim McNally, who died last summer, and long-time Hyannis board member Everett Martin, who passed away this week, were remembered with a moment of silence.
Long-time coach Nick "The Greek" Siemacz was presented the Fred Ebbett Lifetime Achievement Award.
Wieters was soft-spoken but entertaining.
"What an honor this is for me," Wieters told the crowd. "I've been looking forward to this day for months now. I'm a little nervous because, even though Peter Gammons is not here, he might in some way report back to Buck on my performance."
That drew laughs from the crowd. Buck is hard-nosed Orioles manager Buck Showalter, who was inducted into the Cape Hall of Fame in 2002.
Wieters played his college ball at Georgia Tech, one of three Yellow Jackets to be named a first team All-America twice. The others were Nomar Garciaparra and Jason Varitek, members of the Hall of Fame Class of 2002.
Wieters, who turned down a second stint with Team USA after his sophomore season to play here, was the Cape's Top Pro Prospect winner in 2006 after hitting .307 with eight homers. He was the fifth overall pick by Baltimore in the 2007 draft.
"The Cape Cod League is one of the major reasons I wanted to go to college," Wieters said. "It's as much of college as the school you sign your letter of intent to."
The year Wieters was being recruited by Georgia Tech, nine of its players played on the Cape.
"I must have watched Summer Catch a hundred times with a couple roommates who played in Brewster," Wieters said. "It's not exactly like the movie up here "» I'll leave it at that."
Wieters talked of how special it is to see his Cape host family, the Wilcoxes, at Fenway when the Orioles are in Boston.
"It's the first time I worked a job in the morning and played a game in the afternoon," he said. "It was the first time I was away from my future wife for an extended period of time since we started dating, which was very helpful when minor league ball started. It was the first time I was catching guys in the college season, (and in the summer) trying to get hits off of. It was the first time I ever sat down with agents (to choose one for the upcoming draft)."
Wieters also said his most treasured piece of memorabilia of his baseball career to date is a bat signed by the 2006 Orleans Cardinals, which still owns a special place in his house today.
Speier, a sidearming right-hander, owns the Cape's save record of 16. In his dominating summer at Bourne he struck out 35 and allowed only 10 hits in 20 innings.
Speier joked that maybe that record should have an asterisk.
"Now that it's official this is a great opportunity to get something off my chest," he said. "I played my home games at Bourne, which at the time was the home of the sun delay. Usually by the time I was getting set to enter the ballgame, the sun would be making its way down behind center field, directly in the hitter's view. Umpires were told to delay the game. There were many nights the umpires did not call the sun delay. They just let it slide, much to my appreciation. So commissioner (Paul) Galop, maybe an asterisk is in order."
Speier, now an assistant pitching coach at his alma mater, Radford College, and Atkins were teammates on the Colorado Rockies, who in 2007 made it to the World Series only to run into the Red Sox.
"Being a part of the World Series in 2007 was a dream come true to me," Speier said. "That dream quickly turned into a nightmare because of your Boston Red Sox."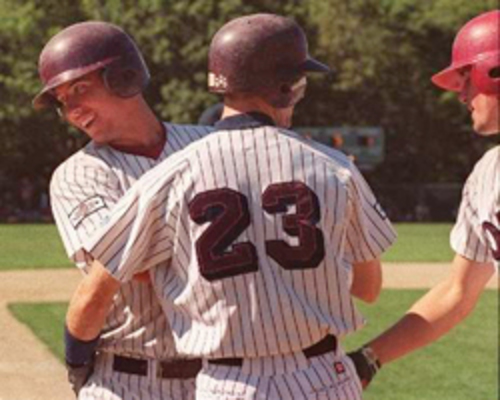 Atkins hit .383 and .312 in this two Cotuit seasons, and was playoff MVP in Cotuit's '99 title season. He had 99 homers in an eight-year major-league career, and homered against Boston in the '07 Series.
He didn't have a lot to say — his presenter, sports attorney and close friend Jeff Blank, a student SID at UCLA at the time the quiet Atkins was playing there, said. Blank said the over-under on Atkins' speech was one minute, 30 seconds and he took the under.
Atkins came in over, but by seconds, not minutes.
Carte, now a West Virginia assistant, came to Falmouth out of Winthrop College, truly appreciative of the opportunity. He overcame an 0-for-19 start to be named 2004 MVP with a .308 average and league-leading 11 homers and 38 RBIs. He was expansive with his stories and with how he felt.
"I'm from a small town in West Virginia and I was kind of a baseball geek," he said. "I had a great passion for it and I was well aware of what the Cape Cod Baseball League was. It was almost an unreachable goal. The stars of the high school team never even played college baseball. For me to stand here as a member of the Hall of Fame is just beyond words.
"My time here is always documented by my early struggles. I can honestly say I experienced being the worst player on the Cape and the best player on the Cape. That's not an exaggeration one bit.
"It was a great summer. As I was coming up here, I will always remember coming up over the Bourne Bridge and seeing the hedges, the Cape Cod hedges. I was so excited about the history and tradition and all the great players who played here; all the scouts, the opportunity to play professional baseball.
"I thought that was what made the Cape special. But it's not. It's the people. The people make it. The coaches, the teammates you come to grow to love, the interns, the volunteers; the officials and the community that you play for. The atmosphere. It's tremendous. I'm forever grateful and so honored to be standing here right now."
O'Connor was a left-hander out of St. John's who came up from St. John's to play for his college coach, Joe Russo, who presented him Saturday. The 6-foot-6 southpaw went 9-0 with a 1.07 ERA for Chatham in '76 and named the league's outstanding pitcher.
O'Connor said receiving the call he had been selected not only made his day but his year. He praised his father, who taught him the game, and telling the crowd his dad had died 27 years ago Saturday. "I know he's looking down on this day," O'Connor said.
"When people ask me how I'm doing, I have a saying I use," he said. "I say I'm doing my best ever and living the dream. Those two seasons in Chatham, I was doing my best ever and living the dream."
Prete was a local, a former Sagamore bat boy.
He had just graduated from Bourne High School when he started playing for Wareham, and in 1970 was voted league MVP after batting .336. After playing at New Mexico Highlands, he signed with the Washington Senators.
"I'd like to thank three tremendous baseball men," he said. "Steve Robbins, Bill Hendy and Eddie Lyons."
Drucker was making his first return to the Cape since batting .382 for Harwich with a still-league record eight triples in 1966. The Southern Connecticut slugger signed a pro football contract with San Francisco, however, and was the last player cut by the 49ers.
"Playing on Cape Cod was one of the most special moments of my life," Drucker said.
Doane's plaque was accepted by his grandson, Jim Doane. Doane did a lot during a Cape League career that extended more than 60 years. He's probably most famous for playing in the 1985 Old Timers Game in Orleans at 78.
But he was one of the movers who brought about the merger of the Upper and Lower Cape Leagues into one Cape League in 1963.
"I know my grandfather would have loved this day," Doane said. "He just loved being around baseball people. The town of Chatham and the Cape Cod Baseball League meant so much to my grandfather.