Hall Of Fame News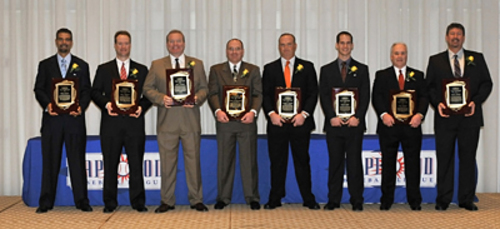 CHATHAM, Ma – It seems appropriate when college baseball players flock to Cape Cod every summer, they have to cross a bridge to get over the canal.(
See more photos from SportsPix
)
And, the Bourne and Sagamore bridges are more than just highways over water that separate the south shore of Massachusetts from the Cape – they are, for many of those ball players, a transition to the next phase of their lives – as athletes and men.
For 2011 Cape Cod Baseball League Hall of Fame inductee Dave Bush (Chatham 2000-2001), crossing one of those bridges led him to his future wife, who he met not far from where he gave his induction speech Saturday at the Chatham Bars Inn.
For
Mike Lowell
(Chatham '94) crossing the bridge gave him his first taste of what baseball meant to New England -- a lesson that served him well when he took "Red Sox Nation" on a joy ride through the 2007 MLB playoffs that ended with the Red Sox winning a World Series and his winning the World Series MVP.
The Cape Cod Baseball League proudly inducted eight new members into the Hall of Fame November 19 at the Chatham Bars Inn. Lowell, Bush, Eric Wedge (Yarmouth-Dennis '88), Scott Kamieniecki (Harwich '84), Mark Smith (Wareham '90), Bill Wissler (Bourne '90), Paul O'Neill (Cotuit '74, '75) and Doug Fisher (Falmouth '84) comprised the class of 2011.
The inductees all acknowledged the closure they felt by returning to the spot where they came as young, naïve college baseball players.
For Bush, it was a familiar feeling when he arrived on the Cape. "I drove across the bridge that first time in 2000," Bush said, "and it kind of struck me right away that it was going to be a pretty special place. I had no idea what was in store, but I knew it was going to be something special.
"As it turns out, I met some of the most important people in my life and had some of the most important experiences of my life right here in Chatham," he continued. "When we got across the bridge, I start to get goose bumps again. And I realize that it's the same feeling I had 11 years earlier when I drove across for the first time. And the fact that that hasn't gone away, and the fact that it will be there forever, really tells me how special the Cape is and how important it is."
After the 1993 summer, Mike Lowell had doubts about where his baseball future was headed. He hit just .204 in the Shenandoah (VA.) Valley League and questioned whether he had the ability to hit with a wood bat.
"I didn't know if I was strong enough, talented enough to handle a wood bat," Lowell said, "So, I still remember those uncertainties because I felt like I had confidence in my ability, but I hadn't proven it with a wooden bat. And if you can't do it in a summer league, you're definitely not going to do it in professional baseball."
The next year he was invited by field manager John Schiffner to play for the Chatham Athletics (now known as the Anglers) where he hit .307 and was named a Cape League All-Star. The 13-year Major League veteran displayed many of the characteristics that endeared him to Red Sox fans while he played in Chatham.
"He would not let the team quit," Schiffner recalled about his '94 squad that would lose 12 of 13 games at one point. "He would encourage. I could hear that stuff in the dugout. He would talk to the guys and say, 'Hey, we're here to get better. We're getting better. We're facing the best competition.'"
Coming from Miami, Lowell recognized the community feeling on the Cape right away when his host family informed him that he didn't have to worry about locking the house door at night. He found that same kind of innocence on the baseball fields across the Cape.
"I think the first thing that came to mind for me was the innocence of baseball. I think it was baseball in its purest form. I think it started with the hospitality of the host families."
When he came to Chatham, he was a self-described tall, lanky second baseman with little power. He credits Schiffner for helping transform his swing to generate more leverage by throwing him extra batting practice on off-days.
The rest is history, as Lowell went on to earn four Major League All-Star selections and two World Championships – one with the Florida Marlins in 2003 and another with the Red Sox in 2007, the year he was named Series MVP.
"I think it's a great way to finalize and put an exclamation point on a great ride that [my wife and I] have had together," Lowell said.
Dave Bush had a difficult time putting into words exactly how deeply the Cape Cod Baseball League impacted his life. The former A's pitcher met his wife while playing in Chatham. He proposed to her at Veterans' Field in Chatham and they were married at a church in Chatham four years after they met.
"As it turns out," Bush said "I met some of the most important people in my life and had some of the most important experiences of my life right here in Chatham.
"My baseball experience was great. My professional experience has been very fulfilling. But, away from the field, my Cape experience was probably the most fulfilling part of all."
Bush's presenter, former A's teammate John Schneider brought attention to his friend and battery-mate's ridiculous statistics in his two years on the Cape. He saved 11 games with a 0.84 ERA his first year, but managed to whittle that down to a 0.34 mark his second season. In 40 innings pitched over the two summers, he struck out 63 batters, had 12 walks and allowed 24 hits.
The right-hander is currently a Major League free-agent, but has pitched the last eight seasons for Texas, Milwaukee and Toronto.
Seattle Mariners manager Eric Wedge has been a natural leader his whole life, but in his summer on the Cape in 1988, he learned some of the most important lessons that led to eight seasons in MLB as a manager.
"I do believe the two most important things are respecting the game and being a good teammate," Wedge said. "I think that we talk about the Cape Cod League and what it represents, what it does for young people. From a character standpoint 19, 20-year-olds coming in here that think they got it figured out but they don't really know anything...I think it's a very vital part of what's going on in college baseball."
After his summer as Y-D's catcher, a team of Cape League All-Stars played in a tournament for the best summer leagues in the country. The team, which included future Major Leaguers Frank Thomas and Jeff Bagwell among others, brought wood bats while the other teams brought aluminum. After losing the first game badly, the players convened to decide whether they should switch to the metal bats. Wedge led the decision to stay with wood and the Cape League Team won the tournament.
"What I remember about Eric was that he had a presence and strong leadership abilities. He was our manager on the field," said current Bourne Braves field manager Harvey Shapiro, who was an assistant coach on that '88 Y-D team and shared a house with Wedge. "He was intense and the Y-D team took on his personality. Eric was not about personal stats. He was about winning. We finished first in the Eastern Division that summer."
After his sophomore campaign at the University of Michigan, Scott Kamieniecki's manager with the Wolverines told him he had to play against elite competition that summer to improve his pitching. The Michigan native didn't even know where Cape Cod was, let alone what it would mean to his career if he went there.
After a dominant 1984 season for the Harwich Mariners followed by a decade in the Major Leagues, Kamieniecki recalled the sense of community the Cape instilled in him.
"Back home, my wife and I – when we moved there four years ago they had a saying and we kept hearing people say – 'It takes a community to raise a family,'" Kamieniecki said, "Like here, it takes a community to raise this. This is the premier baseball league in the country bar none. I know that now. And it takes a whole community and efforts like this – that put this (Hall of Fame ceremony) together – that allowed us to play here when I was back here in '84.
"And I think the true testament to something that works is, people take things that they inherit and they make it better for the people after them," Kamieniecki added.
Kamieniecki posted a 2.14 ERA in a season on the Cape in which aluminum bats were permitted. He made the All-Star team, striking out 54 batters in 67.1 innings. His 10 years in "The Show" included stops with the Yankees, Orioles, Indians and Braves.
"What doesn't show up in those [stats] is the kind of person that he is," former Harwich GM Jim McGonigle said before presenting Kamieniecki, "and the kind of competitor he always was."
Mark Smith is the last Cape League player to hit over .400 – which he did in the 1990 season while manning the outfield for the Wareham Gatemen. That summer he batted .408. Life was good for the Southern California product and he certainly had a good time that summer.
One night, he had a little too much fun and a party he hosted got out of hand. Wareham's manager at the time, Jim Flanagan called him into his office to talk about it the next day.
"We talked for a bit and I said, 'Well, do you think you're going to send me back home to California?'" Smith said. "And he responded with this classic line I'll never forget. He said, 'Mark, you're hitting .400. If you were hitting .300, you'd be on a plane.'"
He won the Cape League MVP that summer while helping the Gatemen advance to the Championship Series. After Baltimore selected him in the first round of the 1991 draft, he went on to play nine seasons in the Majors with a .243 career batting average.
People could talk forever about Bill Wissler's 1990 and 1991 seasons with the Bourne Braves. He claimed the B.F.C. Whitehouse Outstanding Pitcher Award both summers, posting an ERA well under 2.00 in his Cape career. He was just the fourth pitcher to win the award in consecutive seasons.
However, the former University of Pennsylvania star attributed his success on the field to the support he received off it.
"I'm not going to talk about baseball, people," Wissler said. "I think the majority of these guys would agree that when you perform at a high level, the majority of it is natural talent. There's a small bit of coaching that goes into it, but no one had to teach Mike Lowell how to hit a baseball. Most of it is very natural. What's more important to me and what's always been more important to me is the family support system that's been around me."
In those two summers, Wissler grew very close to his host family. His former host father, Dr. Grover Baxley, spoke about the kind of impact Wissler had on his own children.
"He became a close member of our family. He played wiffle ball in the back yard with my kids. He was there for us," Dr. Baxley said. "He confided in me, he confided in my wife. He was an important member of our family."
The Paul O'Neill who's among the new members of the Cape Cod Baseball League admits he isn't the most well-known Paul O'Neill in the baseball world (referring to the former Reds and Yankees All-Star), but that doesn't bother the former Boston College and Cotuit standout.
"I'm here, who knows where he is?" O'Neill said. "And furthermore, who cares where he is? You could care less, right? And I think the only thing he's got over me, is in his paycheck he had a lot more zeros than I had."
O'Neill won championships in both the 1974 and 1975 seasons with the Kettleers. His breakout year came in '75 when he won the Pat Sorenti MVP Award by hitting .358 with five home runs and 22 RBI. He also hit five homers in the postseason that year.
"One of my images of Paul is him arriving at our ballpark," former Cotuit manager Jack McCarthy said. "Either before a practice or before a game, and just kind of watching him come through the gate, go down the steps of the clubhouse and put his spikes on, kid around with his teammates. And from that, there was this bright enthusiasm that shone through a person who was exactly where they wanted to be and doing exactly what he wanted to be doing."
Doug Fisher's baseball career ended shortly after the summer in 1984 when he matched the league RBI record (54) while playing for the Falmouth Commodores. He hit .349 with 14 home runs and a league-leading 119 total bases. That season earned him a spot on the 1980's All-Decade Team.
The Central Michigan University alumnus remembered a Little League coach who worked as a bill collector with a unique appearance. He motivated Fisher to become the player he was.
"We called him the one-eyed, bald-headed bill collector," Fisher said. "If you made an error in the field, he would publicly humiliate you...He taught us to be ready, come to play, think ahead and that just carries through in life."
Fisher's best friend and Little League teammate Brian Reinbold presented his longtime friend for induction.
"Doug is a good man, a true friend, a heck of an athlete and a very involved and caring father," Reinbold said. "I am so proud to call him my friend."
John Garner, Jr.
Director of PR/Broadcasting
(508) 790-0394
Geoff Converse
Web Editor
(508) 420-0044