Hall Of Fame News
Paying tribute to the past
The Cape League invokes warm thoughts on a cold, winter day with the induction of 12 to its new Hall of Fame.
By RUSS CHARPENTIER
STAFF WRITER
CHATHAM - On a day of misty memories and smiles over days well spent, the Cape Cod Baseball League inducted its first group of Hall of Famers yesterday in an afternoon of baseball and a celebration of friendship at Chatham Bars Inn.
"I'm a rich man without having any money," said Red Wilson, one of 12 inductees in the league's brand new Hall of Fame, as he looked around at old his old friends and foes from the baseball wars fought on Cape Cod diamonds.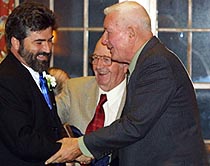 Jeff Reardon, left, is congratulated by fellow Cape League Hall of Fame inductees Bill Enos and Eddie Lyons.
(Staff photo by MATT SUESS)

---
Wilson went into the Hall of Fame along with current major leaguers Mo Vaughn and Frank Thomas, former major league pitchers Jeff Reardon and Mike Flanagan, scouts Lennie Merullo and Bill Enos, former manager Eddie Lyons, former Cotuit general manager Arnold Mycock and Boston Red Sox vice president Dick Bresciani.
The first commissioner of the modern Cape League, Dan Silva, and former New York Yankees catcher Thurman Munson were inducted posthumously.
Vaughn could not attend because of impending surgery, but videotaped an acceptance speech in which he said the Cape League was very helpful to the success he has had in the pros and as a person.
Thomas was absent because of a prior commitment, but White Sox scout John Tumminia accepted on his behalf and brought the thanks of Thomas and the White Sox organization.
For those inductees and their families, it was truly a day of thanks and celebration.
"For an old minor league pitcher, this is my Cooperstown," said the 74-year-old Lyons, who managed for 14 years and brought Chatham a playoff title in 1982. "To all the old players and fans of Cape Cod, this is the highlight of my baseball career."
Inductee after inductee extolled the virtues of the Cape Cod League, from its geographical setting to the volunteers that are the lifeblood of its existence.
Those in attendance did not want the affair, which ran nearly two hours long, to end. Family and fans mobbed the inductees on the stage after the event and kept them there.
"Talk about appreciation," said Cape League commissioner Bob Stead, who has been the driving force behind the Hall. "The Hall of Fame is about tradition and preserving history. This was living history today. It was a fantastic day."
Indeed it was. Veteran scout Merullo, who played in Barnstable in the 1930s, was introduced by his son, Lennie Merullo Jr., and his grandson, Matt Merullo, who played in the big leagues until 1996 and who now scouts for the Arizona Diamondbacks. All three Merullos and another son of the veteran scout also played in the Cape League. Four Merullos over three generations played on Cape diamonds.
"Being here for my grandfather was special," said Matt, echoing the words of all related to the inductees as well as the inductees themselves.
"This might be another inauguration day in Washington, but I can assure you this day is not any more important to President Bush than it is to Len Merullo."
Merullo also joked he would decline any more honors after his experience as a Cape League Hall of Famer and the phone calls that ensued after the announcement was made.
"We have a large family and a lot of fans through baseball," Merullo said. "So many people were trying to get tickets to this."
The affair had been sold out for months. Even the bad weather didn't keep people away. Of the 350 tickets sold, CBI officials said 340 were used.
All the honorees had their special memories.
Jeff Reardon's speech was short, but drew some of the biggest laughs when he said it was Arnold Mycock who got him his shot at the pros by calling a scout despite the fact that Reardon had starred in Cotuit for three summers.
"The sole reason I made the pros is that Arnold made the call to a scout," Reardon said. "I don't know where Len Merullo and Billy Enos were. Must have been in a restaurant for those three years I was here."
Before the event Reardon, the fourth all-time save leader in major league history, told how playing in Cotuit produced another major event in his life.
"I met my wife Phoebe there in 1974. Her family had a summer house in Cotuit. It's kind of funny. When I first met her, she didn't know what a fastball was. Then she was a baseball wife for 17 years."
Falmouth general manager Chuck Sturtevant introduced Flanagan, who pitched in the majors for 18 years and won the Cy Young Award with Baltimore in 1979. He also drew laughs when he credited league historian Bruce Hack with finding an old Flanagan quote in which the lefty said, "I ended up with more complete games than credits (at UMass)."
Flanagan played for the fiery Bill Livesey at Falmouth, who Flanagan said trained him to play for the mercurial Earl Weaver at Baltimore. He also said his summer of 1972 in Falmouth remains special.
"I've forgotten some of my major league years. They all run together. But I'll never forget my year in the Cape Cod League."
Enos had the audience laughing from the start, but did manage to get serious for a moment.
"I hope the players in this league know what they're getting into," he said. "I hope they realize how lucky they are. So many players want to play here and can't get in."
Arnold Mycock will never forget his 44 years as GM in Cotuit, or his 51-years-and-counting service to the Kettleers and the Cape League. As usual, though, Mycock deflected all credit even though he was one of the major players in the league becoming a college league.
"It's hard to envision it would be as big as it's become. It's like running a small business."
Accepting Munson's award was Jeff Pfeifer, administrator of operations for Major League Baseball. Pfeifer read a note from Diane Munson, Thurman's wife, who thanked the league and said Thurman would be applauding from above for his selection.
Former commissioner Bernie Kilroy accepted the award for Silva, who guided the league into the modern era.
"He set a standard of excellence," Kilroy said.
Bresciani was the league's public relations director and statistician before joining the Red Sox in 1972.
"Dan Silva, Arnold Mycock, Red Wilson, so many more," Bresciani said. "There are tremendous people I knew and worked with."
Many were in attendance yesterday as the extended Cape League family came together to celebrate its very best. It ended with master of ceremonies Scott Wahle of Channel 4 leading the crowd in a rousing rendition of Take Me Out To The Ballgame.
A fitting end to the best of days.