Hall Of Fame News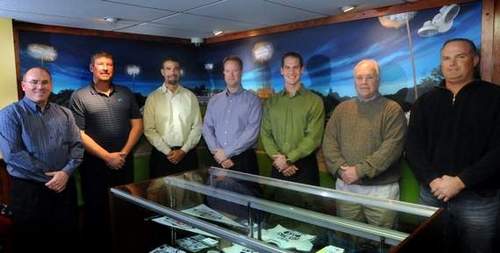 By RUSS CHARPENTIER
[email protected]
November 20, 2011 2:00 AM

CHATHAM – There was no doubt who the crowd favorite was Saturday at the Cape Cod Baseball League's Hall of Fame induction ceremony at tony Chatham Bars Inn.

Former Boston Red Sox fan favorite Mike Lowell (Chatham, 1994), the 2007 World Series MVP, received a long standing ovation as he was introduced as the ceremony's final inductee.

Lowell headlined a very impressive list of Hall of Famers making their entrance Saturday. Included were five former major leaguers – Lowell, current Seattle manager Eric Wedge, pitchers Scott Kamieniecki and David Bush and 10-year major league outfielder Mark Smith, the last Cape Leaguer to hit .400 (.408 with Wareham in 1990).

Also inducted were Bourne and University of Pennsylvania right-hander Bill Wissler, the league's outstanding pitcher in 1990 and '91; 1975 MVP Paul O'Neill from Boston College and Doug Fisher of 1984 Falmouth, who tied the league RBI record with 54 and is a member of the 1980s All-Decade team.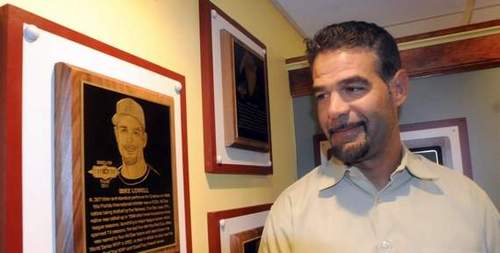 That brings the total number of members in the CCBL's Hall of Fame to 116.

The Hall is located in the basement of the John F. Kennedy Museum in Hyannis.
Peter and Diane Troy, formerly of the Chatham Anglers, were presented with the Fred Ebbett Lifetime Achievement Award. Don LeSieur of the Orleans Firebirds was given the Richard "Dick" Sullivan Executive of the Year Award.

But it was Lowell, who retired after the 2010 season because of a bad hip, who drew the bulk of the sold-out crowd and he didn't disappoint.

On a day filled with funny stories and poignant reminiscence, Lowell's 10-minute talk ran the gamut.

"I'm very humbled to be with you seven outstanding gentlemen," Lowell told his fellow inductees. "I have a former teammate in Mark Smith. I played against David Bush and I know the Red Sox have a managerial opening. They would be honored and privileged to have someone of Eric Wedge's caliber."

That drew a big cheer from the crowd, obviously impressed with Wedge's appearance moments earlier.

Lowell had them laughing as he spoke of the adjustments he had to make, being from Miami and going to the Cape and New England.

"I remember my host family (in Chatham). They said 'this will be your room,'" Lowell said. "I roomed with a fellow (Florida International) player – Juan Munoz. They said 'just come in through the side, we don't lock the doors and you can park your car wherever you want.' We looked at each other, 'Is she putting us on? Don't lock the door? We're locking the door to our room.' I think it just showed the community atmosphere and the nature of what this league is all about."

Lowell hit .307 as Chatham's second baseman in '94, good enough to become a 20th-round pick of the Yankees in 1995. He was very appreciative for those who helped him along the way.

"I think a big thanks has to go to all the volunteers and the people who see so much in 18, 19 and 20-year-old kids and the joy of baseball that they bring to it."

Lowell said Saturday's honor made his career a complete circle.

"My wife is here with me today. We were a young couple dating when she came to visit me in Chatham. I think things definitely come full circle. I think this is a great way to finalize and put an exclamation point on a great ride that we've had together. It's a very special day for me and everyone and I thank you very much for letting me be a part of this day."

Wedge, who managed the Indians before moving on to Seattle, was the people's choice for Red Sox manager after he came across as a hard-nosed player and manager in his speech. Bourne manager Harvey Shapiro was a Yarmouth-Dennis coach when Wedge caught for champion Y-D in 1988. "He was an intense player and the team took on his personality," Shapiro said.

"Baseball's a great sport," Wedge said. "I believe the two most important things are respect for the game and being a good teammate. When you talk about the Cape Cod League, and what it represents, what it does for young people. From a character standpoint, you have 19- to 20-year-olds coming here who think they've got it figured out and really don't know anything.

"I tell my kids all the time, be it spring training or during the season, baseball is what you do, it's not what you are, not who you are. You don't define yourself by what you do on the field. You define yourself by what you're about as far as character, the way you treat people, the way you handle yourself on a day-to-day basis. I believe baseball players are role models. They don't have to be choir boys, but they must understand what they do and the responsibility that goes with that."

Bush has plenty of reasons for having a special place in his heart for the Cape. Not just because in 48 innings over two summers the Wake Forest right-hander allowed just 24 hits, struck out 63 and allowed three earned runs, and went on to pitch with the Blue Jays, Brewers and Rangers.

"The Cape is really like a second home to me," he said. "I came here in 2000 as a 20-year-old who had just finished his second year of college. I met my future wife that first summer and we kept in touch and started dating the second summer. I proposed to Kerry at Veterans Field. We were married in Chatham in 2004.

"Even now, driving over the bridge, I get goose bumps again, just like the first time 11 years ago and will keep getting them forever."

Smith, who came to Wareham from USC, was a first-round pick of Baltimore's after his 1990 Cape League MVP season.

He had his audience roaring from the start, when he said, "When I was on the Cape, I didn't have a host family. It's safe to say if I did, they wouldn't be here tonight."

Smith obviously enjoyed his summer here, and gave a lot of credit to the late John Wylde for helping him along the way. Jim Fleming, now the assistant general manager of the Marlins, was the Gatemen's manager that summer.

Smith told of hosting one wild team party and having to see the manager the next day. "I asked, are you going to send me home. Jim said, 'Mark, you're hitting .400. If you were hitting .300, you'd be on a bus home.'

"I'd also like to apologize to Hertz Rent-A-Car," he said, the crowd loving his routine. But even Smith turned serious.

"I'll always cherish my time on the Cape. I thank all of you for doing what you do to help college players get one step closer to their dream."

Kamieniecki, who is from Detroit and the University of Michigan, joked he had didn't know where Cape Cod was before his college coach told him he should go there. He soon found out – he was 4-1, 2.12 with Harwich in 1984, and pitched 10 seasons in the big leagues with the Yankees, Orioles, Indians and Braves.

"It takes a community to raise a family, and it takes a community to raise this," he said of the league. "This is the premier baseball league in the country, bar none. It's a true testament that people can take something that is good and make it better."

O'Neill said sometimes there is confusion between him and former Yankees outfielder Paul O'Neill. "I just happen to have the same name as the person from the evil empire," he said, drawing laughs from the crowd. O'Neill won back-to-back batting titles in 1974-75, hitting .358 in '75, and was drafted the Padres.

But O'Neill was obviously sincere when he told the crowd, "This is supposed to be our day," he said, referring to the inductees. "I consider it your day. There is a special group of people here on the Cape."

Wissler signed with the Twins after his two outstanding seasons in Bourne and spent four years in the Minnesota organization. "The greatest thing about the Cape Cod League is it's pure," he said. "It's not about paychecks at that point."

While he obviously enjoyed and excelled at the diamond competition, he spoke of the good times he had with his host family. Dr. Grover Baxley, his host father, introduced him.

"Dr. Baxley had a boat, and we'd go over to Martha's Vineyard or Nantucket, fishing for bluefish on the way," Wissler recalled.

"Personal accolades don't mean a lot to me," he said. "Being able to share this with my three kids means everything to me."

Fisher came from Central Michigan and set the Cape on fire in 1984 while playing for the late Eddie Lyons in Falmouth. The Pirates drafted him in the 17th round in 1986.

He spent his speech thanking those who helped him along the way, especially his mother, who died in 1981, when Fisher was just 17. But he brought a smile to everyone's face when he said, "She's smiling today. As a lifelong Democrat, her son's plaque is hanging in JFK's museum."


Copyright © Cape Cod Media Group, a division of Ottaway Newspapers, Inc. All Rights Reserved.