News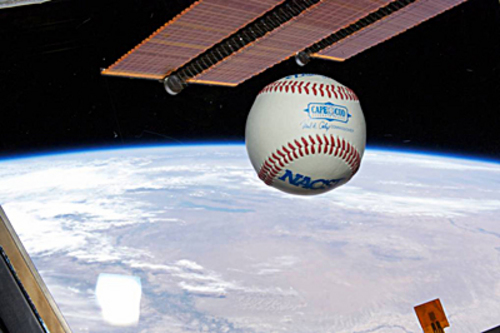 07/05/2011 4:46 PM
Article By:
Cape Cod Baseball League officials are anxiously awaiting the return of their "Spaceball," which traveled to and from the International Space Station as one of the personal items carried aboard the Space Shuttle Endeavour by its commander, U.S. Navy Capt. Mark Kelly.
NASA public affairs officers have promised to ship the unique baseball to Cape Cod as soon as it is signed by all six Endeavour crew members who participated in the STS-134 mission, the last for Endeavour and the next-to-last for NASA's shuttle program.
On Tuesday, July 5, NASA released a spectacular photo taken during the mission. It shows the ball floating in zero gravity during the mission with the cloud-covered Earth as the backdrop.
"Once we have the ball, it will go on public display at our Hall of Fame and Museum in Hyannis," said Cape League President Judy Scarafile, who added that this most famous ball will be taken to Fenway Park on July 29 to be displayed at the Jordan's Furniture Cape League All-Star Game.
Joe Sherman, Cape League special projects coordinator, said the "Spaceball" traveled more than 6.5 million miles and completed 248 orbits of the Earth. "Endeavour was launched from Kennedy Space Center in Florida at precisely 8:56 a.m. ET on May 16 and touched down at 2:35 a.m. ET on June 1 for an elapsed mission time of 15 days, 17 hours, 38 minutes and 57 seconds," he said, adding that Endeavour was docked with the International Space Station for 11 days, 17 hours and 41 minutes before separating and beginning its journey back to Earth.
When asked when the "Spaceball" will be arriving on Cape Cod, Scarafile responded, "Very soon, we hope." She said it will be accompanied by a Cape League logo patch, which also made the trip into space, and by other items provided by NASA, including certificates of authenticity for the ball and patch.