News
05/02/2008 9:19 AM
Article By:
Cape League Trio Impressed by New
Martha's Vineyard Field; Plans Progress
For Wareham-Falmouth Game There July 22
VINEYARD HAVEN, Mass. -- A three-man delegation of Cape Cod Baseball League officials visited the new Vineyard Baseball Park on Wednesday, April 30, to inspect the facility in advance of the Wareham-Falmouth game scheduled to be played there in late July.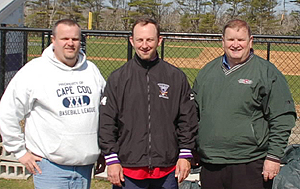 Dan Dunn, Gary Simmons and Paul Galop
at Vineyard Baseball Park
Commissioner Paul Galop, Falmouth Commodores General Manager Dan Dunn and Joe Sherman, the league's coordinator of special projects, were shown around the park by Martha's Vineyard Regional High School baseball coach Gary Simmons, who spearheaded the effort to bring the Cape League to the Vineyard on Tuesday, July 22, for a fund-raiser intended to benefit the field's maintenance fund.

Although the ballpark remains a work in progress, all three visitors were duly impressed:

"Frankly, it's a much nicer field than I expected to find," said Galop.

"It's better than several of our regular Cape League fields," said Dunn.

"It's a very well thought-out ballpark and once the scoreboard is installed, the stands are constructed and other facilities are in place, it will be a great venue for a Cape League game," said Sherman.

The visiting trio took note of how dry the infield appeared to be, even after the very heavy rainfall it had absorbed over the previous two days. "We're very pleased with the drainage," Simmons told them. "The field is almost playable right now." He emphasized his point when he showed off the nearly dry dugouts.

Simmons said four sections of permanent stands, each accommodating about 300 people, are scheduled to be constructed prior to the Cape League game. The scoreboard has arrived and will be installed soon, and the dugouts also will be finished in the near future, he said. Although there are no immediate plans for a permanent press box, he said, the plan is to erect a tent directly behind the backstop to accommodate the official scorer, field announcer, broadcasters and other media personnel.

Protected bullpens and batting cages on both the home and visiting sides were of particular interest to the Cape League visitors. These are already in place and will require very little additional work.

The slope beyond the outfield fence is a perfect location for families to spread blankets and settle in to watch the game, complementing the fixed seating which will be located behind the home and visiting dugouts. "We should be able to handle 2,000 to 3,000 fans," Simmons said.

The symmetrical ballpark has foul lines extending 315 feet from home plate in both left and right fields, and the fence bends to 385 feet in straightaway center. Simmons said the prevailing winds at the field favor left-handed power hitters. Only a handful of homers have been hit by high school players using the field, he said, but the Cape League game may be another matter entirely.

Falmouth will be the "home" team for the July 22 game, which is scheduled to start at 1 p.m. Both the Commodores and their opponents from Wareham are expected to be transported to and from the Vineyard by boats out of Falmouth Harbor. Fans from the mainland will be encouraged to take the Steamship Authority ferry from Woods Hole. Shuttle buses will be provided from the docks to the field, Simmons said.

"We'll have a large group of kids making the trip from Falmouth," said Dunn, "and the excitement is beginning to build among our adult fans as our league's opening weekend (June 13-15) approaches," he said.

Simmons hinted that a celebrity or two may be on hand to provide a little added excitement, and Dunn assured him that the players from both teams will be happy to meet local youngsters and sign autographs. Simmons said there is talk of the game being broadcast on the local NPR radio station and Sherman pointed out that both Falmouth and Wareham routinely broadcast their games via the Cape League's internet facilities, so there should be plenty of play-by-play coverage available for those who can't be there in person.

Dunn said the Commodores will set up a souvenir stand with many items bearing the team's logo and the Cape League logo being offered for sale. Among them, he said, will be inexpensive Cape League logo baseballs which are ideal for autograph-hunters.

The Cape League is definitely in a traveling mode this season, playing a total of four games on off-Cape fields in 2008. In addition to the Vineyard contest, Falmouth will travel to Brockton on June 28 to play the defending champion Yarmouth-Dennis Red Sox at Brockton's minor league ballpark, Campanelli Stadium. And Wareham will be the "home" team for two games at Paul Walsh Field in New Bedford, hosting the Orleans Cardinals on June 16 and the Bourne Braves on July 11.

All three of those games will be played at night under the lights.