News
05/26/2008 9:25 AM
Article By:
Now TV Analyst for Milwaukee Brewers,
Cape League's 1978 MVP Bill Schroeder
Visits Hyannis for First Time in 30 Years
HYANNIS, Mass. – Thirty baseball seasons have come and gone since Bill Schroeder worked as a security guard at Cape Cod Hospital by day and was the starting catcher for the Hyannis Mets at night.

When the former Cape Cod League MVP visited Hyannis last Saturday (May 17), he found that things had changed quite a bit.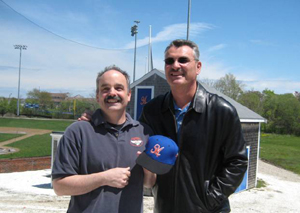 Bill Bussiere, left, general manager of the Hyannis Mets, presents a Mets cap to Bill Schroeder, Milwaukee Brewers TV analyst, during a get-together at McKeon Field in Hyannis on Saturday, May 17. Schroeder was the Mets' catcher in 1978, a season in which he hit a league-leading 15 home runs and won the Cape League's Most Valuable Player and Outstanding Pro Prospect awards. He went on to play eight seasons in the big leagues.
CCBL Photo 2008 /Joe Sherman
Now the Milwaukee Brewers' TV color commentator, Schroeder was in Boston recently for the Brewers' weekend interleague series with the Red Sox. Thanks to a Friday night rainout, a day-night doubleheader was scheduled on Saturday, but neither game was being televised back to Milwaukee by Schroeder's crew. So Bill and his wife Kate rented a car and drove to the Cape for a nostalgic trip back in time.

"I was talking with Bob Schaefer during a recent Brewers-Dodgers series and of course the conversation got around to the Cape League," Schroeder explained. "It occurred to me that we (the Brewers) would soon be playing in Boston for the first time in decades, so I made up my mind that we'd schedule a trip to the Cape that weekend."

Schaefer was the Hyannis manager in 1978 and he recruited Schroeder, a star at Clemson, to handle the Mets' catching chores. It was a wise move because Schroeder hit a league-leading 15 home runs and was named league MVP and Outstanding Pro Prospect. "We've remained friends ever since," said Schroeder. "Now that he's in the National League (as Joe Torre's bench coach with the Dodgers), we see each other more often. But we've kept in touch by phone over the years."

When they arrived at McKeon Park, several Mets and Cape League officials were on hand to welcome them. Hyannis General Manager Bill Bussiere was there with a Mets cap as a souvenir. "That'll be 20 bucks," Bussiere quipped as he handed the cap to Schroeder. "Hey, I'd pay a hundred bucks for this cap," Schroeder countered, and both men chuckled.

The league's public relations and broadcasting director, John Garner, was also present to make sure Schroeder received a copy of the updated list of more than 720 Cape League graduates who played Major League Baseball. Garner also gifted the popular Milwaukee broadcaster with a Cape League all-star cap and the league's most recent yearbook and media guide.

As Bussiere pointed to the newly installed lights at the Hyannis field, Schroeder looked puzzled. "This doesn't look at all like the field I played on," he said. And he was right. The 1978 Mets played at Barnstable High School's baseball field, and before the day was over, Schroeder was taken there as well by Garner and Hyannis Mets VP Peter Scarafile, who acted as tour guides.

When someone suggested lunch, Schroeder asked whether Mildred's Chowder House was still open. He was disappointed to hear that the popular Hyannis eatery had closed several years ago and the building has been razed. "When I was playing," he recalled, "the owner of Mildred's offered a free meal for any Mets player who hit a home run. Well, I hit a lot of homers that year (15), so I ate pretty well."

Scarafile and Garner drove the Schroeders to the spot where Mildred's was formerly housed and he took a drive-by photo of what is now a vacant parking lot next to the Barnstable Airport. They also drove by the BHS baseball field, where the Mets played from 1976-78 before moving to their current digs at McKeon Park. He sat in the home dugout and took several photos of the spot where many fond memories occurred

Schroeder also hoped to visit the Cape League's new Hall of Fame in the John F. Kennedy Museum on Main Street, but was informed that the facility is still under construction and won't be open to the public for several weeks. He explained that his old friend, Schaefer, inducted into the Hall of Fame as a member of the Class of 2007, had told him about the facility and thought it was already open.

Born in Baltimore and raised in Princeton, N.J., Schroeder was an All-State baseball player as a junior and senior in high school. He attended Clemson and led the Tigers to Atlantic Coast Conference titles in 1978 and 1979, but credits his exposure in the Cape League for his selection by the Brewers in the eighth round of the 1979 amateur entry draft.

"When the scouts see that you can hold your own against that kind of competition, your chances of being drafted improve dramatically," he said.

Schroeder went on to play eight seasons in the big leagues – six with the Brewers and two with the Angels – before retiring as a player in 1990. He was a key member of "Team Streak," the 1987 Brewers, who tied a Major League record by winning their first 13 games, and he caught the only no-hitter in Brewers history in the midst of that streak when Juan Nieves stymied the Baltimore Orioles and their former Cy Young Award winner Mike Flanagan (Falmouth 1972), 7-0, thanks to a diving, game-ending catch by Baseball Hall of Famer Robin Yount of a line drive to right-center field by fellow Baseball Hall of Famer Eddie Murray.

Although used primarily in a backup role, Bill hit a career-high 14 home runs with 42 RBI in 1987 and provided the highlight to his finest big league season when on June 14 at Yankee Stadium, before family and friends, he collected four hits, including a game-winning homer off southpaw Dave Righetti.

Schroeder is in his 13th season as the Brewers' TV color commentator. He formerly co-hosted "Baseball Sunday" in 1994 and "Talkin' Brewers" on WTMJ Radio from 1998 to 2000. For the past four winters, he has also been coordinator of the Brewers' Fantasy Camp at the team's spring training home in Maryvale, Ariz.

In 1988, he received the Athletes For Youth "Good Guy" award in recognition of his service to the Milwaukee community.

Bill and Kate live quietly in Muskego, Wis. They have two daughters, Lindsey and Mallory, one son, Billy, and a miniature dachshund named Otis.
Joe Sherman
CCBL Web Editor