News
06/14/2008 9:52 AM
Article By:
Falmouth Commodores' 2008 Season
Much Brighter Now Thanks to Improved
Lighting System at Guv Fuller Field
FALMOUTH, Mass. – Night baseball at Guv Fuller Field in Falmouth will be kicked up a few watts this summer. The Commodores recently finished construction of new lights and on Friday, June 27, they're hosting an "Under the Lights" ceremony in conjunction with their 2008 home opener against the Chatham A's.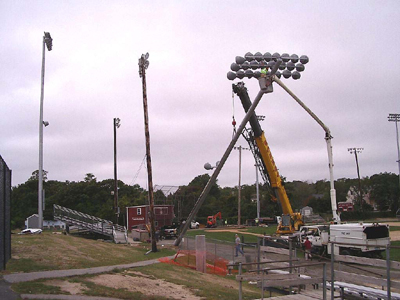 Work continued throughout the off-season on the installation of a new lighting system at Guv Fuller Field's Arnie Allen Diamond in Falmouth.
The Cape Cod Baseball League's Falmouth Commodores play their first game under the new lights on Sunday, June 15, when they host the Chatham A's.
(Photo courtesy of the Falmouth Commodores)
In ceremonies scheduled to begin at 6:15 p.m., the Commodores are planning to introduce representatives from all organizations that were instrumental in bringing the project to fruition.

Former Commodore GM and current treasurer Chuck Sturtevant initiated the process of replacing the lights by applying for a $150,000 grant from the Yawkey Foundation, which was awarded in 2006.

The Commodores organization, the Falmouth Babe Ruth League and the Falmouth Community Preservation Committee also helped fund the project. Several other organizations were involved in helping the project become a reality including Bright Lite, Musco Lighting, and the town's Recreation Department, Board of Selectmen and Preservation Committee.

Members of each organization will throw out a ceremonial "first pitch," all at once, as a token of the Commodores' appreciation. Each group will also receive an autographed baseball and display case from the team.

"It is just a simple ceremony to thank those involved and a true testament to the community effort that took place," said Christine Clark, vice president of public relations for the Commodores.


Laura Rasmussen, CCBL Intern ([email protected])