News
06/14/2008 10:01 AM
Article By:
for immediate release: 14 Jun, 2008
Even the Goodyear Blimp Couldn't
Wrest Attention from John Wylde
As Gatemen Honored Their Patriarch
WAREHAM, Mass. — The baseball card bearing John Wylde's name, picture and "statistics" is one worth collecting (see card at end of story).

One of the true pioneers of the Cape Cod Baseball League, longtime volunteer Wylde is celebrating his 25th year with the Wareham Gatemen organization, truly his greatest stat of all.

The card was just one of the many tributes which were part of "John Wylde Night" Friday, June 13, at Spillane Field.
A night on which only two teams squared off on Opening Day for the first time in Cape League history, yet with players and officials from all 10 teams in attendance.
A night on which the Goodyear Blimp hovered in the clear blue sky, yet all eyes remained fixed on the press box.
A night on which John Wylde was formally recognized as irreplaceable, even though everyone in attendance had known it for many years.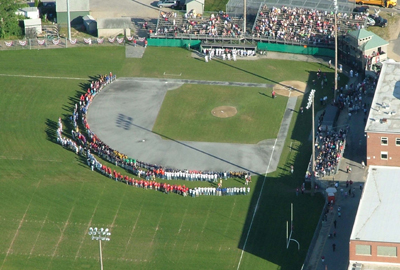 Players, officials ring infield during Opening Day ceremonies at John Wylde day game (photo taken especially for the Cape Cod Baseball League
by Goodyear from the Goodyear Blimp, "Spirit of Goodyear")
Photo by Rob Delagrange / 2008
"His accomplishments are really innumerable," said Judy Walden Scarafile, Cape League president. "He has been a major part of everything about the League, whether it was statistics, our relationship with Major League Baseball, scouts, coaches across the country, or players. He has devoted his whole life to the players and the team that he brings in every year. And then there are the field improvements. He reaches out in every aspect of baseball."

Wylde was diagnosed with inoperable cancer of the liver last fall. Initially, he was told he would be lucky to make it through the summer, but doctors now say he is responding remarkably well to treatment and tests show that chemotherapy has reduced the size of the tumor.

Wylde was forced to cut back on his responsibilities, however. He handed over his GM duties to his assistant, Tom Gay, but chose to continue as Gatemen president and in the job he truly loves, public address announcer for home games at Spillane Field.

"John Wylde is the organization and has been for 25 years," Gay said. "He has been the leader. He is why the Gatemen have won four or five championships over the 25 years he has been at the helm. He inspires pride in the organization and carries it over to the players, coaches and fans."

When Wylde first became involved with the Gatemen, the "press box" at Spillane Field was a blue-shingled shed with five steps. Since then, Wylde has funded a new press box, one that spreads the entire length of the backstop and could be mistaken for a summer beach house if not for the baseball diamond in front of it.
And one that now bears the name of "John H. Wylde Press Box" in his honor.

It was toward that very press box, toward Wylde, who sat in his usual seat behind the P.A. microphone, that Friday's pre-game ceremonies were directed.

Commissioner Paul Galop "re-inducted" Wylde into the CCBL Hall of Fame, an event that Wylde was unable to attend last November due to his illness.

The family of former Gatemen and current Tampa Bay first baseman Carlos Pena presented a commemorative bat from Major League Baseball's Opening Day.

Mr. Wylde also received an engraved bat from Tom Bednark of the Barnstable Bat Co., whose remarks were brief but right on point: "A good bat is straight, strong and has integrity. John, you fit all those great qualities," said Bednark.

From the 100-plus baseball players, umpires, Gatemen alumni and little leaguers who lined the infield grass, to a proclamation from Gov. Patrick to a presentation from Major League Baseball, the whole night was devoted to John Wylde.

And it was from that very press box, where he sat in his usual seat behind the PA microphone, that Wylde acknowledged them right back in his calming baritone voice. "I would just like to add from the old man in the press box that I will never forget this night," John said at the conclusion of the ceremonies.

Even though the Gatemen would wind up losing to the Commodores, 9-2, perhaps the best moments for Wylde were announcing the opening lineups, gazing out as the 2008 Wareham Gatemen charged onto the field, and hearing that first pitch hit the catcher's mitt, signifying that another season of baseball was under way.

"Baseball is his life. I'm not sure there is a John Wylde away from baseball." Scarafile said. "It's baseball non-stop and that is the beauty about John. If you need a baseball fix, just call John and you will get it."

Wylde has undoubtedly turned that baseball fix into one the whole community can share.

"He has created a following," Scarafile said. "Not just a fan base, but a following of people who absolutely love the players in this town."

Those people also absolutely love John Wylde.

On Friday night, more than 200 of theme signed a guest book which has been given to Wylde. Some simply signed their names. Others wrote notes of thanks. And one of those notes said it all: "Some people meet people who change their lives," wrote Sue Pina of Cotuit. "You, Mr. Wylde, are one of those people."

| | |
| --- | --- |
| John Wylde Baseball Card - Front | John Wylde Baseball Card - Reverse |
Laura Rasmussen, CCBL Intern ([email protected])