News
06/24/2008 10:10 AM
Article By:
24 June 2008
South Dennis Cancer Survivor, 71/2,
To Sing National Anthem, Jimmy Fund
To Benefit from CCBL Game in Brockton
BROCKTON, Mass. – An extensive effort to raise money for the Jimmy Fund has been added to an already exciting program for Saturday night's Cape Cod Baseball League contest at Campanelli Stadium between the Yarmouth-Dennis Red Sox and the Falmouth Commodores.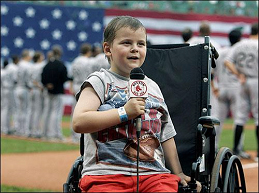 Jordan Leandre sings the National Anthem from his wheelchair at the Boston Red Sox' home opener at Fenway Park in 2005. The youngster from South Dennis has sung at Fenway on 10 different occasions and will be at the microphone Saturday night when Yarmouth-Dennis meets Falmouth in the first City of Champions Cape Cod Baseball Hall of Fame Classic at Campanelli Stadium, Brockton.
(Photo courtesy of Ken Leandre)
"We are thrilled that the Cape Cod Baseball League and Brockton Rox are hosting the 'City of Champions Cape Cod Baseball Hall of Fame Classic' to benefit the Jimmy Fund," said Executive Director Mike Andrews after being told of plans for the June 28 game.

In addition to placing Jimmy Fund collection canisters at strategic locations throughout the stadium, a silent auction will be held for personalized items donated by Cape League alumni now playing on major league teams and by other generous benefactors.

More items for the auction are arriving almost daily, underscoring the esteem in which the Cape League is held by those in Major League Baseball. Los Angeles Dodgers manager Joe Torre sent along two signed baseballs and an autographed photo for the auction, and Bobby Valentine (Yarmouth 1967), former Texas Rangers and New York Mets manager and now skipper of the Chiba Lotte Marines, dispatched several items from his Japanese Pacific League team.

Originally, the game was planned strictly as a fund-raiser for the Cape League's new Hall of Fame, currently under construction at the John F. Kennedy Museum on Main Street in Hyannis. In fact, the host Brockton Rox have pledged that all proceeds from ticket sales will be donated to that cause. But organizers decided to bring the Jimmy Fund into the picture after they received confirmation that 7½-year-old Jordan Leandre of South Dennis would be there to sing the National Anthem.

Jordan and his family discovered the importance of the Jimmy Fund first-hand after he was diagnosed with Ewing's Sarcoma on April 4, 2003, at age 2½. He underwent 10 months of chemotherapy and endured five surgeries on his right leg, the first of which lasted 10 hours as the tumor and consequently the majority of his femur were removed. His leg was reconstructed using a bone from a bone bank.

Jordan finished his last cycle of chemotherapy in February 2004.

"Jordan Leandre embodies the success we can have when enough resources are available to our clinicians and our researchers," said Andrews. "Jordan is an inspiration to all of us and we know that all of those at the classic will enjoy seeing him perform."

Jordan is already a veteran performer. While hospitalized, he frequently sang, "God Bless the U.S.A.," and the first time he sang the National Anthem before a game was at age 3 at a regional tournament for 13-year-olds. He made his first of 10 appearances at Fenway Park on Aug. 27, 2004, and the Red Sox keep inviting him back.

He sang before a spring training game in Fort Myers, Fla., and on the night Jerry Remy was inducted into the Red Sox Hall of Fame. Other performances have come at Y-D Red Sox, Cotuit Kettleers and Brewster Whitecaps Cape League games, as well as at the championship game of the 2006 ECAC Division III tournament at Whitehouse Field in Harwich. The Joe Cronin Fishing Tournament, the Robert Campbell Memorial Hockey Tournament and several benefit golf tournaments are also on his resume.

"Jordan's love for life and baseball are unmatched," said his dad, Ken. "He spends most of his spare time playing the game and he closely follows his beloved Boston Red Sox."

When Sox pitcher Jon Lester was diagnosed with cancer two years ago, Jordan made a get-well-soon card and sent it off to the rookie left-hander. Inside, he wrote, "If I can do it, you can, too." He enclosed two photos, one taken while he was going through chemotherapy and one taken after he had completed his chemo sessions.

Jordan was delighted when Lester pitched a no-hitter earlier this season.

Yarmouth-Dennis General Manager Jim Martin, in a nod to the Jimmy Fund, has ordered lavender bats for the game. And Falmouth GM Dan Dunn said his team will also be using the special bats (lavender is the color for cancer awareness). Several of the game-used bats will be added to the list of auction items, as will autographed commemorative baseballs and two signed trophy bats donated by the Barnstable Bat Co.

Y-D is the "home" team for Saturday's game, which was switched from Red Wilson Field in South Yarmouth to the Brockton stadium, located on the campus of Brockton High School. The game is scheduled to start at 6:05 p.m., with the pre-game activities getting under way around 5:30. Both Y-D and Falmouth will carry play-by-play accounts of the game as part of their Internet broadcast schedule and Marshfield station WATD (95.9 FM) plans to carry a live, over-the-air broadcast.

Tickets – priced at $4 for adults and $2 for children 12 and under -- may be purchased at the stadium box office, 1 Feinberg Way, Brockton, by phone at 508-559-7070 or online by visiting the Brockton Rox web site, www.brocktonrox.com. Tickets are also available this week at all Yarmouth-Dennis and Falmouth home games.

Joe Sherman, CCBL Public Relations Dept. ([email protected])