News
07/07/2008 10:35 AM
Article By:
7 July 2008
A Workman-like Performance Ends
In a 2-Hit Shutout for Wareham Hurler
WAREHAM, Mass. – The feat would have been remarkable – a no-hitter through nine innings in the Cape League.

Instead, Brandon Workman settled for unstoppable – a complete game shutout, surrendering only two hits en route to his second victory of the season.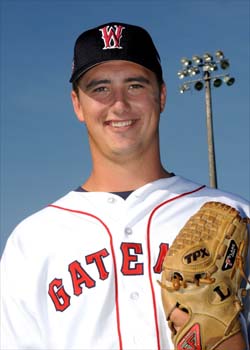 Brandon Workman, Wareham Gatemen
Photo by SportsPix /2008
Workman, a 6-5, 225-pound right-hander from the University of Texas, came within two outs of tossing a no-hitter Saturday night at Spillane Field, but Cotuit's Mike Bianucci (Auburn) drove an 0-and-1 pitch to left field for the first hit of the game. Evan Crawford (Indiana) followed with a single before Workman regained his composure and completed the shutout.

Workman stifled the potent Cotuit offense, which is second in the league with a .268 team batting average, through 8.1 innings, striking out 13 Kettleers in the process.

"Obviously I would be more excited if I got the two outs," said a grinning Workman.

"I was throwing fastballs a lot, in and out. Then later in the game, I think my fastball lost some velocity and I started throwing curveballs. I think they were working real well for me today, so I was getting a lot of outs with those."

Workman's teammates played a huge role in the near no-no. Not only did the Gatemen establish an early lead, they also played incredible defense, robbing Kettleer batters of hits throughout the game.

The Gatemen plated two in the first after Blake Dean (LSU) smacked an RBI single up the middle. Brett Eibner (Arkansas) scored one batter later on a wild pitch. Ryan Pineda's (Cal State-Northridge) one-out single in the second scored two more. The 4-0 lead was all the Gatemen would need with their ace dominating on the mound.

In the first, Connor Rowe (Baylor) made a diving catch in center to steal a hit from Kevin Patterson (Auburn) and set the defensive tone for the night.

"Everybody was making great plays all game," Workman said. "The first inning they hit every ball hard and (my teammates) just kept making great plays. The infield was making great plays. Early in the game, Connor made a great play and that just makes a huge difference."

Other than three walks, including two to Bianucci, Workman was flawless before the back-to-back singles in the ninth

"He had all his pitches going," Gatemen manager Cooper Farris said. "He and (catcher) Buddy (Munroe) had a good game plan going in. I am proud that they are paying attention and doing what they need to do. He pounded the strike zone tonight. He attacked hitters all night long."

Workman, who was picked in the third round of the 2007 draft by the Philadelphia Phillies after a stellar career at Bowie High School in Texas, said he is satisfied that he has been successful building off each performance.

In his first outing on the Cape, the 19-year-old upcoming sophomore went six innings, giving up only two hits while striking out eight against Bourne. He followed that performance with a tough-luck loss to Chatham on June 24. Workman fanned 10 A's in five innings, but the two runs he yielded led to a 2-0 Chatham win.

His last outing on June 29 resulted in a tie. Brewster was able to tag him with nine hits and four runs in the no-decision.

He currently leads the league in strikeouts with a whopping 38 and has walked only eight batters in his 27.1 innings of work.

"It has been a good experience. The main thing is it has been getting better each time. I have been hitting the spots better and getting better each outing. That is the main thing I was hoping to accomplish up here -- to get better than from when I left to when I got here. It looks like I am doing that."


Laura Rasmussen, CCBL Intern ([email protected])


Interns: Chris Blake, James Chandley, Ashley Crosby, Phil Garceau, Stefanie Marini, Laura Rasmussen