News
07/07/2008 10:36 AM
Article By:
7 July 2008
Wareham Reliever Hicks Hopes
To Close a Deal with the Astros
WAREHAM, Mass. -- Chris Hicks is right where he needs to be.

On June 17 at Doran Park against the Bourne Braves, the Georgia Tech product took the mound for the Wareham Gatemen for his third summer on the Cape. Hicks pitched the ninth inning, fanning two Braves, to seal the 6-0 victory for the Gatemen.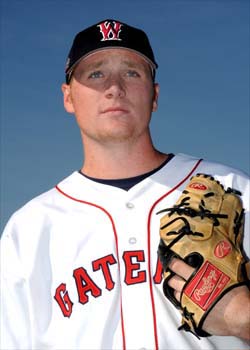 Chris Hicks, Wareham Gatemen
Photo by SportsPix /2008
Hicks, however, is looking to seal more than just Gatemen leads this summer.

Eleven days before that appearance in Bourne, Hicks was selected by the Houston Astros in the 14th round of the first-year player draft and has made his way to Wareham to increase his status and signability.

Negotiations have begun, and so, too, has another season for Hicks to display his ability. While most players on the Cape this summer are not only non-draft eligible for another year or two, and not looking to do any signing at the end of the summer, Hicks has been there, done that. This time the dream is closer than ever.

"It is becoming a drawn-out process where I will probably be up here for a few more weeks or another month, just to keep on talking it over and get my work in up here," Hicks said. "So I am pretty excited. I will either go to play professional baseball, which is my dream, or go back to college (for my senior season). It is a win-win situation."

The 6-5 right-hander from Alpharetta, Ga., dominated for the Gatemen in 2007 as the go-to closer. By season's end, his total of eight saves had him tied for third in the league. Over the course of 22 innings, he allowed only three earned runs and five walks while striking out 25.

It was also an all-star season for Hicks, who represented the Gatemen in Wareham for the annual All-Star Game. Fittingly, he pitched the ninth, striking out two.

"The talent level was unbelievable. I find it hard to put myself in that category, but it was quite an experience and I will never forget it," Hicks said of the opportunity.

Gatemen field manager Cooper Farris credits Hicks' progression as a pitcher to his time spent on the Cape, noting that Hicks' "mentality of attack" has developed in the process.

"His summers have been a lot more consistent than his school ball. The consistency factor is what these scouts are looking for," Farris said. "He realizes those guys are swinging wood and he is not afraid to get in there and mix it up with them. "We knew Chris would be drafted," Farris added. "He has a power arm."

Hicks made a splash his first summer on the Cape scene in 2006 as well, working 18.1 innings out of the bullpen, boasting a 1.47 ERA. The previous summer, the Texas Rangers drafted him in the 35th round.

The atmosphere and exposure the Cape League has to offer is a big reason why Hicks and many other players find themselves on the fast track to the pros.

"The Cape is a special place with all the publicity you get and the scouting directors up here," he said. "It is just a really fun place to play ball and get your name out there. I think it does wonders for a lot of people ... They go out and make a name for themselves every day."

While several former players are offered satisfying contracts immediately after getting drafted, it is not uncommon for those still working out deals to return for another summer.

"It is constant," Cape League Commissioner Paul Galop said. "Perhaps how well he performs here dictates, a) how quick they will sign him, and, b) for how much. If he is not doing well, they will probably stick to their guns on their price. If he is doing real well, now he has got some leverage."

Farris and Hicks discussed the scenarios late in the spring.

"I told him that if it winds up where I go a little bit later than I expected then I would probably come up there for a little while," Hicks said. "Luckily I got invited to come back here by Mr. (John) Wylde, which I am very lucky he let me do."

According to Galop, any player who is drafted has to be signed by Aug. 15 or he goes back in the pool for next year.

Hicks, however, is quick to dispel propositions that the negotiations affect his approach this summer. Rather, he carries the same one he has established from the beginning, he said.

"Every year I come up here expecting to play good baseball in good competition. It is the best league in the country with the best talent. It never disappoints. You have to come up here and try your best every time out and be willing to succeed. You just have to go out there and play your hardest. Whatever happens happens. You can't put pressure on yourself."

Hicks has appeared in six games thus far, allowing more runs and hits than is characteristic of the Gatemen veteran, and according to Farris, he "hasn't looked like himself this summer."

"He wants to do well and I think he is trying to do a little too much," Farris said. "The big thing Chris needs is consistency and repeating his delivery over and over again. He did that really well last summer and if he gets back to that mode again, he will be really good. He is trying to get going where he can sign at the end of the summer hopefully, and he will be with us for a little while."

On Friday, Hicks again took the mound at Doran Park with his Gatemen holding a 4-2 lead. Hicks entered with two outs in the eighth and runners on first and second. It took him two pitches to retire Bourne's Stephen Batts (East Carolina) and end the threat.

He would have to do it again in the ninth.

After scoring a run on a throwing error, and with a runner on second, the Braves had Dusty Coleman (Wichita State) at the plate, representing the winning run.

Hicks would have none of it. With a 3-2 count, he fired a third strike past Coleman, sealing the Gatemen win and looking more like himself in the process.

The agreement Hicks is looking to seal with the Astros would send him immediately to one of their minor league affiliates.

"I would probably sign right away if everything works out well. I would probably end up going to the (Astros' team in the) New York Penn League, which is up in Troy, N.Y., so it is not too far away from here. I would stay in touch with these guys for sure."

Troy, N.Y., home of the Tri-City Valley Cats and one of two Class A affiliates for the Astros, is a little more than a three-hour drive from Wareham, just to the northeast of Albany, 200 miles away.

Indeed, Chris Hicks is right where he needs to be.


Laura Rasmussen, CCBL Intern ([email protected])

Interns: Chris Blake, James Chandley, Ashley Crosby, Phil Garceau, Stefanie Marini, Laura Rasmussen