News
07/12/2008 10:42 AM
Article By:
12 July 2008
Day Off for Red Sox Allows Reliever
Aardsma to Visit Old Friends in Falmouth
FALMOUTH, Mass. – Red Sox relief pitcher David Aardsma may no longer be coming in from the Falmouth Commodores' bullpen, but the former Cape Cod Baseball League All-Star returned to town on Thursday, July 10, for a different, yet just as impressive, reason.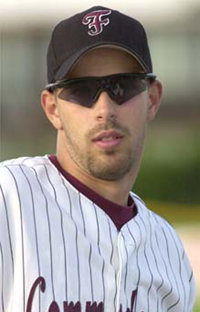 David Aardsma
Photo by SportsPix 2002
Aardsma used a Red Sox day off to visit the town where he starred as a closer in 2002, delivering autographs to nearly 200 campers at Gus Canty Community Center as well as to several fans at the Brewster-Falmouth game that evening.

Aardsma, who remains in close contact with his former host mom, Helen Kennedy, fondly remembers his playing time on the Cape.

"It is baseball the way it is supposed to be," Aardsma said. "People aren't paying to get in. They just want to have fun. You are out there playing and everything is the way it was meant to be. There is not a whole lot of politics behind it.

"You are just playing ball." He said. "It was a great summer down here in Falmouth. I had the privilege of pitching the late innings without the good lights."

Good lights or not, Aardsma posted impressive numbers during that summer of 2002. The 6-4 righty from Denver, Colo., notched seven saves, three wins and 45 strikeouts in 26.2 innings of work. He also maintained a 0.68 ERA and surrendered only two earned runs and five walks the entire season.

The following spring, Aardsma helped propel Rice University to its first College World Series national championship and he still holds the school record in both career saves and single season saves.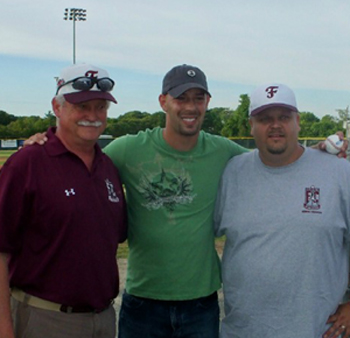 Former Commodore GM Chuck Sturtevant, Red Sox reliever David Aardsma (Falmouth 2002) and current Falmouth GM Dan Dunn.
Photo was taken by Helen Kennedy (Aardsma's house mom in '02)
He was selected by the San Francisco Giants in the first round of the 2003 draft and made his Major League debut less than a year later -- on April 6, 2004 -- skipping Double-A and Triple-A along the way.

"He was just a powerhouse. He had a 98-mile-an-hour fastball as a closer and by then most of the guys couldn't even keep up with him," said Chuck Sturtevant, who, as the Commodores' general manager, brought Aardsma to Falmouth. "His year here projected him to be a major leaguer and that is why he is grateful for it. What he did today is phenomenal."

Sturtevant and Kennedy agree that Aardsma is a class act, on and off the field.

"You couldn't ask for a more polite and considerate kid," Sturtevant said. "I think what he did today in Falmouth, with his only day off in a long time, he comes here with kids during the day , that tells you a lot. That shows you how he was when he was here. If I could have had 20 ballplayers like him, my job would have been easy."

Kennedy enjoys meeting players' families and maintains a close friendship with Aardsma's parents. She has been hosting players since 1997, but admits that Aardsma has always been a special one.

"He deserves everything that has come back to him," Kennedy said. "He has worked
very hard. What I like about David is that he is an incredible role model."

The Aardsma-Kennedy relationship exemplifies those that emerge every summer on the Cape as top-notch collegiate players inevitably mesh with the community in which they play.

Kennedy has followed Aardsma on his ascent to the majors, including frequent visits to minor league games.

"She is one of those special people that come into your life and you have to hold on to them because they are amazing people," Aardsma said.

After stints with the Giants, Cubs and White Sox, Aardsma has found his way to Boston, where he joins three other former Commodore players, including catcher Kevin Cash, whom Kennedy hosted in 1999. Other ex-Falmouth players on the Red Sox are rookie outfielder Jacoby Ellsbury (2004) and fellow relief pitcher Javier Lopez (1997).

"Nothing quite compares to coming to Boston and being a part of the Red Sox organization, especially having the connection of playing in the Cape," Aardsma said.

As Aardsma signed autographs for campers, shared memories with Kennedy and spent his off day at Guv Fuller Field, he showed that his connection to the Cape reaches far beyond just playing baseball.

Laura Rasmussen, CCBL Intern ([email protected])

Interns: Chris Blake, James Chandley, Ashley Crosby, Phil Garceau, Stefanie Marini, Laura Rasmussen