News
08/02/2008 1:31 PM
Article By:
LEFTOVERS FROM THE CCBL NOTEBOOK 1 August 2008
Trundy Enters Cape League's
200-Win Club, Passes Livesey
As Falmouth's Victory Leader
Falmouth manager Jeff Trundy recently joined the Cape Cod Baseball League's exclusive 200-victory club, an achievement that received little notice at the time, but which puts Trundy in some pretty impressive company.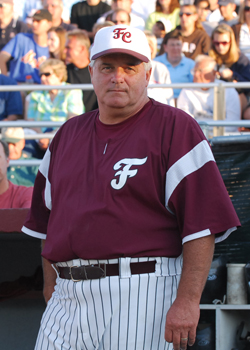 Jeff Trundy
CCBL/ file photo
The Commodores' 5-4 victory over Harwich on July 23 produced win No. 200 for Trundy, who is in his 10th season as Falmouth skipper. It moved him into 10th place on the elite list of the Cape League's winningest managers in the modern era, just eight behind Jack McCarthy, who managed at Cotuit from 1970 to 1978.

Through Aug. 1, Trundy's Commodores had picked up three more wins; he has a chance to overtake McCarthy before the 2008 regular season ends on Thursday, Aug. 7.

Trundy, head baseball coach at The Gunnery, a prep school in Washington, Conn., is now one of four active Cape League managers populating the top 10 list. Chatham's John Schiffner is No. 1 with 356 victories through games of Aug. 1. Earlier this summer, Schiffner also passed Yarmouth-Dennis legend Merrill "Red" Wilson as the all-time league leader in games managed. Wilson retired after 16 seasons, having managed 663 games; through Aug. 1, Schiffner's total was 673.

Current Y-D manager Scott Pickler's CCBL win total stood at 250 on Aug. 1, good for fifth place on the victory list, while Bourne's Harvey Shapiro had 232 to hold down seventh place.

In winning No. 200, Trundy became the sixth manager to reach that milestone with one team. He also moved past Bill Livesey as the all-time Falmouth leader in victories. Livesey was 199-119-2 at Falmouth from 1965 through 1972 and recorded 41 more wins while managing at Wareham in 1976 and 1977; he ranks sixth over-all with a 240 total.

Thanks to CCBL historian extraordinaire Bruce Hack for providing most of the above information.

DISA & DATA: Curious Cape League officials are awaiting the next move of Gary Simmons and his Vineyard Baseball organization, which sponsored and hosted the July 22 game on the island between Falmouth and Wareham. It was a Tuesday afternoon contest which received minimal advance publicity but still managed to attract a crowd announced at 2,232 – a smashing success by Cape League standards. Vineyard Baseball has made it clear that it wants to expand its relationship with the CCBL and just what that means is what league officials are wondering. In 2009, will Vineyard Baseball seek another single-game special event? Or will it ask the league to schedule several games at its new ballpark in Oak Bluffs? Of course, there's also the possibility of a formal application for Cape League membership by the island group. Time will tell … Art Quirk (Orleans 1958), the East Division's honorary captain for the July 26 All-Star Game in Chatham, had a brief reunion with his old Dartmouth and Orleans teammate Dave Gavitt before returning home to Stonington, Conn. The Quirks and the Gavitts visited at Dave's summer home on the Cape for lunch and conversation. Dave is still on the mend following double bypass surgery last year … Returning to the All-Star Game, historian Hack reminds us that NESN's color analyst for the game, Jim Beattie (Harwich 1974), once appeared in a Cape League All-Star Game himself. The former Yankees and Mariners hurler worked the sixth inning of the 1974 game in Falmouth, a 4-2 win by the Atlantic Collegiate Baseball League. Beattie allowed no hits or walks and struck out one. He followed Rich Gale (Falmouth 1974), who struck out the side in the fifth … Hack also notes that in the first All-Star Game played in Chatham, Charlie Hough (Chatham 1964) pitched the ninth inning for the Lower Cape Division, giving up an unearned run in the Upper Cape's 4-2 win. Knuckleballer Hough went on to a 25-year big league career, mostly with the Los Angeles Dodgers and the Texas Rangers … And did you notice that to make room on their roster for Manny Ramirez, the Dodgers placed his former Red Sox teammate, Nomar Garciaparra (Orleans 1993), on the 15-day disabled list because of a sprained medial collateral ligament in his left knee? Garciaparra, who had been starting at shortstop, was injured July 27 making a tag while covering third base against the Washington Nationals. It's his third trip to the DL this season.

Joe Sherman, CCBL Public Relations Staff ([email protected])