News
08/09/2008 1:43 PM
Article By:
9 August 2008
THIS WEEK IN THE CAPE LEAGUE
2008
DANIEL J. SILVA
SPORTSMANSHIP AWARD
Cotuit First Basemen Kevin Patterson
Wins 2008 Silva Award for Sportsmanship
COTUIT, Mass. -- Cotuit's Kevin Patterson (Auburn) became the sixth Kettleer to receive the prestigious Daniel J. Silva Sportsmanship Award since its inception in 1973.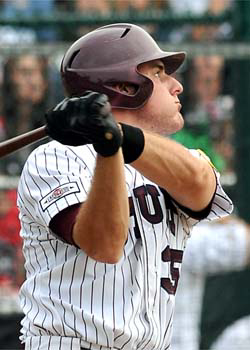 Kevin Patterson
SportsPix 2008
The award is presented annually to the player who, in the opinion of the league's umpires, demonstrates the most sportsmanlike behavior throughout the season. In recent years, catchers have been receiving the award, due in part to their leadership role on the diamond and their close interactions with the home plate umpire.

Although he plays first base, Patterson continues that trend -- he's a utility player who has experience behind the plate.

Patterson hit .296 during the regular season and led the Kettleers with 27 RBI, 45 hits, 69 total bases and two triples. He also belted four home runs and was named as the West Division's designated hitter for the Under Armour Cape Cod Baseball League All-Star Game.

"Sportsmanship? It's how you play the game," Patterson said. "It's how you go about your business. We're all intense, all competitive. It's important, especially here in this league, in this town," he continued. "It's important how you handle yourself. I think it's important to try to control what you say and when you say it. Coach (manager Mike Roberts) always talks about behaving in a professional manner."

Sportsmanship, Patterson said, goes beyond a player's behavior toward his opponents. It includes his attitude toward his teammates, his coaches and the game itself.

"You have to respect the other team, the coaches and your teammates, and have respect for the game," he said.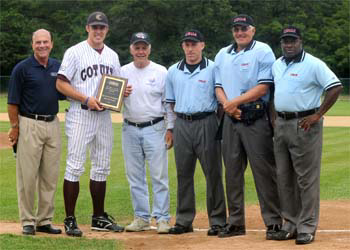 Kevin Patterson with Nick Zibelli, Sol Yas,
and umpires Don Mayer, Peter Hall and Harry Greer
SportsPix 2008
Patterson's attitude has placed him in good standing not only with the league but with his team. He was also named the Kettleers' most valuable player for 2008.

The last Cotuit player to win the award was former Cleveland Indian Bill Peavey (Southern California) in 2001. Others Kettleer winners were Lou Merloni (Providence College), 1992; Tom Hildrebrand (Northwestern), 1984; Jeff Innis (Illinois), 1982, and Randy LaVigne (Connecticut), 1978.

Daniel J. "Danny" Silva, the man for whom the award was named, was a highly respected umpire before he was elected as the first commissioner in the modern era of the Cape League. Under his leadership, the old Upper Cape and Lower Cape leagues successfully merged in 1963 and the Cape Cod League was on its way to becoming the competitive, highly regarded collegiate summer league that it is today.

Ashley Crosby, CCBL Intern ([email protected])

Interns: Chris Blake, James Chandley, Ashley Crosby, Phil Garceau, Stefanie Marini, Laura Rasmussen