News
08/11/2008 1:48 PM
Article By:
11 August 2008
THIS WEEK IN THE CAPE LEAGUE
2008
RUSS FORD
OUTSTANDING RELIEF PITCHER AWARD
Hyannis Closer Russell Brewer
Is First Met to Win Ford Award
As League's Top Relief Pitcher
HYANNIS, Mass. -- The Russ Ford Award for Outstanding Relief Pitcher has been around since 1991 and no Hyannis hurler had ever won it. But Mets closer Russell Brewer (Vanderbilt) snapped that 16-year drought this season and took home the well-deserved honor. He received his plaque in ceremonies preceding the Mets' season finale on Aug. 7 against Falmouth at McKeon Park.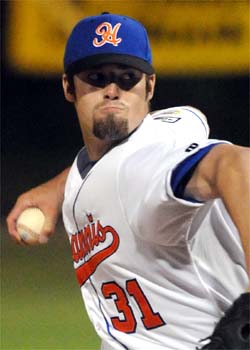 Russell Brewer, Hyannis Mets
SportsPix 2008
Despite struggling with control at times, Brewer posted a 1-0 record with a 2.74 ERA and a team record 12 saves in 12 opportunities. In 18 appearances over 23 innings, he walked 14 and struck out 17. He was on pace to break the league record of 16 saves, owned by 2001 award winner Ryan Speier (Radford University) of the Bourne Braves, but as the Mets' winning pace slowed, so did Brewer's save opportunities.

Nevertheless, he finished with more saves than all but six past winners of the Ford Award. While Brewer would be the first to say that he does not have the best "stuff" on the Mets pitching staff, he is probably the most mentally prepared, said pitching coach Chad Gassman. "When he steps on that mound, he is ready to pitch," Gassman said. "If we can get to the end of a game with a lead, it is usually going to be secured as a win."

Gassman is right on with that statement, as Brewer never blew a save. He started the season with an impressive string of 11 straight appearances with a save, a month-long streak that ran from June 14 until July 12.

The redshirt freshman was recruited by Vanderbilt as an infielder and this past spring was his first time pitching in more than two years. He responded to the challenge by going 4-3 with a 3.52 ERA and eight saves for the Commodores.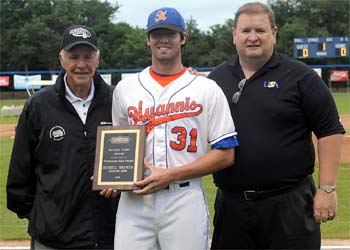 Sol Yas, Russell Brewer and Paul Galop
SportsPix 2008
Brewer gained some experience pitching in summer baseball last year, after he utilized a redshirt at Vanderbilt. As a member of the Waynesboro Generals of the Valley Baseball League in Virginia, he was used strictly as a starter and had a standout season, compiling a 4-2 record, including two complete-game shutouts, with a 2.15 ERA in 11 appearances.

A product of South Stanly High School in North Carolina, Brewer was a three-time all-conference selection, as well as a letterman in three additional sports -- basketball, cross country, and soccer.

Russ Ford, for whom the relief pitcher award is named, was inducted into the Cape League's Hall of Fame with the class of 2002. He was a former league president and a big booster of the Orleans Cardinals as well as the league.

Chris Blake, CCBL Intern ([email protected])

Interns: Chris Blake, James Chandley, Ashley Crosby, Phil Garceau, Stefanie Marini, Laura Rasmussen