News
08/15/2008 1:58 PM
Article By:
15 August 2008
THIS WEEK IN THE CAPE LEAGUE
2008
PAT SORENTI
MOST VALUABLE PLAYER AWARD
Falmouth Commodore Star
A.J. Pollock Is Chosen Cape's
Most Valuable Player for 2008
FALMOUTH, Mass. -- Adapting is something A.J. Pollock is used to by now.

While switching from third base to the outfield in his second year at Notre Dame, becoming accustomed to swinging a wood bat and adjusting to the top of the order for the Falmouth Commodores this season, Pollock hasn't missed a beat.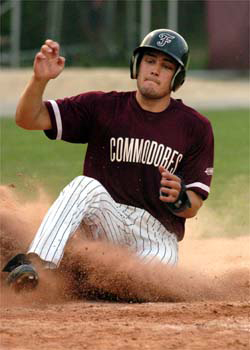 Cape League MVP, A.J. Pollock
SportsPix 2008
Now Pollock will learn to adapt to his new status -- winner of the Pat Sorenti Award as the Cape Cod Baseball League's Most Valuable Player for 2008.

Pollock emerged as one of the most consistent and feared hitters this summer, finishing the regular season first in hits (61), doubles (15) and slugging percentage (.556). He also ranked second in batting average at .377 -- a clip that remained above .300 all summer long -- as well as second in extra-base hits with 20.

Pollock's selection as MVP keeps the Sorenti award in Falmouth, where it was won in 2007 by Conor Gillaspie (Wichita State), who also captured the batting championship.

Falmouth manager Jeff Trundy calls Pollock "the complete package," a player who brings athleticism and the right mentality to every game.

"He has faith in his ability and trusts his ability," Trundy said. "He has nights where he is going to go out and struggle, but he doesn't let it slump him."

Pollock, who also ranked third in on-base percentage (.455) and runs scored (35), credits his success to focusing on sticking with the same approach every day and says the summer has helped him grow as a player.

"I am going to go back to school definitely a different player with a different mindset toward the game," Pollock said. "This experience helped me tremendously as a player."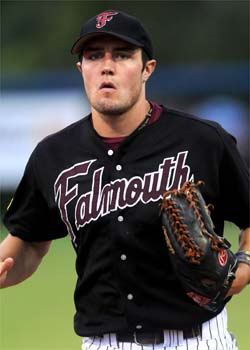 Cape League MVP, A.J. Pollock
SportsPix 2008
Last summer, Pollock led the Vermont Mountaineers to the New England Collegiate Baseball League Championship, batting .348 and winning the league's 10th Player Award.

Pollock said playing in the NECBL allowed him to become comfortable with using a wood bat, so this summer he was able to shift his focus. Instead of fighting with the wood bat while also trying to get base hits, he said he could pay attention to additional details as a hitter. A lot of those details surround the mental aspects of the game.

"The mental part of the game is huge," he said. "Just knowing what the pitcher is going to be throwing and understanding what he threw to the batter before me -- I think I have become so much better at that, which is a big help for me."

The 6-1, 200-pound Hebron, Conn., native finished with four home runs, 25 RBI and 11 stolen bases.

He also started in center field as a West Division All-Star, going 2-for-3 at the plate, including a solo home run.

Pollock proved to be the perfect leadoff hitter for the Commodores, relying on his ability to make contact and put the ball in play, striking out only 24 times in 162 at-bats. He stayed in that No.1 slot until Aug. 2 when Trundy moved him to third in the batting order.

As with every other change that came Pollock's way, the MVP didn't miss a beat, leading his team to the West Division playoffs.

Besides Gillaspie, now a pro in the San Francisco Giants' system, other past Cape League MVPs include Tampa Bay Rays Evan Longoria (Chatham '05) and Carlos Pena (Wareham '97), Boston Red Sox's Jason Varitek (Hyannis '93), and the late New York Yankees captain, Thurman Munson (Chatham '67).

Laura Rasmussen, CCBL Intern ([email protected])


Interns: Chris Blake, James Chandley, Ashley Crosby, Phil Garceau, Stefanie Marini, Laura Rasmussen