News
09/04/2008 2:32 PM
Article By:
4 September 2008
THIS WEEK IN THE CAPE LEAGUE 2008
MIKE CURRAN
MANAGER OF THE YEAR AWARD
Orleans Cardinals' Nicholson
Wins His Second Curran Award
As Cape League's Top Manager
ORLEANS, Mass. – Kelly Nicholson became only the third multiple winner in the 31-year history of the Cape Cod Baseball League's Mike Curran Manager of the Year Award when he was chosen for leading the Orleans Cardinals to a league-best 25-17-2 regular-season record in 2008.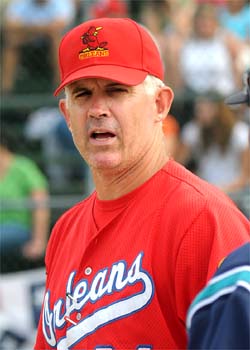 Kelly Nicholson, Manager of the Year
SportsPix 2008
Since the award was first presented to Hyannis' Bob Schaefer in 1978, Don Reed (1989, 1991 and 1993) and George Greer (1979 and 1983) were the only managers to win the coveted award more than once – until Nicholson joined their elite club this season.

"You feel honored to win that award just one time, said Nicholson in a phone interview. "It's a reflection of a solid coaching staff and outstanding players."

In his fourth year as Cardinals manager, Nicholson guided Orleans to his second East Division crown.

The Cardinals were eliminated in the divisional playoffs by the Harwich Mariners in what was arguably one of the greatest games in Cape League history.

Orleans caught fire in July, starting the month on a 15-2-1 run to secure a commanding lead in the East standings. His league-best pitching staff (3.10 ERA) was a major factor in the winning streak.

Nicholson's strength has always been in his pitching staff. He joined the Cardinals in 2001 as the pitching coach and his staff set a team record in 2002 with a 2.11 ERA. In 2003, his pitchers struck out 397 batters to help bring Orleans its first championship in 10 years. Nicholson wasn't sure if he would return to Orleans for the 2005 season after his good friend Carmen Carcone resigned as manager. But he did return and went on to win his first Mike Curran award and a Cape League crown.

Now he owns two Curran awards and says that the latest one is special. "It's a credit to the guys, the best group of guys in my eight years (at Orleans)," said Nicholson.


President Judy Scarafile, Commissioner Paul Galop and Vice President Dick Sullivan presented the Manager of the Year Award to
Coach Kelly Nicholson
SportsPix 2008

Kelly Nicholson and General Manager Sue Horton share their pride in the East Division Trophy
SportsPix 2008
Phil Garceau, CCBL Intern ([email protected])

Interns: Chris Blake, James Chandley, Ashley Crosby, Phil Garceau, Stefanie Marini, Laura Rasmussen