News
08/10/2010 3:34 PM
Article By: John Garner Jr.
It's been quite a summer for Michael Sadowski. He umpired behind home plate at the Cape League All-Star Game at Fenway Park and last week received the 7th annual Curly Clement Award, presented for officiating excellence and contributions over the years to umpiring in the Cape Cod Baseball League.
The Clement Award was presented to Sadowski last Friday during the first game of the CCBL East Division playoffs between Brewster and Yarmouth-Dennis by Paul Galop, CCBL Commissioner, Sol Yas, CCBL deputy commissioner and umpire-in-chief, and Nick Zibelli, president of the CBUAO.

"It's a definite honor to be recognized by the most prestigious summer baseball league in the country," said Sadlowski. "I was working in the league during Curly's last years and he was somebody I looked up to and admired."

During this past summer, Sadowski umpired in 15 Cape League games, including the CCBL All-Star Game in Fenway Park on July 28.

"Probably the highlight for me was dressing in the umpire's locker room at Fenway Park and then walking onto that field, along with that big play at the plate (when Joe Panik threw out Johnny Ruettiger on Zach Wilson's grounder)," he said.

Last week, Yas received this unsolicited evaluation from one of the Cape League's field managers:

"I thought Mike Sadowski was excellent behind the plate tonight. By far, the best we've had all season. He was extremely professional and consistent. His demeanor is what an umpire's should be," the manager said.

Sadowski is a resident of College Station, Texas. He moved to Somerville as a young adult and has worked as a college baseball umpire for several seasons, including CCBL All-Star Games and Beanpots at Fenway Park.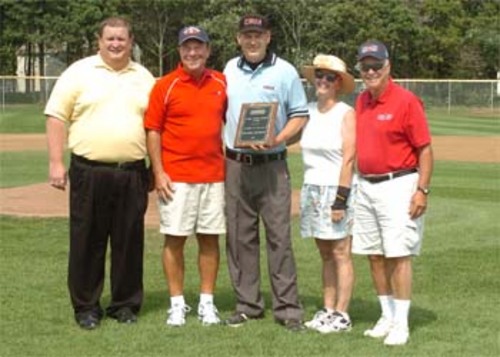 "Look up 'laid-back' in the dictionary and you'll see Mike Sadowski's picture," Yas said. "But don't let that fool you. Mike's been one of the best umpires in the league for many years. He's a terrific umpire who's in control at all times. Whenever I see his name on the assignment list for a game, I know we're in good hands".

Robert "Curly" Clement worked as a Cape League umpire for over four decades and was inducted into the CCBL Hall of Fame in 2002. He umpired in 16 NCAA Division I Baseball Regionals, several ECAC Division I Baseball Championships and two NCAA College World Series during his career.

Affectionately known as the "Candy Man" for his propensity of passing out candy to players, coaches and field managers during on-field disputes, Clement's final Cape League appearance was working home plate at the 2000 CCBL All-Star Game. He passed away in 2006 after a long illness.

Previous Clement Award winners include John Leeds (2009), Harry Greer (2008), Tim Carey (2007), Peter Hall (2006), Jim McNally (2005) and Walter Bentson (2004).