News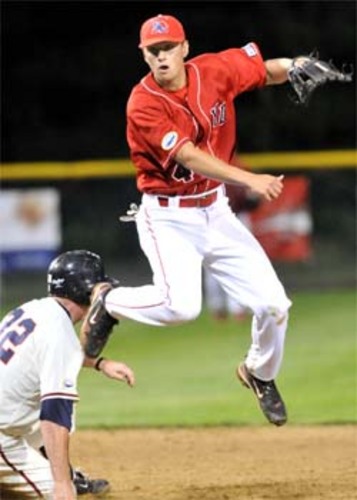 08/09/2010 3:13 PM
Article By:

SOUTH YARMOUTH ---- Joe Panik (St. John's) did everything right during his stint in the Cape Cod Baseball League, both on and off the field. As a result, he was rewarded with the Daniel J. Silva Sportsmanship Award before the first game of the East Division playoffs at Red Wilson Field.
"I honestly didn't see that one coming," the Yarmouth-Dennis shortstop said. "It's a nice award and it tops off a good regular season."

He is the first Y-D player to be presented with the honor since Mark Sweeney in 1990. The award is selected by the league's umpires.


Panik had a strong season on the Cape. He was named to the All-Star team and went 1-for-2 in the game at Fenway Park. The St. John's sophomore played in 42 games for the East champion Red Sox, hitting .276, with two home runs and 19 RBI. He stole 11 bases without being caught.

"He's a great kid who had a good season," field manager Scott Pickler said. "He plays with an even temper. Nothing bothers him. You can't tell if he went 0-for-4 or 4-for-4, and that's why he won that award."

The award is named after the Cape League's first commissioner, Daniel Silva, who was responsible for the merger of the Upper Cape and Lower Cape leagues in 1963. Silva was inducted into the inaugural CCBL Hall of Fame class in 2000.
Panik joins the likes of Matt LaPorta (Brewster), Carlos Pena (Wareham), Lou Merloni (Cotuit) and many others since the award was first presented in 1965. The award went on a short hiatus between 1969 and 1973, but it has been presented every season since.