News
06/11/2009 9:25 AM
Article By:
'Cape League On Deck' to Debut
Friday on Extensive Cable TV Network
"Cape League On Deck," a weekly, half-hour television show, will debut Friday night, June 12, on a network of cable access channels extending from Provincetown to New Bedford and also including Plymouth and Martha's Vineyard.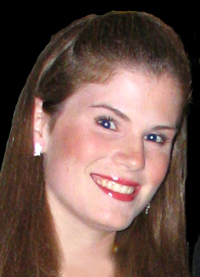 Katy Fitzpatrick will produce and host the weekly show on local cable TV.
A collaborative venture of the Cape Cod Baseball League and the Cape Cod Community Media Center, this fast-paced, 10-week series will take viewers into the dugouts and bullpens and behind the scenes of America's No. 1 summer collegiate baseball league.

"It's a magazine style show," explained Terry Duenas, executive director of the media center and one of three executive producers of 'Cape League On Deck.' "Sure, we'll keep viewers up to date on what's happening between the lines, but we'll also go behind the scenes to cover events and personalities that aren't normally in the spotlight."

Sandwich resident and Boston University graduate Katy Ann Fitzpatrick is the show's producer and host.
She has been busy this week putting the finishing touches on show No. 1, which can be seen in all 15 Cape Cod towns when it makes its debut Friday.

"It has been challenging," admitted Fitzpatrick, whose first program features an interview with Cape League Commissioner Paul Galop, feature stories on this past weekend's Frank Finn Tryouts at Wareham and military all-star games in Bourne and Brewster and an up-close look at how wooden bats are created at the Barnstable Bat Co."We'll also introduce you to the Class of 2009 of the Cape League Hall of Fame," said Fitzpatrick, who was spotted operating a camera at the league's First Pitch Brunch on Sunday.

She hinted that a well-known broadcaster for a Major League Baseball team might drop by to say a few words about the Cape League All-Star Game, scheduled for July 23 at Fenway Park, and she revealed that each installment of the show will include a "Mystery Baseball Card" feature, which will invite viewers to identify the player shown on a baseball card, with the winners to receive valuable prizes.

Duenas said every cable operator who has agreed to carry "Cape League On Deck" will show it on Friday nights, with air times varying from cable system to cable system. "And it will get repeat showings over the weekend, too," he added.

The show will be seen on Channel 17 at 6 p.m. in the following towns: Barnstable, Yarmouth, Dennis, Harwich, Chatham, Brewster, Eastham, Orleans, Wellfleet, Truro, Provincetown and Mashpee. Channel 13 will be the show's home in Falmouth (6 p.m.), Sandwich (9 p.m.), Bourne (6:30 p.m.), Martha's Vineyard (6 p.m.) and Plymouth (TBA). Wareham's WCTV has scheduled the show at 7 p.m. on Channel 9 and New Bedford's NBTV95 will carry it at 6 p.m. It is expected that other cable operators in Plymouth and Bristol counties soon will join the network.

Duenas praised league and team officials for their cooperation in getting "Cape League On Deck" on the air and thanked his co-executive producers, John Garner and Joe Sherman of the league's PR Department, for their assistance in developing and promoting the program.

John Garner, Jr.
Director of Public Relations & Broadcasting
(508) 790-0394
[email protected]

Joe Sherman
Web Editor & Special Projects Coordinator
(508) 775-4364
[email protected]