News
06/13/2009 9:28 AM
Article By:
Cape League Plans Radio, Internet,
Cable Television Coverage in 2009

Media coverage of the Cape Cod Baseball League continues to grow in 2009 as the league not only resumes its Sunday and Monday night broadcasts on WXTK and wbz103.com, but adds a weekly cable television program to the mix.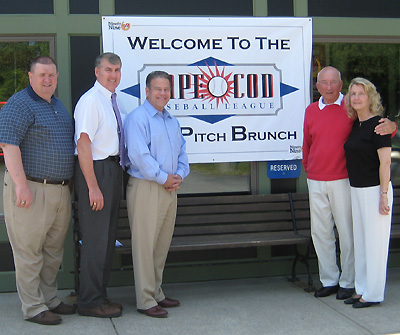 From left, CCBL Commissioner Paul Galop, broadcast color commentator and PR/broadcast director John Garner, wbz103.com play-by-play announcer Scott Wahle, Deputy Commissioner Dick Sullivan and President Judy Walden Scarafile at the annual First Pitch Brunch last Sunday at the 99 restaurant in West Yarmouth, Mass. (CCBL Photo by Joe Sherman)
Additionally, each of the league's 10 franchises will return with its own Internet broadcast package, featuring live online audio and video streaming of all home games.

For the second straight season, WXTK NewsRadio 95.1 FM is broadcasting a Cape League Sunday Night Baseball package. Larry Egan and John Garner, who called the games for Cool 102 and PIXY 103 in the past, return as the broadcasting duo for WXTK, the powerful 50,000-watt news/talk/sports station which also carries Boston Red Sox, Boston Celtics and New England Patriots games.

The schedule involves all 10 Cape League teams, starting with the first broadcast matchup of the perennial powerhouse Orleans Firebirds at the defending CCBL champion Harwich Mariners on June 14 and concluding with a league playoff game on Aug. 9.

WXTK also will continue to feature the "Cape League Report" during its weekday "Cape Cod This Morning" news block from 6 to 7 a.m., providing that day's scheduled and scores and highlights of the previous evening's Cape League action.
Cape League
Sunday Night Baseball on WXTK

June 14
Orleans at Harwich
5:30 pm
June 21
Wareham at Cotuit
5:00 pm
June 28
Hyannis at Cotuit
5:00 pm
July 5
Hyannis at Y-D
5:00 pm
July 12
Bourne at Brewster
5:00 pm
July 19
Wareham at Chatham
5:30 pm
July 26
Cotuit at Falmouth
5:30 pm
Aug 2
Chatham at Harwich
5:30 pm
Aug 9
Divisional Playoffs
TBA
CCBL GAME OF THE WEEK AVAILABLE ONLINE AT WBZ103.COM

For the third straight season, two New England traditions, WBZ News Radio and the Cape Cod Baseball League, have partnered to produce a live game-of-the-week webcast on Monday nights that can be found by logging on to www.wbz1030.com or www.capecodbaseball.org.

The package includes eight regular-season games plus playoffs, with the initial webcast involving the Bourne Braves at Cotuit Kettleers at Lowell Park on June 15 at 5 p.m. The webcasts will include both audio and video streaming utilizing several cameras.

"The partnership with the Cape Cod Baseball league and WBZ News Radio is a perfect fit for us," said Peter Casey, director of news and programming for WBZ News Radio. "We are seriously committed to unique and local programming for the radio station and our web site. Baseball on the Cape has been a tradition for many years and it truly deserves a larger audience. We plan to showcase Cape Cod Baseball beyond the boundaries of the Cape and New England for all to see."

WBZ News Radio, which began broadcasting in 1921, is the oldest commercial radio station in New England. It is the most listened-to station in the Boston area and covers much of the eastern U.S. at night with a 50,000-watt signal from its transmitter in Hull, Mass.

The webcasts will be professionally produced by Cape Cod E-com with veteran sportscaster Scott Wahle serving as play-by-play announcer, John Garner Jr. of the CCBL handling color commentary and Matt McLaughlin as sideline reporter. The package will be promoted on WBZ Radio's sports segments and on the Cape League's web site.
Cape League
Monday Game of the Week
WBZ103.Com

June 15
Bourne at Cotuit
5:00 pm
June 23
Falmouth at Harwich
7:00 pm
June 29
Cotuit at Bourne
6:00 pm
July 6
Wareham at Hyannis
7:00 pm
July 13
Harwich at YD
5:00 pm
July 20
Orleans at YD
5:00 pm
July 27
Orleans at Brewster
5:00 pm
Aug 3
Chatham at Orleans
7:00 pm
Aug 10
Divisional Playoffs
TBA
TBA
League Championships
TBA
CCBL ALL-STAR GAME JULY 23 AT FENWAY PARK
TO BE CARRIED LIVE ON NESN AND CAPE'S NPR STATIONS

The Under Armor Cape League All-Star Game, presented by the leading banks of Cape Cod, will be played at Fenway Park in Boston on Thursday night, July 23, and will be carried live on the New England Sports Network and the Cape and Islands NPR stations. First pitch is scheduled at 7:10 p.m.

For the second straight year, NPR's Neal Conan will provide play-by-play on local NPR flagship station WCAI with John Garner Jr. of the Cape League doing color commentary and Mindy Todd of WCAI's "The Point" conducting live interviews between innings.

Veteran Boston-area broadcaster Eric Frede will handle play-by-play duties for NESN, again working with former New York Yankees and Toronto Blue Jays pitcher Jim Beattie, who played for the Harwich Mariners in 1974 and served as Executive VP of the Baltimore Orioles. Paul Souza and Molly Lynch will be sideline reporters.

The Cape and Islands NPR stations -- WCAI 90.1 FM, WNAN 91.1 FM and WZAI 94.3 FM -- are listener-supported public radio stations serving Cape Cod, Nantucket, Martha's Vineyard and the South Coast.

The radio broadcast will also be available on the Internet by going to the CCBL Web site, www.capecodbaseball.org.

NESN is a regional cable television network that covers all six New England states. In New England, DirecTV carries it on channel 628. Comcast, in the city of Boston, has NESN on channel 13 and NESN HD on channel 851. NESN can be found on channel 51 on Comcast cable systems across Cape Cod.

Joe Sherman, CCBL Public Relations Department ([email protected])

John Garner, Jr.
Director of Public Relations & Broadcasting
(508) 790-0394
[email protected]

Joe Sherman
Web Editor & Special Projects Coordinator
(508) 775-4364
[email protected]