News
08/02/2009 10:40 AM
Article By:
Orleans' Hassan Signs with Red Sox
By Ashley Crosby, CCBL Intern
ORLEANS, Mass—Alex Hassan (Duke) signed a contract with the Boston Red Sox this past Thursday while at Fenway Park for the Cape League's All-Star Recognition Day.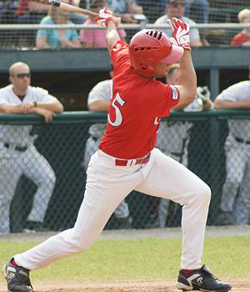 Alex Hassan signs with the Boston Red Sox
Photo by Ashley Crosby 2009
"He's been a Red Sox fan all his life and it's kind of a dream come true," said field manager Kelly Nicholson. "He was happy with the deal that he got, and as long as he's happy, we're happy for him."

The right-handed outfielder, designated hitter, and closing pitcher signed for around $90,000 with another $45,000 for school. He was drafted in the 20th round earlier this year by Boston. This was his second summer with Orleans on the Cape.

"We knew it was coming," said Nicholson. "The Red Sox called me and gave me a heads up, said they wanted to sign Hass. He came in Wednesday and wanted to talk, and I knew what it was about."

"I saw his dad yesterday," said pitching coach Chris Beck. "He said that when [Hassan] was seven years old they built a replica of the Green Monster in their backyard, so when I heard that, I knew it was just meant to be."

Hassan was hitting .298 this summer, scoring 19 runs on 33 hits, including five doubles, two triples, and a home run. As a closer, he had an ERA of 1.13 in 8 innings pitched. Hassan was chosen as a an All-Star reserve for this year's Under Armor All-Star Game.

"We wish the best of luck to him," said Beck.

Ashley Crosby can be reached at [email protected]
Mike Campbell can be reached at [email protected]
Jim Chandley can be reached at [email protected]

Interns: Chris Blake, James Chandley, Ashley Crosby, Phil Garceau, Michael Campbell, Katy Ann Fitzpatrick