News
08/07/2009 10:53 AM
Article By:
August 2009
Orleans Squeezes Past Chatham to Move On
By Mike Campbell, CCBL Intern
ORLEANS, Mass.- The opening round of the 2009 Cape Cod League Baseball Playoffs came to a close with the Chatham Anglers taking on the Orleans Firebirds at Eldredge Park in Orleans. On a serene night that quickly became animated, the Firebirds moved on to the second round with a 4-3 victory over the Anglers.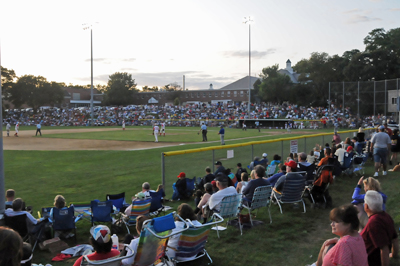 A large crowd at Orleans saw the Firebirds prevail.
Photo by swilson 2009
The high stakes were clear early in the first inning, when Orleans right fielder Jeremy Gould (Duke) squared around for a suicide squeeze with centerfielder Gary Brown on third. Gould was unable to get the bunt down, but was able to do one better, singling Brown in later in the at-bat.

"We were just trying to get runs every inning," said Orleans manager Kelly Nicholson of the squeeze and subsequent bunts. "We approach the game like a boxing match. And if you win every round, and you score every inning, you're going to score a bunch in the end."

A playoff game would not be complete without a little conflict, and the top of the second had just that. Not to be outdone, Chatham manager John Schiffner had Brian Harris (Vanderbilt) attempt his own squeeze with Dean Green (Oklahoma State) on third base. But when Orleans starter Casey Gaynor (Rutgers) was able to field the bunt and catch Green in a run-down, things went awry. When cornered, Green, instead of surrendering himself to the inevitable out, turned around and flattened Orleans catcher Matt Koch (Loyola Marymount) with a shoulder to the chest. As the fans clamored vigorously for an ejection, the umpired allowed play to continue without any consequences.

The Firebirds were able to give Chatham some payback in the bottom of the inning, when Gary Brown was able to bunt in shortstop Devin Lohman (Long Beach St.) on another squeeze attempt. The run was the product of more aggressive play from Orleans. After Lohman singled to lead off the inning, manager Nicholson had the shortstop steal second base. Lohman would move to third on an infield single and later score on Brown's effort.

"It just seems like when teams need to win, they play small ball," said Nicholson. "That's our philosophy, and we're going to continue with that."

Orleans struck again in the bottom of the third, trading small-ball for the long ball. Third baseman Michael Olt launched a two–run home run over the fence in right to give the home team a 4-0 lead.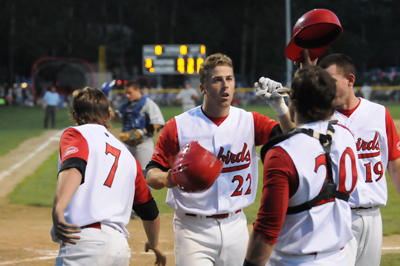 Michael Olt congratulated by teammates.
Photo by swilson 2009
"It was a really good at-bat," said Nicholson of Olt's home run. "He's a terrific kid and he came through for us in a big spot."

That was all the support Firebirds' starter Casey Gaynor would need. Gaynor quietly put together a clutch performance, taking the ball into the seventh without allowing an earned run.

The Orleans bats would also quiet down after the fourth, with reliever Taylor Hill (Vanderbilt) able to stop the bleeding for Chatham. A combination of Hill and Russell Brewer (Vanderbilt) were able to hold Orleans scoreless for the rest of the game.

The Anglers were finally able to get to Gaynor in the seventh. They got on the scoreboard in the sixth with an unearned run, and Mathew Perry (Holy Cross) continued the trend by leading off the seventh with a walk. A double by Harris moved Perry to third. The Firebirds then replaced Gaynor with reliever Matt Hiserman (San Francisco). Tom Belza (Oklahoma State) was able to bring home Perry with a sacrifice fly for Chatham, but Hiserman was able to keep the lead at 4-2 by getting out of a first and third, one out jam.

The Anglers struck again in the eighth, with a run charged to Hiserman that was surrendered by Tommy Kahnle (Lynn). Kahnle was able to strike out Harris with a man on third to retain the 4-3 lead for the Firebirds.

The fans of both teams rose to their feet as the flamethrowing Kahnle, who hit 99 on the gun during the game, took the mound again for the ninth. Playoff intensity was at its best.

"This isn't anything new to him," Nicholson said, speaking of Kahnle. The 6-foot, 225-pound hurler was Division II World Series MVP with Lynn College this past season, and joined the Firebirds as a temporary player. "But I'm really, really proud of him."

Belza led off the inning with a single, but Kahnle was able to field a bunt by Addison Johnson (Clemson) and get Belza at second. Whit Merrifield (South Carolina) then flew to right. Hearts pounded and throats cheered as Matt Duffy (Tennessee) stepped to the plate. Kahnle reared back and unleashed another sizzling fastball, which Duffy popped up to Orleans first baseman Riccio Torrez (Arizona State) for the final out of the 4-3 nail-biter.

"You need good pitching, good defense, and timely hitting, and we got that tonight," said Nicholson.

Orleans and the winner of the day's other play-in game, Cotuit, are now reseeded by overall points. The Firebirds finished the season with 52 points, while Cotuit finished with 46. Y-D is seeded first, due to their league-leading point total of 57. This means that Y-D will play last-seeded Cotuit, and Orleans draws second-seeded Bourne. Jorge Reyes (Oregon State) will try to shut down Kyle Roller and a talented Bourne lineup in the opener of a best-of-three semifinal on Saturday.
Mike Campbell can be reached at [email protected]

Mike Campbell can be reached at [email protected]

Interns: Chris Blake, James Chandley, Ashley Crosby, Phil Garceau, Michael Campbell, Katy Ann Fitzpatrick