News
08/08/2009 11:02 AM
Article By:
8 August 2009
Braves Walk Off With Win Over Firebirds
By By Jim Chandley
BOURNE, Mass.—Jorge Reyes (Oregon State) pitched an absolute gem against the Bourne Braves on Saturday night at Doran Park. The Firebirds got to White Sox draft pick and Braves' ace Bryan Morgado (Tennessee) for a run in the third inning after putting together a pair of hits. In the eighth, Orleans would tack on another run off of Logan Billbrough (William & Mary) to make it 2-0 Orleans.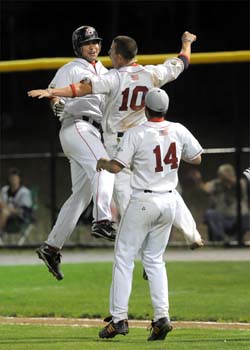 Stefan Romero and Scott Woodward
celebrate the comeback win for Bourne
SportsPix 2009
All the while, Reyes was in a groove that resembled Danny Almonte pitching to players three years his junior in the Little League World Series. Recently named league MVP Kyle Roller (East Carolina) singled in the first and catcher Chris Wallace (Houston) reached on an error in the third. From then on, Reyes retired 19 consecutive Braves.

That streak took the game into the bottom of the ninth, with one out, Orleans still up by two and Reyes still dealing. As Scott Woodward (Coastal Carolina) strolled to the plate, fans were packing up their things. Woodward singled which brought recently named tenth player of the year and sportsman of the year Pierre LePage (Connecticut) to the plate. LePage walked on four pitches and Kelly Nicholson had seen enough.

"Did I have second thoughts about pulling him? Absolutely," said Nicholson after the game. "But he was up over a hundred [pitches]."

Brett Weibley (Kent State) was the man to come in to try and clean up the mess. With a 2-0 lead still intact, Weibley attempted to secure two outs from the teeth of the Braves order. Roller strode to the plate and ripped a line drive into the shortstop hole. Devin Lohman (Long Beach State) got a glove on the ball but couldn't corral it. Kevin Muno (San Diego) picked the ball up in left field and sent it home to meet Woodward who was rounding third.

The throw appeared to beat Woodward by a few steps, but he picked up speed and dove toward the plate. Hampton Tignor (Florida) dropped the ball and Woodward scored. On the throw, Roller moved up to second and LePage to third. The tying run was now only 90 feet away with one out. Weibley then delivered a low breaking ball to Rob Segedin (Tulane) that got by Tignor. The pitch was ruled a wild pitch and LePage chugged home to tie the game at 2-2.

"The awards are a great honor," said LePage three hours after the trophy presentation. "But the 'W' is so much more important."

There was still baseball to play as Bourne had the winning run on third base with one out in the bottom of the ninth. In hopes of setting up an inning-ending double play, Orleans intentionally walked Segedin to get to Stefen Romero (Oregon State). Romero stepped in with a mission.

"I knew I had to see some pitches and get into a position to drive the ball deep," said the slugger. "I think when I went up 1-0, the whole stadium knew he was coming with the fastball." And bring the fastball he did.

Romero drove the 1-0 fastball into straightaway right field. Roller tagged up and showed his surprising speed for a man his size, scoring easily. A crowd of almost 3,000 at Doran Park went berserk as Roller came home and the Braves walked off.

"There isn't much to say," said Nicholson when asked what he would tell his boys. "This is a resilient group, and has been all summer. I fully expect to compete tomorrow." Orleans will host game two of this best-of-three semi-final series tomorrow at 4 PM. Should they win, the two would return to Doran Park for a finale on Monday. If Bourne should win, they would go the Cape League Final and try for their first championship since 1969.

Jim Chandley can be reached at [email protected]

Interns: Chris Blake, James Chandley, Ashley Crosby, Phil Garceau, Michael Campbell, Katy Ann Fitzpatrick