News
08/08/2009 11:03 AM
Article By:
8 August 2009
THIS WEEK IN THE CAPE LEAGUE
2009
ROBERT A. MCNEECE
OUTSTANDING PRO PROSPECT AWARD
Falmouth Commodore's Todd Cunningham
Wins 2009 Robert A. McNeece Award
As Cape League's Top Pro Prospect
FALMOUTH, Mass.—On a night when it seemed to be raining hardware in Falmouth, Todd Cunningham (Jacksonville State) was also distinguished as the Pro-Prospect of the Year. The scouts, using the simple criteria of who will make the biggest major league impact in their career, vote on the Robert A. McNeece Pro Prospect of the Year Award.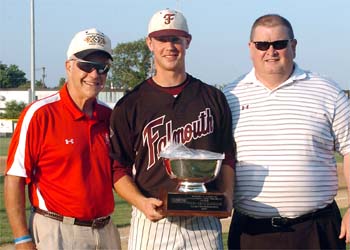 Umpire in Chief Sol Yas, Todd Cunningham and Commissioner Paul Galop
SportsPix 2009
Cunningham joins a group of recognizable names from Cape League History and Major League Baseball. Matt Wieters (Georgia Tech) won the award with Orleans back in 2006 and is now in the discussion for American League Rookie of the Year with the Baltimore Orioles. Mark Teixeira (Georgia Tech) of Orleans and Billy Wagner (Ferrum) of Brewster are both former winners of this prestigious award.

The young man they call "Cape Todd" got this award because he receives at least a four rating in four of the five categories in a scout's book. (Scouts tend to rate the 'five tools' which are running, fielding, throwing, hitting and power hitting on a scale from one to five. This means that an excellent player in each area is a 'five-tool player' or a '55.') Cunningham's power ability is a point of concern for some scouts, but others feel he may acquire the ability to hit for power. Either way, his other four tools are all in the plus column.

"I don't think he lacks power," said Commodores Manager Jeff Trundy. "Believe me, he's a strong kid. If he wanted to hit for power he could. He just realizes that it's not his game, and he might not be hitting for the average he is today if he were trying to hit for more power." Trundy admitted that Cunningham's game bore similarities to Seattle Mariners outfielder Ichiro Suzuki, who has often been spoken of as having 'power potential.'

The award is named for Robert A. "Bob" McNeece, former Chatham A's President. McNeece was inducted into the Cape Cod Baseball League Hall of Fame last November.

Jim Chandley can be reached at [email protected]

Interns: Chris Blake, James Chandley, Ashley Crosby, Phil Garceau, Michael Campbell, Katy Ann Fitzpatrick