News
08/13/2009 11:17 AM
Article By:
13 August 2009
THIS WEEK IN THE CAPE LEAGUE 2009
MIKE CURRAN
MANAGER OF THE YEAR AWARD
Y-D's Scott Pickler
Wins Mike Curran Award
As Cape League's Top Manager
S. YARMOUTH, Mass. - The Mike Curran Manager of the Year award is exactly what it sounds like: an award given to the field manager who the Cape League feels performed the best during the season. But if you ask the 2009 recipient, Scott Pickler of Y-D, the honor says less about the manager and more about the team he coaches.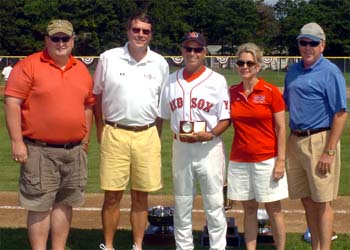 Scott Pickler, Manager of the Year.
Commissioner Paul Galop,Vice President Peter Ford, President Judy Scarafile and Senior Vice President Jim Higgins participated in the pre-game ceremony.
SportsPix 2008
"I was thrilled to get it," said Pickler, speaking of the honor. "But it's not about me. What gets you the Manager of the Year are your players and your assistant coaches. I was lucky enough to bring in great players who played hard all year. If these guys don't play hard, I don't get a thing."

Pickler's Y-D Red Sox club finished a league best 28-15-1 on the season, for a total of 57 points. But the Red Sox's regular season championship was not without adversity. The team opened the season with a mediocre 4-6 record. They would claw their way to the top of the standings after that, putting distance between them and second place Orleans with a nine game winning streak.

"I thought the team gelled after that," Pickler said when asked about the mediocre start and stellar finish. But true to form, Pickler would not dwell on past success. "You can throw (the regular season) out the window now. It all comes down to one game now," he said after Game 2 of the playoff series versus Cotuit.

This isn't the first time Pickler has been recognized for his success on the field. Under his guidance, the team secured the league championship in 2004, 2006, and 2007. This is his second time being honored as the Mike Curran Manager of the Year. He also received the award in 2007, leading the Red Sox to a league-best 31-12-1 and repeating as league champions.

"It's really not about me," Pickler reiterated. "The kids (on the team) are great. They like each other, they're self-secured, they're unselfish, they play hard, and that's why I got the award. Because of their unselfishness and the way they play the game. It's got nothing to do with me."

Whether he wants to admit it or not, Pickler's continued success makes it clear that he is a great manager and recruiter of players. This season was his 12th as manager of Y-D, and the team has become a perennial contender on his watch. He is also one of the most respected community college coaches in the nation, recording 25 successful seasons at Cypress College (CA). Pickler has led the Chargers to four state championships, four state runner-ups, and has been named National Coach of the Year for California Junior Colleges four times. His career winning percentage stands at .677 after turning a struggling program into one of the state's strongest.
Mike Campbell can be reached at [email protected]

Mike Campbell can be reached at [email protected]

Interns: Chris Blake, James Chandley, Ashley Crosby, Phil Garceau, Stefanie Marini, Laura Rasmussen