News
08/18/2009 11:20 AM
Article By:
18 August 2009
THIS WEEK IN THE CAPE LEAGUE
2009
MANNY ROBELLO
10TH PLAYER AWARD
Bourne's Pierre LePage earns the
10th Player Award Winner
BOURNE, Mass.—The stat sheet that fans receive as they enter Doran Park says that Pierre LePage (Connecticut) is a 5-8 shortstop who hits .314 and has stolen a number of bases.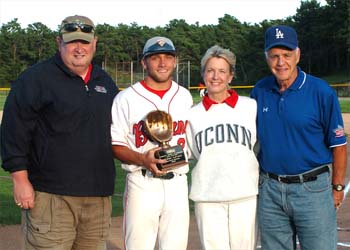 Commissioner Paul Galop, President Judy Scarafile and Umpire in Chief Sol Yas were part of the pregame ceremony to recognize
Pierre LePage with the 10th Player Award.
SportsPix 2009
First of all, it's probably misleading. If LePage is 5-8 it's because he's standing on the trainer's toes while being measured. But it also doesn't tell the whole story. There is no stat illustrating LePage's hustle or the way he approaches each at bat and inning in the field.

The way he plays the game doesn't come through on the stat sheet, but no one who sees a Braves game misses him.

"Pierre LePage plays the game like every little league coach tells his kids to play," says Braves Assistant G.M. Darin Weeks. "He runs hard, hustles all the time and if something hurts he rubs some dirt in it." LePage's teammates have observed the same hustle.

"You can't say enough about that guy," says Braves ace Bryan Morgado (Tennessee). "He's always running somewhere, never walking on the field and it just raises the energy level." His hustle is designed to raise that energy level for the better of the team.

"I've just always done it since about seventh grade," LePage says of his constant hustle. "When everyone else got taller and I didn't, I realized that hustle was the only thing I could control. As I started to do it, people would wonder why I never stopped. But by the end of a season, most of my teammates would be hustling the same way."

The Manny Robello 10th Player Award is given to a player who goes above and beyond what is expected of them throughout the season. It is named for long time Cotuit Kettleers and Cape League volunteer Manny Robello.

Another notable winner of this award was former Boston Red Sox shortstop Nomar Garciaparra (Orleans), now a bat off the bench for the Oakland Athletics. Although not as small as LePage, Garciaparra was another undersized player who succeeded in the Cape. Of course, he also went on to be named American League rookie of the year and enjoy years of success in the major leagues.

LePage succeeds not because he has the size or the tools that scouts and coaches look for. He succeeds almost precisely because he lacks those things. He has spent his entire young life making up for a lack of those things with an abundance of desire. He has gone above and beyond at every turn and has been a credit to the Bourne Braves and the Cape Cod League.

Jim Chandley can be reached at [email protected]

Interns: Chris Blake, James Chandley, Ashley Crosby, Phil Garceau, Michael Campbell, Katy Ann Fitzpatrick