News
08/28/2009 11:25 AM
Article By:
28 August 2009
THIS WEEK IN THE CAPE LEAGUE
2009
DANIEL J. SILVA
SPORTSMANSHIP AWARD
Bourne 2nd Baseman LePage
Adds Silva Sportsmanship Award
to his Expanding Trophy Case
BOURNE, Mass. – Bourne second baseman Pierre LePage (UCONN), whose hustle, leadership skills and performance between the lines earned him frequent comparisons to Boston Red Sox star Dustin Pedroia, was chosen as winner of the Cape Cod Baseball League's prestigious Daniel J. Silva Sportsmanship Award for 2009.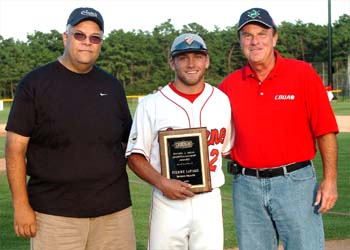 Pierre LePage selected as Sportsmanship Award winner.
SportsPix 2009
LePage took home both the Silva award, named in honor of the league's first modern era commissioner, and the Manny Robello 10th Player Award for performing "above and beyond" all expectations, as he led the Braves to their first-ever Cape League championship. He also became just the second University of Connecticut product to win the Silva award, joining Randy LaVigne (Cotuit), who shared it in 1978 with Gary Cicatiello (Falmouth).

Listed on the Bourne roster at 5-8 and 165 pounds, LePage could easily have gone unnoticed in a league dominated by taller, more muscular athletes representing some of the nation's most renowned college baseball programs. Instead, his gritty approach to the game plus ability and skills that belied his diminutive stature allowed him to accomplish far more than many of his more gifted opponents.

LePage was chosen All-League second baseman after finishing third in hits (49), fourth in runs scored (26) and sixth in batting average (.308). In four post-season games, he drove in six runs, walked four times and stole two bases to propel the Braves to their first championship since the franchise was reborn in 1988. The title also ended a 44-year drought dating to 1965 when the Sagamore Canalmen brought Bourne its last Cape League crown.

LePage joined the Braves late in the 2008 season and quickly won the hearts of the team's management and fans with his constant hustle and obvious ability. Although he batted just .233 in 16 games, his all-out style of play sufficiently impressed manager Harvey Shapiro and general manager Mike Carrier to earn him a contract for 2009.

"He plays the game the right way," said Carrier, who echoed the Pedroia comparison. "He runs hard in and out between innings, runs out every ground ball hard and has obvious leadership skills."

Like the scrappy Red Sox second baseman, LePage would not hesitate to call aside an underperforming teammate for a little inspirational chat.

The Silva award was determined by vote of the league's umpires and has been presented annually since 1973. Previous winners include Tamps Bay's Carlos Pena (Wareham, 1997), Cleveland's Matt LaPorta (Brewster, 2006) and former Red Sox infielder Lou Merloni (Cotuit, 1991). Last year's winner was Cotuit first baseman Kevin Patterson (Auburn).

LePage's defensive statistics were superb. He ranked first among second basemen in total chances, putouts and assists, and third in double plays turned. And at the plate, the Wolcott, Conn. native's achievements included a .366 average in road games, a 10-game hitting streak from July 10-19 and one 12-game hitting streak in road games.

Carrier also pointed to the little infielder's .442 average as a leadoff hitter and the fact that he struck out only nine times in 135 at-bats.

An avid reader, LePage volunteered to assist in the Braves' summer reading program for children during his time off from his job maintaining Doran Park, which was ranked at the top of Cape League playing fields.

Joe Sherman

Interns: Chris Blake, James Chandley, Ashley Crosby, Phil Garceau, Michael Campbell, Katy Ann Fitzpatrick