News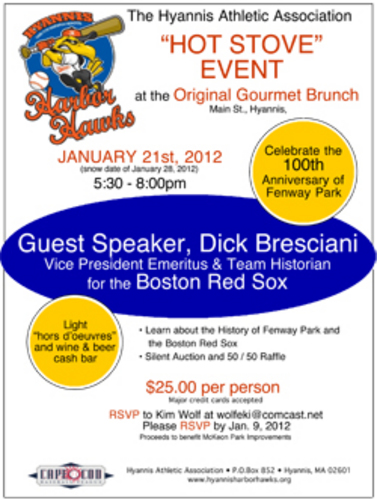 01/04/2012 7:24 PM
Article By: CCBL Public Relations Office
The Hyannis Athletic Association will be hosting a "Hot Stove" event on Saturday, January 21, 2012 , from 5:30 to 8:00 PM at the Original Gourmet Brunch in Hyannis. Red Sox Vice President Emeritus and team historian, Dick Bresciani, will be the guest speaker. Dick will talk about the 100th anniversary of Fenway Park as well as the history of the Boston Red Sox. In his 39 years with the Red Sox organization,
Bresciani has certainly witnessed a lot of history. He is the Red Sox liaison to the Cape Cod Baseball League and is in both the CCBL and Red Sox Halls of Fame.


This special fund raising event is being sponsored by the Barnstable Patriot and Wells Fargo Advisors. The evening will include light hor d'oeuvres and a wine and beer cash bar as well as a silent auction and 50/50 raffle. All proceeds will benefit improvements to McKeon Park, home of the 2011 CCBL Western Division Champion Hyannis Harbor Hawks.
Tickets are $25.00 per person and can be reserved by emailing Kim Wolfe [email protected]. Seating is limited and tickets will not be available at the door.
Hyannis Athletic Association • P.O.Box 852 • Hyannis, MA 02601
www.harborhawks.org