News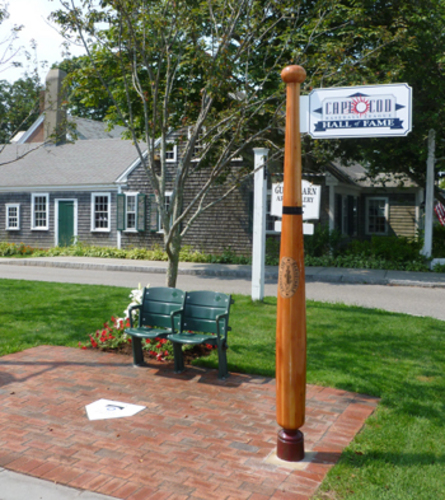 08/01/2012 9:31 PM
Article By:
The Cape Cod Baseball League is very pleased to announced the official ribbon cutting of the new patio in front of the Hall of Fame and Museum on Main Street, Hyannis on Saturday, August 4 at 5pm. The ceremony will be brief ( about 15 minutes) and will recognize those who really made this patio happen – Gary Ellis for designing it, Tom and Christine Bednark of Barnstable Bat Company for creating the 8- foot bat, Dick Bresciani of the Boston Red Sox for donating the two Fenway bleacher seats , Jim Higgins and Jim Martin for securing bricks and also masons from Earth and Stone, Lou McKnight of Drywall Masonry Supply, Inc. for donating the bricks and Randy Shepard of Eye Health Services for sponsoring the patio.

We will also recognize and thank the Hyannis Area Chamber of Commerce for their tremendous partnership. All are invited to this brief, but grand event, which is another step in the Cape League's history as the Hall of Fame Patio on Main Street is "officially " opened.

Also of interest, that is the same night that the Town of Barnstable will be recognized and thanked at the Hyannis Harbor Hawks game. A Town official will be throwing out the Ceremonial First Pitch and many Town officials will be attending the Harbor Hawks event. We hope the officials will start at the ribbon cutting and then stroll Main Street as they work their way toward McKeon Park.