News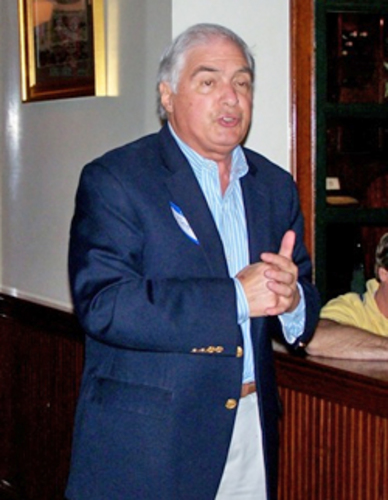 03/25/2013 8:04 PM
Article By: John Garner Jr.
New Hyannis Athletic Association President Brad Pfeifer said it best when he addressed 60-plus people who attended Sunday's annual Hyannis Harbor Hawks Spring Training reception at the Roadhouse Café: "It's a GREAT day to be a Harbor Hawk!"
The event was a rousing success, ushering in the 2013 season amid a collection of team volunteers, house parents, team and league sponsors and Cape Cod Baseball League personnel.
Pfeifer, General Manager Tino DiGiovanni and team public relations maven Priscilla Merritt took turns updating the crowd with details of the upcoming season, including
the presentation of the 2013 roster, the sharing of team news, and 50/50 raffle that netted league president Judy Walden Scarafile $100, which she promptly donated back to the team.
All proceeds from the event will benefit McKeon Park improvements, which have recently included
brand new lights, expanded bleachers, brick-walled backstop, dugouts and the state-of-the-art Jack Aylmer Field House with expansive press box/broadcast area and sky box with premier seating and a wide-screen TV.
One major change at McKeon Park will be a 6 p.m. start time, moved back an hour from 7 to make it more family-friendly and enable volunteers to return home earlier.
Hyannis will join the Bourne Braves as the only two franchises to begin their games at 6 p.m.
"At first, I was a big proponent not moving (the time) up an hour, but this makes it a little easier on volunteers and young fans," said Pfeiffer, who's been instrumental heading major field improvements in Hyannis the past few years.
The Harbor Hawks also announced a new food concessionaire with John
Cotellessa
of Gourmet Brunch doing the honors after the past several years preparing clam chowder, hamburgers and hot dogs at Lowell Park in Cotuit.
Hyannis is coming off a last-place finish in the Western Division with a 17-27 record, boasted several West Division All-Stars including the league's top pro prospect and outstanding pitcher Sean Manaea (Indiana State), hard-throwing right-
hander David Garner (Michigan State), catcher Mitchell
Garver (New Mexico)
, pitcher Jeff Hoffman (East Carolina), and shortstop Brandon Trinkwon (UC Santa Barbara), along with West Division Home Run Hitting Contestants Zach Alvord (Auburn) and Blake Austin (Auburn).
It was just two years ago that Hyannis went 29-15, won its first Western Division title and finished the regular season with the best record in more than three decades. A Game 1 victory over Falmouth in the playoffs made the Harbor Hawks only the fourth Hyannis team in history (since inception in 1976) with 30 or more wins in a season.
The Harbor Hawks open the season on Wednesday, June 12 with a home game against the Brewster Whitecaps.
No-no for future Bourne Brave
Freshman southpaw hurler Ryan Kellogg of Arizona State, slated to pitch for the Bourne Braves this summer, pitched a 4-0 no-hitter against Oregon State last week. It's the eighth no-hitter in ASU history and first since 1993. The Whitby, Ontario, native didn't issue a walk and allowed just two base-runners in a crisp, 110-pitch outing.
Capital improvement project at Cotuit
The Cotuit Athletic Association is focused on a capital improvement project at Lowell Park that will improve the fan and player experience. The greatest challenge to the Kettleers' organization is keeping up with the increasing fan base and services necessary to accommodate fans at Lowell Park, along with preserving the ambiance of the baseball field. The organization is undertaking a fundraising plan to fund a two-phase capital project to upgrade property buildings, baseball field and surrounding land within Lowell Park with a 24-month total plan totaling $910,000. No contributions to this fundraising program will be used to meet the operating budget. All monies raised will be added to the restricted fund for capital expenditures and used for this project. Fundraising began in May 2012 and will continue until total funds are raised. Construction/renovation began this past September and the plan is to be completed before the start of the 2014 season.
New concession for Cotuit
The Cotuit Kettleers organization welcomes Rich and Lori Pimental, owners of Cotuit Fresh Market, as its new concession management team for Kettleers' Kitchen at Lowell Park in 2013. Cotuit Fresh Market is located at 737 Main St. in the heart of the village, just a tape-measure home run from Lowell Park, home of the Kettleers.
Former Hyannis hurler Garner sharp for Michigan State
Junior right-hander David Garner, a Western Division All-Star for Hyannis last summer, shut down No. 7 Kentucky on March 9, allowing just four hits over 8 1/3 innings in a 6-1 victory for the Spartans. Garner, who took a shutout into the eighth inning and had six strikeouts for MSU, retired first 11 batters and carried a no-hitter into the fifth. Garner held the Wildcats to just one run against a team that entered the game leading thee NCAA in runs scored with 10.3 per game.
The San Francisco Giants are the only major league team to boast four 500-career home run hitters in their history, including Barry Bonds, Willie Mays, Willie McCovey and Mel Ott. All four hit their 500th round-trippers with the Giants' ballclub.
John Garner, Director of Public Relations & Broadcasting