News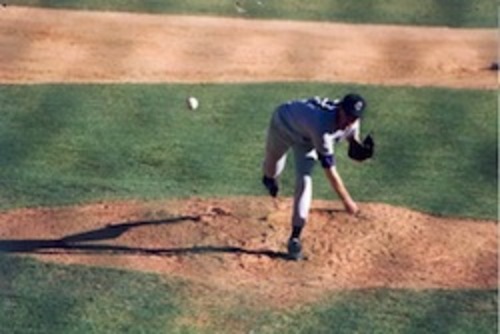 04/06/2013 1:16 PM
Article By: CCBL Public Relations Office
CHATHAM, Mass. -- Mike Galati pitched for the Chatham A's in the Cape Cod Baseball League in 1994-95 and is now facing a life-threatening illness.
Galati, who initially suffered from liver disease symptoms such as jaundice, weight loss and extreme fatigue in ninth grade, and is now in dire need of a new liver.
During high school, college and his postcollegiate years, the former University of Connecticut standout enjoyed normal health, but at age 30 extreme fatigue returned, his health declined and blood test results indicated that Galati was suffering from primary sclerosing cholangitis, a long-term disease that slowly damages the bile ducts inside and outside the liver. Liver diseases are sneaky and sufferers can appear normal, while this hideous disease erodes the liver and biliary tracts, causing stress and damage to associated parts of the body.
To outsiders, Galati appeared to lead a normal life, while everyday fatigue sapped his energies and compromised his life.
Galati's baseball career was cut short through injury, and he has battled liver disease since his adolescence, despite having tryouts with Team USA and being one of the best high school pitchers to come out of Connecticut in the past quarter-century. The UConn product has gone on to a successful career in medical sales, remains a loyal alumnus to the Chatham Anglers and drives to Cape Cod for several games every summer. He played for legendary CCBL field manager John Schiffner with the A's.
"Mike was a great teammate when he was with us and a total gentleman," said Chatham General Manager Bob Sherman. "My hope in helping out the Galati Family and Michael is that we all use our networks wherever they maybe to help Mike receive this transplant that has reached a crisis level. Michael knew he'd be facing a transplant down the road, but never let it deter him in his work, professional or personal life."
Primary sclerosing cholangitis is a disease that can quickly and dramatically change a person's health status. A major concern for Galati is choledoch carcinoma, a common bile duct cancer that has a high occurrence rate with PSC patients particularly when their model end stage liver Disease) score is above 15. Galati's score is currently at 17.
If the doctors discover cancer in his liver, Michael would be ineligible to receive a live liver. Once he's no longer a candidate for a live liver transplant, his other option would be a cadaver liver, which is a liver donation from a deceased person.
PSC does not mesh well with the MELD ranking system used for cadaver allocations. Although Galati is quite ill, his MELD score remains low. By the time his MELD score is high enough, he will be within days of death. Therefore, the need for a live liver donor is urgent.
To find out more about being a living donor, call the Yale Transplantation Center at 866-925-3897. Callers are under no obligation and can simply call for information or to set up an initial screening. Potential donors must be between ages 18-55, in good health, and not be obese or have a history of ongoing infections, or alcohol or other drug abuse. Yale will protect the anonymity of any prospective donors.
John Garner Jr., Director of Public Relations & Broadcasting
Cape Cod Baseball League