News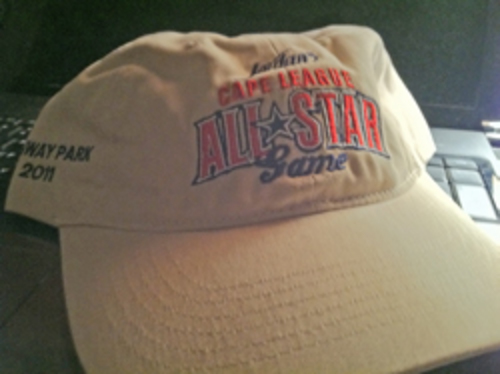 12/21/2011 8:50 PM
Article By:
The Cape League can solve your shopping woes!
Is Christmas shopping getting you down? Are you running out of ideas? Not to worry.
You last minute shoppers are saved by the bell and the Cape League!!
Look no further……. you have found the perfect gift….. an authentic All Star hat worn by the All Stars at Fenway Park In July 2011.
Only 2 hats left and both are navy in color worn by the East division. A handsome Richardson hat
Both Navy hats are size sm- med ( 40 pts)
Or if you are looking for the soft sided hat sold at the Fenway concession stand, we have that too.The official fan hat from the Cape League All Star Game in July 2011
Both the tan and navy hats are adjustable with cloth strap and also a Richardson hat. One size fits all.
Lastly an official red All Star Game shirt worn by " staff" with that word on the back. These were worn by 100 volunteers who worked the game. These were never sold and there are only 4 in existence…all size XL
Each item is just $20 and supports the Cape League.
So, we can take care of your last minute Christmas shopping. Contact
[email protected]
and arrangements can be made to overnight in time for Christmas.
Or it can be picked up, depending on your location. Hurry. Time is wasting.