News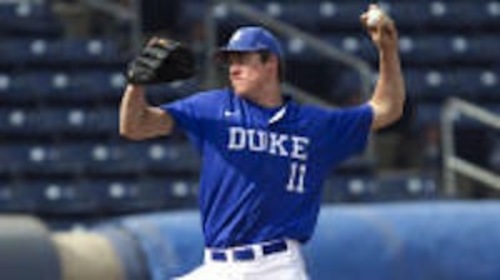 06/06/2013 2:28 PM
Article By:
WAREHAM, Mass. – Every athlete knows the goal of a tryout is to separate yourself from the group, to stand out from the crowd. No one did a better job of that at the annual Cape Cod Baseball League Frank Finn Tryout than Duke University pitcher Garrett Hayward.
The event at Clem Spillane Field, home of the defending champion Wareham Gatemen, gave many hopefuls a final shot at playing in the Cape League this summer. Hayward truly caught the eye of everyone in attendance, and the left-hander was impressive enough to land a spot with the Falmouth Commodores.
After a round of batting practice for the 30-plus hitters in attendance, the pitchers got a chance to perform, throwing 20 pitches apiece in a scrimmage format. Of the more than 20 hurlers on display, Hayward looked the most dominant, exhibiting excellent velocity and control and fooling a few batters with a great changeup that he boasts is his best pitch.
One could also argue that he stood out, quite literally. At 6-foot-7, the Glendale, R.I., native stood shoulders above his peers. "I have always used my size to my advantage," he said. "I'm a power lefty."
Coming from a Division I school such as Duke was also a plus for Hayward. On a day that normally features players from Wheaton, Tufts, Franklin Pierce, Hartford and many other Division III programs in New England, a player from a Division I team in North Carolina is a rare sight. All 10 Cape League teams appeared to be interested in the Duke hurler.
Hayward did not act overconfident. "I treat all batters the same," he said, and it showed as he threw hard against all potential hitters.
Hayward had planned on playing for the Ocean State Waves of the New England College Baseball League this summer, but because his brother Vaughn, a pitcher for Bryant University, will play for the Harwich Mariners, Garrett thought he would try his luck in the Cape League as well.
"I didn't get (much) work this season, but my coach said to just go throw a ton of innings this summer," said Hayward, and that is what he's hoping to do with the Commodores. The sophomore southpaw has less than stellar numbers in his collegiate career at Duke, posting a 22.50 ERA in only two innings his freshman year and a 5.79 ERA in only 4 2/3 innings this past season. Nonetheless, Hayward had a dominant high school career and appears to have the potential for a positive Cape League experience.
Every season, a last-minute recruit or a temporary player ends up surprising everyone with an all-star caliber season. This year it might just be Garrett Hayward.