News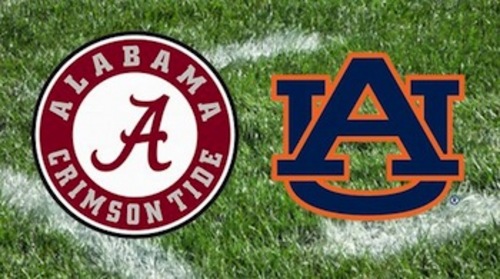 06/17/2013 4:51 PM
Article By:
BREWSTER – One of the few certainties in life is that the University of Alabama and Auburn University do not like each other.
In fact, the only thing they share besides their state is mutual hatred. It's a rivalry that has spanned decades and generations, and has become just another fact of life down in the heart of Dixie.
It has become even more apparent in recent years, not just in the confines of sports but crossing into pop culture and courtrooms as well: Cam Newton leading the Tigers on an epic comeback in the 2010 Iron Bowl; the Tide rolling Auburn (and all of NCAA football) for three of the last four BCS championships; Miss Alabama 2012 Katherine Webb, an Auburn grad who just happens to be the girlfriend of high-profile Alabama quarterback AJ McCarron; the poisoning of the legendary oaks of Toomer's Corner at Auburn by a later convicted lifelong 'Bama fan; and on and on …
Even for those who spend the whole year on Cape Cod – or Southern California, in Brewster manager John Altobelli's case – it's hard to not have at least an inkling of the intense, perennial rivalry that lives in the state of Alabama. It begs the question, what was Altobelli thinking? This year's Whitecaps squad features three Alabama players (IF Kyle Overstreet, LHP Justin Kamplain, LHP Jonathan Keller) and two Auburn players (RHP Trey Cochran-Gill, IF Jordan Ebert). A recipe for disaster, right? Surprisingly, not so much.
"They're all good players," Keller said. "We're not in Crimson or Blue and Orange now. We're on the same team now, so that's how we act."
The sentiment was shared not only by Keller's Tide teammates, but also by his new Tigers teammates. "It's good getting to know them. They're all good guys," Cochran-Gill said.
All five were ready and willing to put any differences aside and come together as teammates this summer in an effort to lead Brewster back to the playoffs after failing to make it last season in Altobelli's first year at the helm. But the quintet is not as quick to forget about the history entirely.
"The Alabama second baseman (Overstreet) I've played against my whole life. We actually faced Keller and Kamplain this season too," Ebert said. "I get along with these guys now, but when we play (against) them, that's when they're the bad guys."
With all the hype football generates, it's easy to forget that college baseball has a huge following in the South, and the Iron Bowl rivalry is alive and well within America's pastime.
"I think it's becoming just as big a deal in baseball as it is in football," Cochran-Gill said. It was a tight year between the squads, with Alabama coming up with a 3-2 season series win. The final dagger came in the conference tournament, in which the Crimson Tide walked away with a 6-3 win over the Tigers. "They beat us in the (Southeastern Conference) tournament," Ebert said. "Probably cost us a Regional. It sucks to get beat by those guys."
Not only do Alabama and Auburn compete on the field, but they also compete for recruits. These five Brewster players, all Alabama natives, had been recruited to some degree by their rival school. For Keller, the decision was simple. He was a lifelong Tide fan and knew all along where he would end up.
For Ebert, it was much more complicated. His brother was an Alabama graduate and his mother a diehard fan. But in the end, he decided Auburn was a better fit for him.
No matter where you choose to attend, once you are there, you're part of it. "We've got about 30,000 students, and every single one is all about it," Keller said, "It's definitely something everyone takes part in."
Ebert agreed, adding: "It's absolutely a big deal. A lot of people don't understand how big a deal it is."
Simply put, "It's a really good rivalry, Auburn and Alabama," Ebert said. "A lot of people don't like each other."