News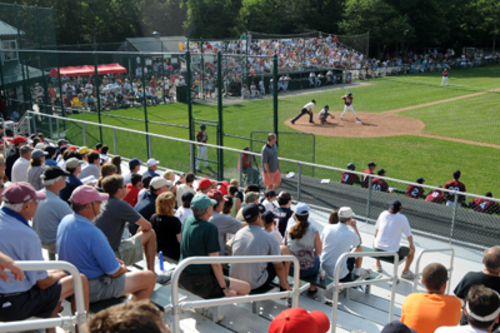 06/20/2013 2:48 PM
Article By:
Tradition, community, friendship and family. No summer league represents baseball's virtues better than the Cape Cod Baseball League, and teams pride themselves on showcasing some of the brightest young talent each summer.
Since the Cape League's inception, several generations have come through the system. This summer, the family connections are numerous for the Cotuit Kettleers.
It begins with two sets of brothers in the Zimmers and Jacksons. Older brother Kyle Zimmer was a pitcher for Cotuit two years back while younger sibling Bradley, who's playing this summer, is an outfielder (University of San Francisco). Kyle, just 14 months older than Bradley, donned a Cotuit uniform in 2011. Despite the siblings playing different positions, Kettleers field manager Mike Roberts notices some resemblances. They're very similar," Roberts said of the Zimmers. "Both big men, very rhythmic."
The two got to play together for a year at the University of San Francisco before Kyle was drafted with the fifth overall pick in 2012. "It was great playing with him growing up," Bradley said of Kyle. "He was just kind of always a leader, and I always kind of followed what he did."
The younger Zimmer is hitting .233 thus far for Cotuit, but the right fielder will soon depart the Kettleers to try out for Team USA. Cotuit will be losing Zimmer but should be gaining another player soon with family ties to the team. Roberts and the Kettleers look forward to welcoming Drew Jackson (Stanford), who is recovering from an illness. The 6-foot-3 Drew is the brother of 2008 Kettleer Brett Jackson, who now plays for the Chicago Cubs. The younger Jackson is expected to arrive by July 1.
"Usually the younger brother many times is the better athlete because they've had to compete against the older brother," Roberts said. "I like to get the younger brother because usually they're tough as nails because their big brothers beat up on 'em and taught 'em how to play."
It's not just Cotuit with family ties this summer. Hunter Brothers and Casey Gillaspie are following in their older brothers' footsteps in Falmouth. Hunter's brother, Rex Brothers, spent one of his two Cape League seasons with the Commodores. Rex was drafted by Colorado with the 34th pick in 2009 and is a reliever with the Rockies.
Casey's brother, Conor Gillaspie, has also seen major league success since his Cape League days. Conor, who was the league's Most Valuable Player in 2007 and also won the Thurman Munson batting championship with a .345 average, is now the third baseman for the Chicago White Sox.
While many baseball players grew up playing with and against their brothers, they were often introduced to the game and its traditions by their fathers. Blake Butera (Boston College) is playing for Chatham this summer but both his father Barry and uncle Brian played for Cotuit in the mid-1970s. Blake Butera is batting .313 for the Anglers, who were 6-1 through Wednesday's action.
Kettleers manager Roberts may be accustomed to the numerous family ties that surround him, but he is experiencing a first this season: coaching the son of a former player. Cotuit infielder Kevin Bradley (Clemson), son of former University of North Carolina standout Scott Bradley, is progressing at the plate thus far during this young season.
"It's been awesome," Kevin says. "I haven't been to the Cape since I was like 6 years old so it's been nice to really experience it this time, and we're winning so that's always fun. All around it's been good so far."
Kevin's father played for the Tar Heels under Roberts before graduating from UNC in 1982. "If he wanted to play in the Cape League," Roberts said of Kevin Bradley, "I wanted him to play here because there's no way I could handle the child of one of my former players playing against me."
Roberts' relationship with the Bradleys began at North Carolina, but the Cotuit manager has also been a friend of Kevin's grandparents for years. Roberts says he practically lived with them when he was recruiting in the Northeast, and even had a key to their house.
Kevin's situation was somewhat different from many because his father played nine years in the majors. "I think the perspectives I got were always, you know, not better, but more of a pro mentality toward everything," Kevin Bradley said. "I'm really thankful for having my dad. He never put any pressure on me, and he's probably the best coach I'll ever have."
Dad may well be Kevin's best coach, but the younger Bradley is grateful for the chance to work with Roberts this summer. And Roberts, likewise, is equally enthused about working with Kevin. "You're not looking for position players," he said. "You're looking for baseball players, and he's a baseball player."
Roberts expects Kevin to play multiple positions throughout the infield. "I knew he had the same makeup as his father," Roberts said of Kevin's athleticism and sportsmanship. "He's just a class young man, and he's a winner on the field. He's coachable. He loves the game. I like to keep it in the family in Cotuit. That's what we're trying to do."