News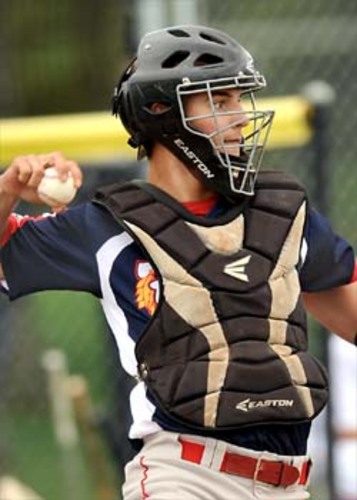 07/17/2013 3:12 PM
Article By:
A weekly list of the top six performers of the 2013 season:
Sometimes individual talent and team performance simply don't align. Looking at the current statistical leaders and where their teams are in the standings, it appears that may be the case with this 2013 Cape Cod Baseball League season.
The Chatham Anglers have the best record in the league, but no one on their roster jumps out as an MVP candidate. The Hyannis Harbor Hawks are in a similar situation. Meanwhile, the Bourne Braves, who appear to be stuck at fourth place in the Western Division standings, and the Falmouth Commodores, who were 2-4 this week and have fallen into third in the West, each have two players on the Watch List. There is still time left, but the likelihood of a scenario unfolding like last year, in which MVP Phil Ervin (Samford) hailed from the Eastern Division regular-season champion Harwich Mariners, seems less and less likely.
Rhys Hoskins (Sacramento State)
Outfielder, Falmouth Commodores
.342 BA, 27 R, 24 RBI, 4 HR, 2 SB
Hoskins continues to impress at the plate. He batted .476 with five RBIs this past week, and continues to stick around the top of all major batting categories. He has maintained his league lead in runs, regained the league lead in RBIs, and is in the top 10 in batting average, slugging percentage and on-base percentage. Falmouth struggled this week, but Hoskins did not. The Commodores hope their offensive leader can rally the troops and lead the team back into the hunt for the division crown. Regardless of his team's performance, Hoskins' play has virtually guaranteed that his name will be given consideration when it comes time to select an MVP.
Mike Ford (Princeton)
First Base/Pitcher, Cotuit Kettleers
.407 BA, 22 R, 18 RBI, 5 HR, 0 SB
Ford's Cotuit Kettleers are rolling, winning seven of their last 10 contests and taking the division lead, and Ford led the charge before his departure. Ford reached an agreement with the New York Yankees and, pending a physical, he was expected to sign with the team this week and report to the Yankees' Class-A affiliate in Staten Island on Friday. He had another outstanding week, raising his batting average 50 points, while driving in eight runs and scoring seven. Ford is the league's batting leader with an amazing .407 average. He is also tied for first place in home runs and extra-base hits, is second in runs scored and third in RBIs. In recent weeks, no one has hit better than Ford and the Cotuit Kettleers are thankful for that.
Max Pentecost (Kennesaw St.)
Catcher, Bourne Braves
.370 BA, 12 R, 18 RBI, 5 HR, 2 SB
The toughest position in baseball to find elite talent at is catcher. But the Cape League has been lucky to have great young talent at catcher the past few years, and Pentecost may be the next in line. He is on fire. This past week, he batted a stunning .636, which vaulted him into second place in the batting race. He also drove in six runs, including two homers, and is tied for third in RBIs and tied for first in homers. Pentecost has flown under the radar up until this point, thanks mainly to the Braves' poor performance. But if his individual numbers continue at this rate, the team's numbers will seem less relevant. Pentecost has been steadily improving, and a repeat performance this coming week could go a long way in his MVP chances.
Jaron Long (Ohio St.)
Pitcher, Bourne Braves
22 IP, 4-0, 0.41 ERA, 20 K, .73 WHIP
Readers might ask, "Why is he just making the list now?" His numbers are indeed impressive, but they have come in a relatively small amount of playing time thanks to his late arrival. His 4-0 record comes in just four starts, none of which have gone more than six innings. Unlike workhorse starters such as Erick Fedde (UNLV) and Andrew McGee (Monmouth), Long has managed to keep his numbers in pristine condition because of his limited innings pitched. That shouldn't diminish what he has accomplished, though. He is one of only two pitchers with four wins, has an impressive 0.41 ERA, and averages just four baserunners allowed per outing. While his starts are few, they are utterly dominant. For him to garner legitimate MVP attention, he will have to pitch more innings without giving up too much on his stat line. If he can accomplish that, Bourne's ace could help his team move up the standings and give him a shot at individual hardware.
Aaron Bummer (Nebraska)
Pitcher, Harwich Mariners
32 IP, 4-1, 0.84 ERA, 13 K, .97 WHIP
Bummer is nothing if not consistent. The Mariners' main man on the mound picked up another win this week, an 8-3 victory over Falmouth, to pull into a tie for the league lead in wins. He did so in the same fashion he has all season, dominating his opponents not through strikeouts, but through ground balls and flyouts. Bummer rarely gives up a run, and lets on very few baserunners. He simply gets the job done. He is in the top five in innings pitched and ERA, and has not allowed anyone beyond second base all summer. Bummer is a shutdown pitcher, and while he is backed by solid defense, the No. 2 team in the East owes a lot to its ace.
Kevin Cron (TCU)
First Base, Falmouth Commodores
.330 BA, 19 R, 21 RBI, 4 HR, 6 SB
After an explosive week last week, Cron responded with a mediocre stretch. In four games, he went 2-for-15 with a run and an RBI, striking out more times then he reached base. While his consistency can be called into question, it is still hard to ignore the raw numbers. Cron is one week removed from leading virtually every batting category, and his presence is still being felt. He is tied for first place in extra-base hits, second in RBIs, tied for second in home runs, tied for third in runs, and is just outside the top 10 in batting with a respectable .330 average. Cron is still a very skilled player in all facets of the game, but he cannot afford another week like this. With an MVP contender in Hoskins and the upstart Dylan Davis (Oregon St.) challenging him just on his team alone, he needs to step it up and the struggling Commodores need him to step it up as well. He is still in the conversation, but this week will be a big one for Cron.
Dropped out from Week 3:
Andrew McGee (Monmouth), Chatham
Ian Happ (Cincinnati), Harwich