News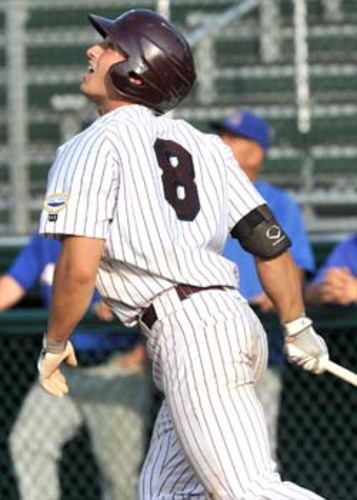 07/31/2013 6:07 PM
Article By:
A weekly list of the top six performers of the 2013 season:
It seems like yesterday it was Opening Day, but we are in fact in the final week of the Cape Cod Baseball League regular season. With the All-Star game having come and gone and with playoff races tighter than ever, it's do or die time. Players need to be at their best, but the best of the best continue to leave, as Bourne's Jaron Long (Ohio State) has joined the departed, leaving no pitchers on this summer's final Watch List.
Max Pentecost (Kennesaw State)
Catcher, Bourne Braves
.355 BA, 18 R, 28 RBI, 6 HR, 5 SB
Pentecost continues to impress, with a big home run this week to go along with a several RBIs and runs scored. He has taken over the league lead in slugging percentage and is second in RBIs and home runs.But with just five hits in 20 at-bats this past week, the batting leader has dropped back amongst the mortals. His .355 average is now within reach of several other players with five to six games left to play for each team. Conversely, if he can hold on to the batting title, then he is within striking distance of the RBI lead (two back) and home runs (one back), and has a legitimate shot at the Triple Crown. As the Detroit Tigers' Miguel Cabrera showed in 2012, it's hard not to give the MVP to a Triple Crown winner, regardless of the competition.
Rhys Hoskins (Sacramento State)
Outfielder, Falmouth Commodores
.305 BA, 34 R, 30 RBI, 5 HR, 2 SB
It was another down week for Hoskins, but with a stranglehold on the league lead in runs, Hoskins knows he has one big offensive category under his belt. Despite having only one RBI this week, he has still managed to maintain the league lead in that important category as well. The Falmouth Commodores took both games of a doubleheader against Wareham on Tuesday and are now within range of the Western Division title. They need Hoskins to get back on track in this final week and help them with their playoff charge. Hoskins has to get over his fatigue (he leads the league in at-bats and games played) and avoid letting his batting average fall into the .200s. If he can do that and hold on to the RBI title, he would remain the frontrunner for top league honors.
Kevin Cron (TCU)
First Base, Falmouth Commodores
.326 BA, 23 R, 27 RBI, 4 HR, 7 SB
Cron's offensive patterns have been evident this season, with one strong season followed by a subpar one. After struggling this past week, the pattern would suggest Cron is due for an MVP-caliber final week, and the Commodores could use it. They have managed to put pressure on Cotuit and Hyannis for the division title despite off weeks by both Cron and Hoskins. Cron has played second fiddle to Hoskins all season, with the exception of his West All-Star MVP trophy. He is in third in RBIs, just three behind Hoskins for the lead, and is also in the top 10 in batting average, runs scored and slugging percentage. If Hoskins continues to struggle and Cron leads Falmouth to the division title alone, then he will have proved himself more valuable to the team.
Connor Joe (San Diego)
Catcher, Chatham Anglers
.326 BA, 19 R, 21 RBI, 3 HR, 6 SB
It really is the year of the catcher, as Joe becomes the third to appear on the Watch List. The Chatham Anglers pride themselves on being a balanced, cohesive squad, in which everyone contributes. Joe and Dante Flores (USC) have put in great effort all season and have begun to make a run at the offensive categories. While Flores struggled last week, Joe batted .400 and helped Chatham continue to roll on all cylinders. He is tied for third in the East in runs scored and batting average, and is fourth in the East in RBIs. He plays a strong all-around game and is a leader. While he may not have the stats of some other top candidates, he can safely be called the best player on the best team in the league this summer, and there's nothing more valuable than that.
Rhett Wiseman (Vanderbilt)
Outfielder, Cotuit Kettleers
.305 BA, 20 R, 21 RBI, 3 HR, 12 SB
Wiseman is the ultimate dark-horse MVP candidate. If Mike Ford (Princeton) were still playing with the Cotuit Kettleers, rather than in the New York Yankees' farm system, he would most likely be on this list instead. But that is not the case though, and Wiseman has been Cotuit's savior since Ford's departure, playing lights-out baseball and keeping his team alive in the West Division title race. Last week, Wiseman hit the spotlight with a .438 average, five RBIs and four extra-base hits. He leads the league in doubles and extra-base hits, and is in the top 10 in batting average, RBIs and stolen bases. He is a threat at the plate, on the basepaths, and in the field. No one in the league has been as valuable to his team in the past two weeks than Wiseman has.
Skyler Ewing (Rice)
Catcher, Hyannis Harbor Hawks
.314 R, 17 R, 19 RBI, 4 HR, 3 SB
Ewing had a miserable week, other than his Home Run Hitting Contest title before Saturday's All-Star game. He played in just three games since, going 1-for-8. But the fact remains that Hyannis is still the leader in the West and Ewing is still the source of most of the Harbor Hawks' offense. He is second only to Pentecost in slugging percentage and is in the top five in on-base percentage. But he is outside the top 10 in most other offensive categories. He gets the job done for his team, and that is all that matters. Ewing is a long shot for MVP honors, but don't count out this resilient player and team leader.
Dropped out from Week 6:
Jaron Long (Ohio State), Bourne
Dante Flores (USC), Chatham