News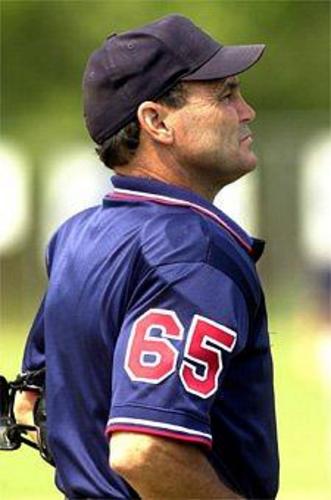 08/04/2013 8:51 AM
Article By: John Garner Jr.
One of the unforgettable characters in the Cape Cod Baseball League was veteran umpire Jim McNally, who died unexpectedly July 25 while on the job as a roofer.
It was a shock when I first got the sad news at Veterans Field in Chatham from Cape League Commissioner Paul Galop, an unabashed Jim McNally fan, who warned me to brace myself.
To me and many others who knew him, McNally was one of the main faces of Cape League umpires, an outgoing, passionate arbiter who loved baseball and all people associated with the nation's pastime.
Despite his diminutive 5-foot-7 frame, the feisty Sandwich resident was a commanding presence and take-charge official who was a stickler for the rules and regulations of the game of baseball. Back in 2005, McNally received the second annual Curly Clement Award, presented for officiating excellence and contributions over the years to baseball umpiring. The award was presented to McNally for being Cape Cod Baseball League Umpire of the Year at Lowell Park prior to the Bourne Braves-Cotuit Kettleers playoff game.
McNally was in the midst of his initial season as a deputy commissioner of the CCBL when he suffered a fatal accident.
"Jim McNally was the Dustin Pedroia of umpiring," said Sol Yas, CCBL Senior Deputy Commissioner. "He was the proverbial 'Dirt Dog' who was passionate about everything he loved – family, friends, umpiring, the Cape League. Small in stature, he was simply huge in all of his passions. He gave a damn."
In his new role as deputy commissioner of the Cape League this summer, Jim called Yas several times per week and in his own colorful language reviewed the previous day's visit to a league game.
According to Yas, McNally offered, "Where do you want me to go today? What can I do?"
After the difficult decision to retire from umpiring last year, his new role as deputy commissioner was a perfect transition at this stage of his life.
"As an umpire, he felt he'd lost a little off his fastball, and didn't want to embarrass himself or the league," Yas said. "Truth be told, even at 95 percent, he was still among the best. Jim would be at a ballpark almost every day, interacting with his fellow umpires, coaches and staff, and anyone else who wanted to talk baseball."
For the past several seasons, McNally began the Cape League season by umpiring at the official Frank Finn CCBL Tryout at Spillane Field in Wareham in early June.
McNally was a veteran umpire and a member of the Boston Park League Hall of Fame. He owned a roofing business on Cape Cod and lived in Sandwich, Mass. He went to Major League Baseball Umpiring School in Daytona Beach, Fla., when he was in his late teens, but wasn't able to break into the professional ranks due to his diminutive stature.
Jim was an Eastern College Athletic Conference umpire for several years until 1982 when he separated from the CBUA. He didn't umpire again until 1997, when regular CCBL umpires refused to work in a "labor" dispute.
McNally began umpiring in the Cape League 16 years ago and was involved in the game almost his entire life, from a player growing up in Quincy to his most recent job as CCBL deputy czar. He worked Class AAA games in Pawtucket and in 1979 filled in at the major leagues when umpires went on strike. He worked college games around New England.
McNally's friend, the late supervisor Dick Clegg, persuaded Jim to return to umpiring. In 2000, Jim went through the CBUA new member-testing program and was accepted back into the organization that November. He has umpired local college baseball, the Cape Cod Baseball League, and the NECBL the past several years.
McNally moved to Sandwich in 1984 and built a house. He was umpiring in the highly regarded Boston Park League and had to give that up when he moved to the Cape.
The last game McNally worked before that self-imposed stoppage was the U.S. Olympic team headlined by future major leaguers Mark McGwire and Oddibe McDowell against a local all-star team at Fenway Park. According to a column written several years by Russ Charpentier of the Cape Cod Times, among his Cape League highlights were as plate umpire for the 1999 CCBL finals, Game 2, in which eventual champion Cotuit was a 3-2 winner over Chatham and pitcher Derrick DePriest, who hadn't given up a run all season.
McNally also worked the plate for the memorable Cape League-Team USA game in Chatham (2000, 2-2 tie), attended by an estimated 10,000 people at Veterans Field, the most ever to witness a baseball game on the Cape.
"His contributions to the Cape League were invaluable," Yas said. "Jim felt he'd accomplished everything he dreamed about in his life. I knew him for 15 years and cherish memories of our friendship. But I will miss him terribly and still can't believe he's gone."
Neither can anyone else in the Cape League family who ever came in contact with him…